Note: In 2020, I'm writing 52 blog posts, one per week, released on Wednesdays or so…This is a placeholder entry for Wednesday July 22, and yet it is also part four of seven in this thingymabopper for today I call OopsidentA!
And now for an intermission. Time-spans ago, someone molecular-ly, perhaps craning their neck in toward me through some sort of portal of my place, from their position atop the loop-de-loops of the West Seattle Bridge, that piece of highly salient failed fixed infrastructure of the often and yet not always valence-ing-ly bad United States, said this music below, Nobuo Uematsu's "Spinach Rag," is like the soundtrack to my life, so here goes, have a little more than 2 minutes of ragtime from the video game Final Fantasy VI (Japanese numbering) aka Final Fantasy III (USian numbering).
The music is associated with the below-pictured scene/stage/whatever from the game.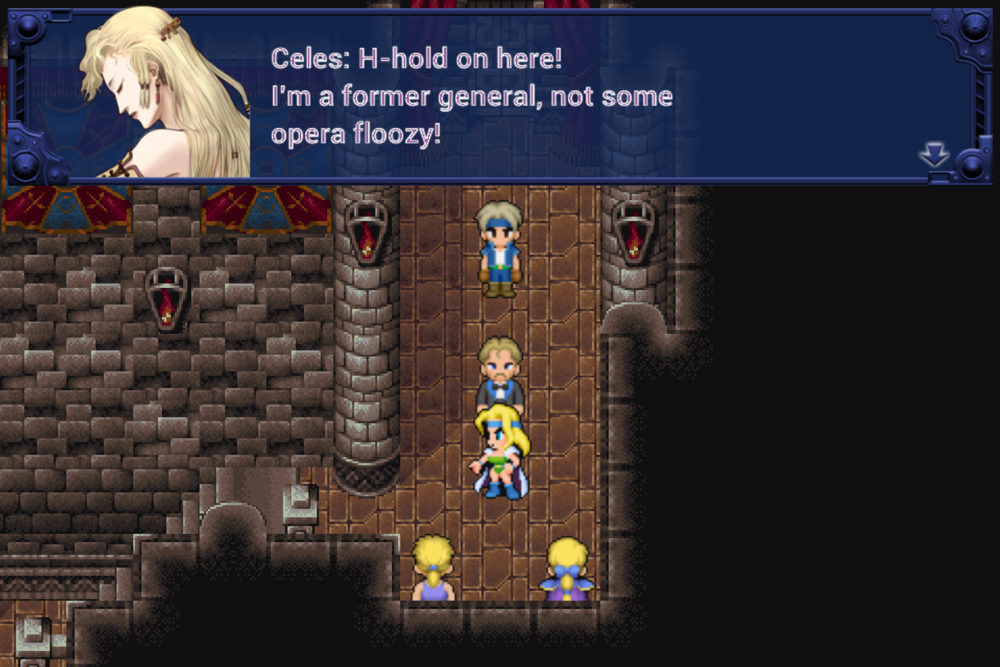 Meanwhile, I'm gonna go update some stuff on my website, similarish-ing-ly as I have recently updated the whole 'graphic design' or whatever (visuals ain't my specialty!) for my Twitter. Took me several years to figure out how to actually do that the way I wanted, without losing my damn mind (and thus, rather a long story to explain, or a short one, depending on various variables, like total word counts, whether I trust you, not to mention the 'as needed' stockpiles of pharmaceuticals or nukes spanning the globe in mysteriously prosocial suitcases, because they're just pretend nukes, leading ultimately, if not throughout, to oxytocin-y snuggles).
This blog post, Oops I missed Week 30 [OopsidentA 4 of 7], by Douglas Lucas, is licensed under a Creative Commons Attribution-NonCommercial-ShareAlike 4.0 International License (human-readable summary of license). The license is based on a work at this URL: https://douglaslucas.com/blog/2020/08/16/oops-i-missed-week-30/ You can view the full license (the legal code aka the legalese) here. For learning more about Creative Commons, I suggest this article and the Creative Commons Frequently Asked Questions. Seeking permissions beyond the scope of this license, or want to correspond with me about this post otherwise? Please email me: dal@riseup.net.