Note: In 2021, I'm blogging once a week, usually on Saturday. This is entry 21 of 52.
Note (added 3 June 2021): The optional "Your comment is approved!" emails described in this post have in their subject line [DouglasLucas.com Blog] (without italics of course) for those commenters who might want to set up filters in their email systems
Continuing last week's spiffing up of this blog's leave-a-comment area, this week I've added another feature. Now, if readers input their email address along with their comment, they receive a one-time notification email letting them know if/when their comment is approved (comments are initially held for moderation). Please let me know if anyone has any trouble or concerns with this.
Unfortunately, a malevolent third party could comment entering someone else's email address, thus spamming them if I unknowingly approve the comment — perhaps the bad actor would be trying to get my blog's email address put on spam lists — but since I moderate each comment myself, I think I'll catch most such attempts, if any happen. Also, the notification emails instruct recipients to email my personal address for help if they didn't actually leave a comment themselves. Furthermore, while moderating, if I'm unsure about a comment's legitimacy, I can personally email the address to ask, sort of a manual version of double opt-in subscription. I'm curious to know if anyone who's moderated a high-traffic blog has ever had significant trouble with commenters typing in bogus email addresses sans double opt-in.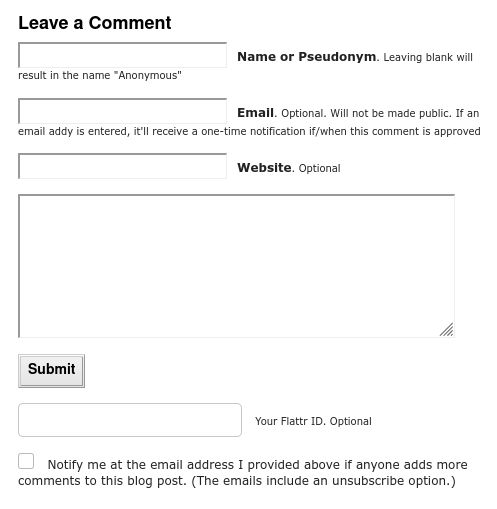 This week I clarified the instructions for the various leave-a-comment fields, too. So if you're considering leaving a comment, and you're wondering if, say, typing in your email address will or will not result in your email address being displayed publicly (it will not), then the leave-a-comment section now tells you such things up front. Readers don't have to guess anymore.
I still need to fix a few more things, some of them invisible from the reader's point of view, around this blog. First and foremost, there's an odd problem with the website field in the leave-a-comment section. If you're submitting your comment, and you include a URL in the website field, then the blog post webpage might reload without showing you a preview of your submitted comment, and I might or might not receive the comment. I'll try to fix the problem next week.
My blog has needed these improvements for quite a while, but it's a significant amount of work to get them in place. (For me, maturity has involved better scheduling of my time, acknowledging how very long some work can take, and rather than living in a puffed-up, grandiose headspace that pretends Rome can be built in a day, instead focusing on simply adding brick by brick across months or years.) So lately I've been dedicating my weekly post-writing time to just taking care of these improvements. Sorry if that's made things a bit dull around here! There has been, however, some recent news in the world I think more people should know about:
News blasts
Myanmar (aka Burma). My post last week explains in more detail, with lots of links, the basic situation happening in Myanmar: The military, also known as the Tatmadaw, seized power in a coup d'état back in February. The Tatmadaw, which since the coup has killed more than 815 pro-democracy protestors, has lost most public support. Instead of acquiescing to the coup, the Myanmar public is joining ethnic armed militias and a civil disobedience movement to resist. On June 1, compulsory formal education is expected to resume, an upcoming deadline that perhaps will spark even more resistance. Something people can do is contact government officials locally and worldwide — or protest them publicly — demanding they support the proposed arms embargo against the Tatmadaw, i.e., reducing or eliminating the Myanmar military's access to imported weaponry. Two videos embedded below provide additional information/context. First, a nine-minute video titled "What's Happening in Myanmar?" from Al Jazeera's "Start Here" program. Second, an even better video just under five minutes titled "What's Happening in Myanmar Explained" by YourAnonCentral aka YAC.
Colombia. Colombian president Iván Duque's mishandling of the pandemic, the country's trade economy troubles, and his proposed tax hike that would raise prices of essentials — despite the government's recent overspending on military and police equipment along with underspending on healthcare — has sparked more than a month of protests, which have seen Duque's government kill at least 43 people and injure hundreds more with needlessly violent crackdowns. The public is also angered at hoarding by the narco-elite, including billionaire and former Colombia president Alvaro Uribe. SpookyConnections.com, a growing website I blogged about back in January, has a lengthy page documenting Iván Duque's wrongdoing and organized crime links. That Spooky Connections page also includes a section about Alvaro Uribe. The video embedded below, under five minutes and titled "What's happening in Colombia Explained" by YourAnonCentral aka YAC, gives a helpful overview of the current situation in the country. The second video, under four minutes, by the same source, and titled "Protests in Support of Colombia Sweep the Globe," shows those worldwide protests. Among the many things people can do are contacting or protesting local and worldwide politicians demanding statements disapproving of the Colombian authorities' violence against protestors, and in the United States, asking themselves and each other why such huge protests happen in other countries regularly, yet not domestically even when such as mass shootings are frequent occurences.

This blog post, More features for commenters; Colombia news blast, by Douglas Lucas, is licensed under a Creative Commons Attribution-NonCommercial-ShareAlike 4.0 International License (human-readable summary of license). The license is based on a work at this URL: https://douglaslucas.com/blog/2021/05/29/more-commenters-features-colombia-news/ You can view the full license (the legal code aka the legalese) here. For learning more about Creative Commons, I suggest reading this article and the Creative Commons Frequently Asked Questions. Seeking permissions beyond the scope of this license, or want to correspond with me about this post one on one? Email me: dal@riseup.net.