Note: In 2022, I'm once again writing 52 blog entries, posted every Sunday. Today: Post 2 of 52. Flash fiction by me will soon arrive weekly too, by February, with these regular nonfiction blog posts continuing.
Note: The photos in this entry are from this seven-tweet thread by NPR journalist Libby Denkmann who attended a student-led protest outside Seattle Public Schools headquarters on Thursday.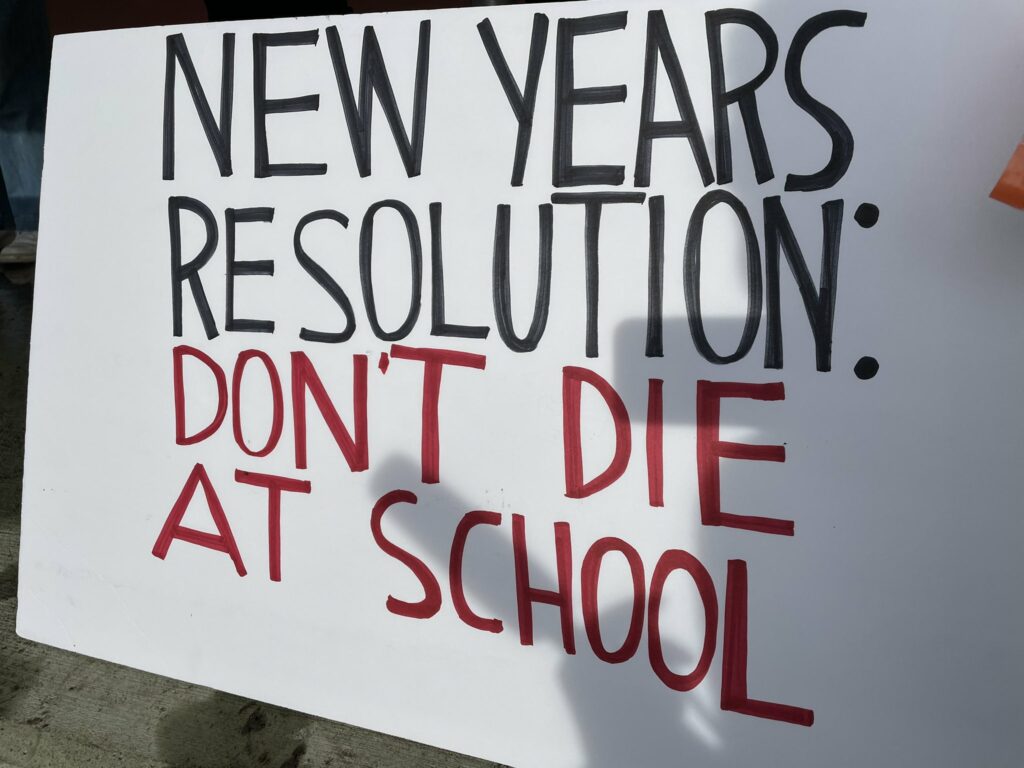 For one or more days this past workweek, according to data firm Burbio (accessed today), 6,003 public schools in the United States have been actively disrupted, defined as campuses not offering in-person learning. The country has around 130,000 public K-12s, but the Burbio statistic is still shocking. On Thursday, Seattle Public Schools said: "Due to very high absentee and quarantine rates, several Seattle Public Schools have either transitioned to remote learning or have been closed."
On Friday, the Washington Post reported on the sickout movement: schoolkids countrywide, sparked by the increasing number of illnesses and deaths from the current Omicron mutation wave, are refusing to attend compulsory face-to-face classes unless adequate COVID safeguards are put into place. Many educators are sicking out as well; other industries are seeing their own sickouts, the term there referring to employees not showing up due to the 'rona (current infection or risk thereof) and perhaps with r/antiwork-style resisistance thrown in too.
The Omicron wave has surrounded my own life. Here in the Emerald City, I've watched a friend suffer his own breakthrough illness from the latest variant in the last month; I've seen multiple businesses temporarily closing due to staffing shortages. (And during Spring 2021, a brave student in a math class I taught informed us she'd contracted a pre-Omicron version of novel coronavirus, a scary ordeal for her and the rest of us.)
U.S. authorities have provided the public with mere bargain bin quasi-solutions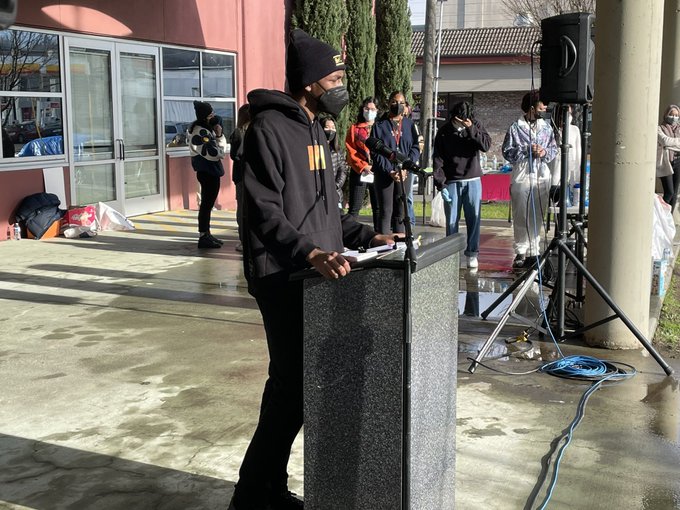 Many of the public health measures in the United States are only half functional, akin to leftovers from the discount pile. School district spokespeople talk up ventilation and (years back) handwashing, but anyone who has entered campuses in poor neighborhoods knows about unopenable windows and empty soap dispensers. Meanwhile, The Center for Covid Control—accused profiteers running pop-up testing sites from coast to coast—has been reported, by health departments and city governments and consumers and journalists and others, to the Washington state attorney general, the attorney general in Florida, and attorney generals elsewhere for fraud, notably sending people invented test results while they were still waiting in line to produce samples. And the three vaccines offered in the U.S. offer only some protection (I received three doses of Pfizer), decreasingly so as mutations erupt continually, as anyone who has endured, or received a text message about, a breakthrough case realizes.
For USians, better public health measures found around the world feel shrouded in a fog of war. The multiple other vaccines planetwide, let alone the laws/pacts controlling who can ship them internationally, aren't on the radar of the average stressed person trying to get by. Even the University of Washington nanoparticle vaccine (study in Cell), which should be making headlines regularly and prompting inquisitive auditing from investigative journalists, is largely unknown. That one, presently in stage three trials, aims to inoculate against SARS, MERS, SARS-CoV-2, and every other present or future coronavirus (and variant thereof) in the beta segment. (Orthocoronavirinae, to which the popular term 'coronavirus' typically refers, has 45 virii divided into four genera, one of which, and nowadays the most dangerous to humans of which, is the beta segment containing 14 of the 45 species.)
To date, official statistics suggest 5.5 million have died from COVID so far worldwide, not to mention long-haul and other medical problems confronting survivors.
Scientific integrity attacked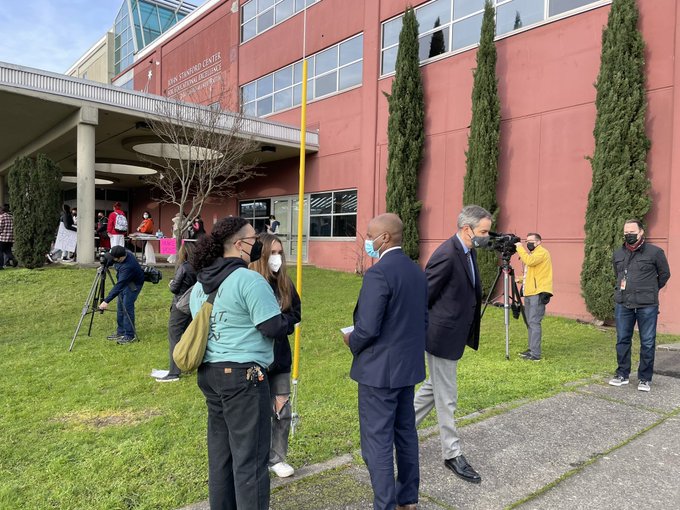 Who has the time and freedom to educate themselves on the COVID trainwreck such that herd mentality may be minimized? Very few have hours and hours available to conduct independent (and thus usually unpaid or underpaid) autodidactic research on an unfamiliar issue to an understanding approaching intermediate level or above. That leaves many to affiliate with a meme-simplified, speculation-heavy side such as right or left, vaxx or antivaxx, probably partly in hopes of cliquing up with others for sheer survival rather than mastering a topic in accordance with impersonal logic. There are professionals who in theory are paid to address crises expertly, but they succumb to untruth too.
Such politicization is evidenced, for example, in the additional information, released Tuesday, about emails involving chief White House medical advisor Dr Anthony Fauci. You might recall that Fauci emails from the initial months of the pandemic were published in June 2021 in redacted form by Buzzfeed News (3234 pages of emails) and the Washington Post (866 pages of emails). Republicans on the federal House Committee on Oversight and Reform saw unredacted versions made available in camera by the Department of Health and Human Services and, while they couldn't make copies, they were allowed to take notes on them, a task I assume done by skilled transcriber underlings.
The additional information newly revealed includes records related to a February 1, 2020 phone conference between Dr Fauci, his then-boss Francis Collins, and several of the world's leading virologists.
It shows some of the world-renowned scientists believed, at the time, that it was likely the novel coronavirus was human-altered and that it may somehow have escaped a Wuhan lab. Virologist Robert Garry, for instance, wrote that he was unconvinced the pathogen evolved naturally. Evolutionary biologist Andrew Rambau wrote: "The biggest hinderance at the moment (for this and more generally) is the lack of data and information […] I think the only people with sufficient information or access to samples to address it would be the teams working in Wuhan." There are no certain answers yet; just sufficient smoke to point to a serious fire of some sort.
Definitely the National Institutes of Health officials wanted an ass-pull cover-up for political reasons. Garry told The Intercept that after the call, he was advised not to "mention a lab origin as that will just add fuel to the conspiracists." Dutch virologist Ron Fouchier wrote in one email: "further debate would do unnecessary harm to science in general and science in China in particular" (see also; see especially). Fauci's boss Francis Collins advised the virologists to shut down talk of unnatural evolution or a lab leak—to protect "international harmony."
By March 2020, Garry had changed his mind based on scientific evidence, coming to believe instead that SARS-CoV-2 likely developed without human intervention, but the recently exposed NIH officials' insistences a month prior don't exactly inspire trust in the intelligentsia, now do they.
Tuesday's news connects with ongoing reporting from Vanity Fair about NYC-based EcoHealth Alliance and its pre-pandemic interest in working with Wuhan virologists (all institutions in China are mixed up with the Chinese Communist Party). In October 2021, the magazine reported the National Institutes of Health belatedly acknowledged EcoHealth Alliance enhanced the capacity of coronavirus to infect humans to such an extreme that the nonprofit had violated its own grant conditions by not reporting the danger they'd created. The same Vanity Fair piece discusses the grant proposal EcoHealth Alliance sent to the Pentagon's research arm DARPA in 2018, recommending a partnership with the Wuhan Institute of Virology to construct SARS-related coronaviruses into which they would insert "human-specific cleavage sites" as a way to "evaluate growth potential" of the pathogens.
The connection between those reports and last week's? Virologists on the February 2020 conference call expressed startlement at an unusual segment of the novel coronavirus's genetic code: a furin cleavage site that makes the virus more infectious by allowing it to efficiently enter human cells. A month later, in Nature Medicine, a peer-reviewed journal that's part of the prestigious Nature Publishing Group portfolio, scientists on the conference call, including Garry, published "The Proximal Origin of SARS-CoV-2," in which they downgrade February 2020 suspicions that novel coronavirus was likely to have been lab-altered to possible but unlikely. I'm told that, in oversimplified terms, such virology research essentially entails comparing protein shapes of various virii strains to one another statistically to assess likelihoods of how precisely the pathogens may have changed or evolved over time.
Pointing to the Proximal Origin study, Garry corresponded with The Intercept about its report on this past workweek's newest puzzle piece to say the March 2020 study reflects his revised view. In any case, the latest information involving the February 2020 conference call is a story of top virologists told to downplay their then-suspicions not for scientific reasons, but for political ones. That's obviously bad for scientific integrity. And the March 2020 paper doesn't rule out that SARS-CoV-2 could have been created through artifical techniques.
Shall we speculate about the origins of COVID-19? One possibility is that scientists pursued making coronavirii far more dangerous for whatever good or bad reasons, a practice controversial among scientists, and then SARS-CoV-2, perhaps enhanced in its danger to humans, slipped out of a Wuhan lab accidentally. Then maybe people associated with the research panicked, because money was being misused, and anything they might try to say to explain themselves would just sound nefarious. There's no smoking gun; at minimum, it's yet another example of opaque or mostly opaque systems impairing science and public health.
And we can all imagine less charitable possibilities.
Now what?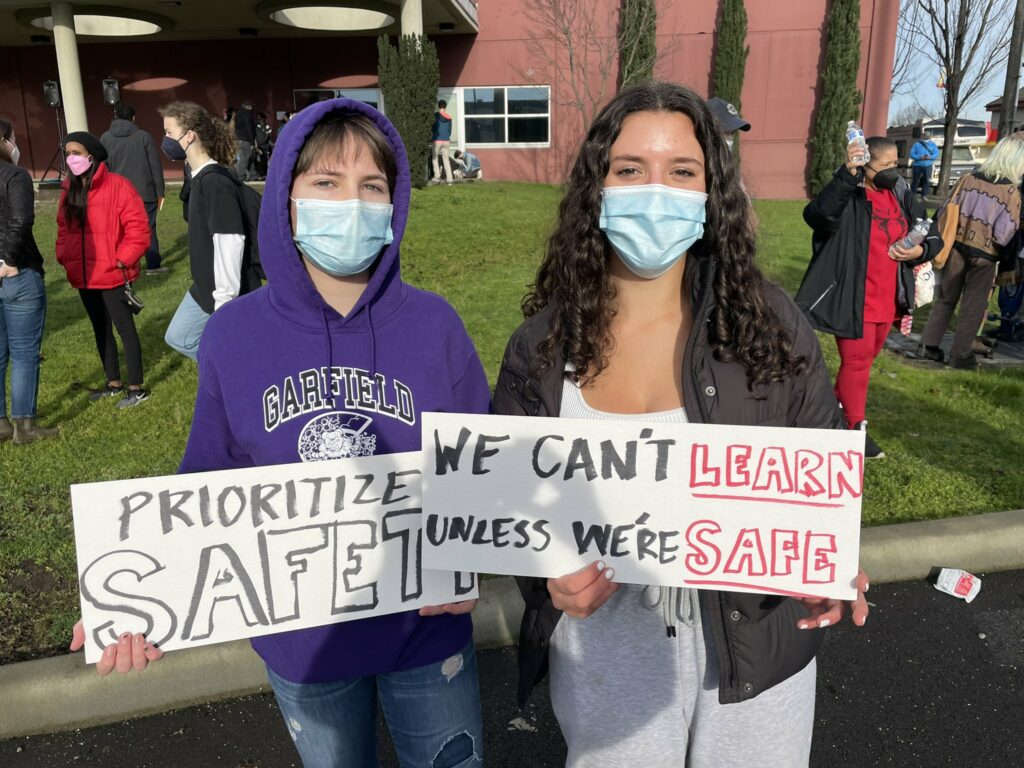 Weakening scientific integrity (requested cover-up) and radical science (transparency, intellectual independence) predictably worsens large-scale public health problems. That's very evident in the somewhat separate but still COVID19-related case of Department of Health and Human Services whistleblower Dr Rick Bright, if you study the formal complaint he filed in May 2020 (exhibits; some exhibits missing).
Politicizing science, as NIH brass sought in February 2020, certainly doesn't help reveal the origins of the pandemic, one of the more recent iterations of the powerful's longstanding and ongoing genocide of global humanity, particularly those disabled or dispossessed. Authoritarians don't need to put soldiers on the streets (though they do that as well) to terrify or decrease populations when they can just ignore their public health needs from yachts.
Thankfully, the pandemic's origins don't need to be completely understood for clear-eyed students to fight for their right not to inhale this thing, something of extra importance for people blocked from nutritious food, aerobic exercise, or other boons strengthening respiratory and immune systems, as well as blocked from free quality masks, infection testing that actually works, and the legal entitlement (for those with disabilities, which is ultimately everyone if you think about it) to free appropriate public education that should include transparency for all of us to learn exactly what the powerful—both government and corporate actors—are doing to us.
Some but not enough educators have been supportive of the schoolkids, but will more adults support them as is their grown-up responsibility, and if so, how? I'll write about that next weekend.
After all, why should children have to be the ones to do this?

This blog post, How attacks on scientific integrity necessitated countrywide school sickouts, by Douglas Lucas, is licensed under a Creative Commons Attribution-NonCommercial-ShareAlike 4.0 International License (human-readable summary of license). The license is based on the work at this URL: https://douglaslucas.com/blog/2022/01/16/how-surrender-of-scientific-integrity-necessitated-countrywide-school-sickouts/. You can view the full license (the legal code aka the legalese) here. For learning more about Creative Commons, I suggest this article and the Creative Commons Frequently Asked Questions. Seeking permissions beyond the scope of this license, or want to correspond with me about this post one on one? Email me: dal@riseup.net. Also, gimme all your money!