Note: This post inspired by #OpDeathEaters, about which you can learn more here, including bona fides from the ivory tower.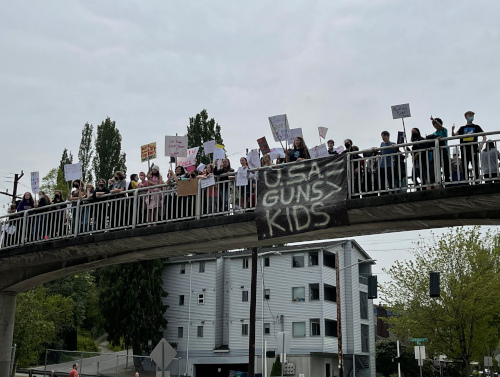 Lifelong learning is something we should aspire to; adults often act as if they've got it all figured enough, but as the latest school shooting shows, we have a lot of work to do, particularly in confronting head on the awful things that happen to kids — and addressing them.
From regular learning to social emotional learning
Imagine elementary schoolkids practicing reading on a classroom computer. They get points upon finishing a book, and then their next book is at a higher reading level: it's more challenging to decipher, with bigger words, longer sentences, and new punctuation marks. In contrast, adults often assume they're finally on thrones forever, at a permanent level of knowledge and fit to judge anything that passes before them. If a difficult-to-read text comes their way, these lordly adults presume the writing must be poor and put the book down. How could it possibly be that their reading level still could improve further?

The same is true of ear-training. Little schoolkids are sometimes taught to recognize the sound of a major chord versus a minor chord. They're awed to observe their auditory perception of music improving, much like someone with bad vision putting on a pair of corrective eyeglasses for the first time. But when adulthood arrives, well, exhausted wage-slaves are frequently boxed into making the choice they've watched their friends make. Kill curiosity! For sadly, it's practical to do so, sort of. Don't think too hard. Don't care too much. The genius of a bop improvisation or a book using open rather than closed punctuation remains perpetually out of reach.

People need support and freedom to develop, even as adults. The oligarchs (name names!) undermining and blocking our growth as individuals and societies must be arrested, and their antisocial systems replaced with prosocial ones. The obstacles to doing so are far less about technical solutions and far more about, to use an education industry buzzword, our social emotional learning.

A look at two stories of trauma can convey a sense of the social emotional development required to free up lifelong education in safety for all. Education, knowledge: they lead to everything else, including gun-free campuses.

Seeking a savior from out the skies to answer his pleas
One of the key reasons we don't rescue kids from danger is our habit of looking for messiah/savior politicians or celebrities who will do it for us while we munch popcorn and discuss the relative merits of their televised appearances.
I'm not immune to this. My close friends know that in the past year, I've gained a slightly embarrassing taste for autobiographies by the heavy metal musicians I idolized in my teens. It's like Real Housewives, but dudetastic.
Last month, when no one was looking, I finished up Confess by Rob Halford, mostly known as the longtime singer and lyricist of Judas Priest, a very influential heavy metal band that began in Birmingham in 1969.
A common theme in Halford's lyrics is messiahs, saviors who will arrive, likely on a flying motorcycle, to fix things for us (so we can keep doomscrolling). Consider these excerpts from his lyrics to "Exciter," the opening track from Priest's 1978 album Stained Class:
Stand by for Exciter
Salvation is his task
[…]
Who is this man?
Where is he from?
Exciter comes for everyone
[…]
He's come to make you snap out
Of the state that you are in
Look around and make you
See the light again
[…]
Only when there's order
Will his job be done.

[Exciter sounds like a strongman politician imposing "order." right?]
Similarly, an excerpt from Halford's lyrics to 1990's falsetto freakshow "Painkiller", the title track off Judas Priest's 1990 album by the same name.
Planet's devastated
Mankind's on its knees
A savior comes from out the skies
In answer to their pleas
[…]
Flying high on rapture
[…]
With mankind resurrected
Forever to survive
Returns from Armageddon to the skies
He is the Painkiller
This is the Painkiller
Wings of steel Painkiller
Deadly wheels Painkiller
If we look beneath the shiny songs with shiny saviors, we can ask: Why might this theme be so prevalent for Halford? I'm not certain, of course, and things in life are rarely so direct, but I think it's interesting how his childhood trauma fits with the lyrics of multiple classic Judas Priest songs.
Confession time
On pages 24-26 of the hardback edition of his autobiography, Halford discusses how, at approximately 14 years old, a pedosadist at an after-school program raped ("fondling") him and some of his friends.
I was scrabbling around for information [about sex in general and homosexuality in specific], and getting nowhere. It was all a mystery to me. And what happened at my latest after-school activity didn't help.

A small local metalworks began an informal scheme where kids could go down one day a week after school and learn to use equipment like lathes, vices, and drills. I suppose the thinking was that they would get 'em young and we might be interested enough to take up apprenticeships with them a year or two later.

Even though I had no interest in working in the factories—as I've said, the idea horrified me—I still went along with a couple of my schoolmates. It was only for an hour after school and, well, it was something to do. It beat being bored at home.

Unfortunately, we quickly found that the bloke giving the mini-workshops had a very different take on the idea of "get 'em young." He wasn't interested in teaching us the finer points of engineering. He just wanted to cop a feel.

The mustachioed, middle-aged bloke would show us how to make garden trowels or pokers for the fire, then hover over us. He'd give me a piece of metal marked with a pen line, tell me to file down to the line, and, as I filed away, he'd put his hand on my bum or down the front of my trousers.

The guy would walk round the workshop, from boy to boy, feeling us all up, and nobody said a thing. He never said a single word to us while he was doing it. It happened every week … and yet me and my mates never even discussed it. It was like it never happened.

I was struggling to come to terms with being gay, and while what he was doing didn't arouse me—it seemed dirty, and sordid, and nasty—I just thought, Well, OK, is this what gay guys do? Is this how it works? It even made me wonder: Does this stuff go on in all the factories, then?

The weird thing was that we kept going, for six weeks at least. Fuck knows why. I just didn't know what else to do. Then one week, after a particularly intrusive fondling, I mentioned to one of my mates on the way home that I was bit bored of the sessions.

"Me too!" he said, with what sounded a lot like relief. "Shall we stop going, then?"

"Ar," I said [in Black Country accent].

And that was it. We never mentioned it again.
On pages 31-32, Halford describes in some detail how, when he started working in theater as a teen, he was raped by an older pedo coworker, and how, during that crime, Halford similarly experienced a child's horrifying inability to understand, let alone stop, what was happening.
Did you notice how child Halford and his child friends never mentioned the fondling aloud to each other, and they stopped going to the pedo after-school program by discussing quitting it in an only indirect manner?
Dissociation is one term used for this. I've heard dissociation defined loosely as tuning out in the face of overwhelming emotion. Maybe he sang for decades of saviors because he hadn't been able to process what had happened to him.
What happened to Halford (either time) is sort of what's happening to adults today, except grown-ups have more choice and responsibility. Scary information about coronavirus—hey, did you hear about this company Center for Covid Control that's a scam?—swirls around, and like the schoolkids at the metalworks after-school program, too many adults have trouble processing what is happening, and won't even admit that much, Gollumizing about how their pain is unique and special rather than quite similar to that of everyone else in their town. After lengthy struggles, people might slip away from an abusive organization here or there, but the idea of going on radical campaigns against all of them is left to fantasy novels and video games. It's just too much to face, or so adults typically claim.
Clearly nobody showed up to help young Rob Halford in the two very sad and infuriating situations. Not to idolize him or anything, but in the end he had to help himself, of course with assistance from his allies, by coming out as gay publicly in 1998, by releasing his autobiography in 2020, and so on. Don't we all wish this could happen faster and we could work together? So we don't have to look back, 15 years from now, saying I wish I'd known in 2022 that…
A look at another story, this one of non-trauma, shows how all can turn out very different.
Saving a Child's Life
In January, the documentary filmmaker and former therapist Daniel Mackler posted one of his musing videos to his youtube channel, where he's quite profilic. I find Mackler's videos thought-provoking, although I disagree with some of his perspective, and I really appreciate the ones where he shares anecdotes and observations from his travels.
In the video, titled "Saving a Child's Life — A First In My Life" and about 12 minutes in length, Mackler talks about saving a drowning kid out of a hot spring in the country of Georgia. Not only that, but he talks about the aftermath, how the child handled this trauma. I'll transcribe the relevant parts below.
I was in the capital of Georgia, in Tbilisi, which from what I learned in Georgian means something along the lines of 'hot water' because there are hot springs […]

And one day, while I was sitting in [a hot spring], a father brought a little boy, and they were at the edge of the pool, and the boy was maybe four years old — three, four years old was what he looked like to me, but I was sitting there without my glasses, so I couldn't see very well […]

I was just in my own world, I wasn't really there to interact […] At some point, I was sitting out of the water, with just my legs in the pool, and I looked and I noticed that the little boy was there dipping his legs in the pool in the other side, and the father was gone. And I thought to myself, That's not a very good idea […] but there were other people around […] I just thought, Okay, people are watching […]

So I just went back into my world; I was sitting […] eyes closed […] a little bit in lala land, it's really hot […]

I look up and the little boy's not there. […] He's in the middle of the pool of water, under the water, but I'm really blind [with my eyeglasses off …] He's waving his arms […] like he's kind of swimming, but not swimming very well […] Nobody's doing anything […] I'm seeing this kid move his arms and […] suddenly I realized, this kid's not swimming [… I'd wondered] is this kid holding his breath and playing? […] Something in me, this little voice in my head says: Get this kid out of this water. So I jump in […] I'm like, Dude get in the water and get this kid out!

I picked him up and I realized: he wasn't breathing. And he was pretty much limp. And I noticed his belly was all distended, with [hot] water in it […]

I brought him to the edge of the pool […] I turn him around, and I did the Heimlich Maneuver on his belly, not hard enough to really hurt him, but just to expel the water and it actually expelled the water first from his lungs […] and he coughed out all this water […] oh my God, he was drowning […] I turned him around to make sure he's okay, and suddenly he vomited all over me […] he vomited all this yellow vomit all over me and into the pool of hot water […] he vomited some more […] suddenly the place erupted: people were coming over, and this guy who was in the pool also, he came over, and he's talking to me in Georgian and Russian, and I'm trying to talk to this kid […] the kid kind of clings on to me like a little animal […] And I'm just holding him […]

The father was in the bathroom; he went to the bathroom and left his kid alone. Not a good idea! His kid could have died. So I handed the kid to him and the father took him and went off with the kid […] And then this guy who was sitting there in the pool started talking to me. And it turned out that the guy spoke Spanish. And I speak Spanish. He was a Georgian fellow, but he spoke Spanish. Well, he told me in Spanish, he goes, You just saved this kid's life. And I realized it was true. […]

I suddenly just started crying. It was just overwhelming […]

The father came back [… he was from Moldova …] thanking me in Russian and shaking my hand.

And then the little boy came and he wanted to shake my hand. And I was worried that he'd be traumatized. As it turned out, I stayed in the hot water and just tried to skim the vomit off the water. And I stayed there.

The little boy did come back and he wanted to get in the water. And I talked about it with the guy who spoke Spanish. And I was like, This little kid, do you think he'll be traumatized? And [the Spanish-speaking guy] wasn't sure!

But what happened is the little boy did come in the water. But he kept taking water in his mouth *spit* and spitting it out, like in an arc! So I started doing it with him! And the two of us were doing it sort of as a game. And I realized, he was replicating his trauma. […] This little boy had no fear of me. And he wanted to bump me, he'd fist-bump me like a million times, he wanted to splash water on me. And I realized, he really loved me! And the thing is, I felt this! I loved him! It was like, you know, I don't have children, but I do have children: and he was one of my children. It was so dear. […] If I hadn't jumped in the water and saved him, if it had gone on for another minute, for all I know, he would have died […]

By playing with me in the water, by spitting the water out, and me spitting it with him, and us having fun, it was like he got back on the horse, as it were. And he made it his own experience. Where he made a new friend out of it! And I really don't think he was traumatized by it! And that was so important to me; that was something that was very meaningful to me, because it's a horrible and sad thing when a child learns very early on to become afraid of something that's beautiful like the water. […] I don't think this boy felt that, because he came [back] in the water. And he also learned that adults who are not his family, complete strangers, can be beautiful people, they can save your life.
Lessons from the two stories
When Halford sings of messiahs and saviours, it makes sense: for children. A kid of three or four doesn't understand how to assess the risk of entering a hot spring. A kid of three or four doesn't understand how to assess their swimming skills. A young teen troubled about sex does not know what is going to occur his first day at the theater or entering an after-school program. In Halford's case, he was raped.
Who does understand these matters? Adults. Sometimes, though, out of our comfort zones, any of us can be surprisingly uninformed about what we will find. We might not know, right off the bat, know how we will find the inner strength to do the right thing. And there will always be for each of us consequences grave. Comfort zones cannot remain lifelong excuses. That's because adults can, at least to a little degree, and then increasingly, self-direct, self-educate, and improve, especially when collaborating.
In most places people are taught collaboration means something extroverted and flashy: to succeed means to have a bestselling, raunchy book called Confess published. But it can also be "just" saving a drowning kid in a hot spring (and, as Mackler goes on to say in the video, making a new friend from the experience: the Spanish-speaker invited him back to his family's house in a different part of Georgia, and Mackler took him up on the invitation a few weeks later, went and lived with the Spanish-speaker's family for a while.) Or it can be both.
Since United States public education is on the ropes, possibly even disappearing, we really will have to teach each other, which, even though it's the hard way, is in the long run, better. Confronting and openly discussing childhood trauma of ourselves and others is a good way to start.

This blog post, Replace dissociation about endangered kids with saving children, by Douglas Lucas, is licensed under a Creative Commons Attribution-NonCommercial-ShareAlike 4.0 International License (summary). The license is based on the work at this URL: https://douglaslucas.com/blog/2022/05/26/dissociation-about-endangered-kids-replaced-by-saving-a-child/. You can find the full license (the legalese) here. To learn more about Creative Commons, I suggest this article and the Creative Commons Frequently Asked Questions. Seeking permissions beyond the scope of this license, or want to correspond with me about this post one on one? Email me: dal@riseup.net. Also, gimme all your money!