Note: In 2021, I'm writing a new blog post every weekend or so. This is entry 50 of 52.
On October 27, I gave an in-person talk to the University of Washington computer security club Batman's Kitchen. The presentation was simultaneously virtual over Zoom. I obtained the video file back a bit, but was busy substitute-teaching at the local youth jail for three weeks; that assignment completed Friday, I'm today making the video available, right above!
The title of the talk on the first slide, Hacktivism meets journalism (or something like that), is a little misleading. Because of time constraints—I created the presentation in a hurry, within something like a 48-hour period—the majority of the material I provide is actually intellectual history as it applies to people, especially young activists, interested in computer science, including but not limited to those going into the field as a profession.
Some helpful details. The footage is under two hours and fifteen minutes (since hundreds of years of philosophical history can't particularly be conveyed in a quick monosyllabic bumper sticker slogan). The Questions & Answers section begins at 1:48:12. Download the .MP4 file or the powerpoint if you like. I've added this event to both the in the media page and the front page of this website.
In related news, I created a youtube channel finally, where this Zoom footage may be found. If 100 people subscribe to my nascent youtube channel, where I'll use words like nascent without apology, I can customize my youtube URL. So whatever you do, don't hit that like button, and definitely don't smash subscribe, for we here all believe in reverse psychology.
Next talk, I'll not waste time with cutesy images of cats and Castlevania—older generations in the United States want those things, but thankfully Gen Z doesn't need them, I observed—and hopefully cut the metacognitive authorial intrusions that permeate my speech. Minor flaws aside, I hope people learn something from the video! Share as thou wilt.
Even more #PardonRealityWinner progress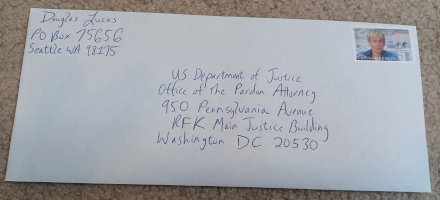 Yesterday, I put into a USPS dropbox my snailmail letter to the federal Office of the Pardon Attorney, advocating for a pardon of Putingate whistleblower Reality Winner, whose story you can read about here (my article from her sentencing), here (my entries about her on this blog), or by following her mother Billie J. Winner-Davis on twitter.
Reality Winner and her whistleblowing to alert everyone regarding Russian military hackers executing, just days before the 2016 elections, cyberattacks against US voting infrastructure, remain of key importance.
Consider, for example, Friday's Washington Post opinion piece authored by three retired Army generals expressing grave concern that, in the aftermath of the 2024 election, a politically divided US military will be vulnerable to foreign attacks and will see rogue units supporting a successful coup by Trump (or some other reactionary demagogue). "Not a single leader who inspired" the January 6 coup attempt "has been held to account," they write correctly. While failing to address the country's private spies and private militias such as those Blackwater members pardoned by Trump, the three retired generals urge convictions for the January 6 conspirators, mandatory civics reviews for Pentagon members (hey throw in some international law while at it!), and coup-based war games along with defensive intelligence work.
Without Air Force veteran Reality Winner, it's quite possible—maybe even probable—that such a WaPo piece wouldn't exist, since we'd be living in a universe where Trump would be perceived as a horrible but legitimate ongoing occupant of the White House, akin to how many viewed George W. Bush while he was in office (prior to that war criminal's latest rehabilitation as an affable, Michelle Obama-hugging grampa).
(Side note: The opinion piece also states: "Imagine competing commanders in chief […] Biden giving orders, versus Trump […] issuing orders as the head of a shadow government." Well, imagine as well the public heading yet another shadow government that, instead of issuing orders much, horizontally helps one another in everyday ways as we do during natural disasters, another example of regular government breaking down. Imagine that shadow-government-of-the-public recognizing its own power and expanding it. That would be genuine self-governance.)
Achieving a pardon for Reality Winner would send a strong signal domestically and internationally that the United States refuses Trump/Putin-style autocracy. The Office of the Pardon Attorney does give advice to the president regarding pardons in some cases (I don't yet know the details of that). Plus, whatever intern opens the envelope might start an interesting water cooler discussion, you know? And such things matter.
I based the letter on the one I sent last week (PDF) to Joe Biden; I improved the text overall, too. If you want to use my letter as a basis for your letter to the Office of the Pardon Attorney, clicky-click for a PDF or clicky-click the below embed to read it. You can always share your own beseeching of the Office in the comments below or online elsewhere. Consider using the #PardonRealityWinner hashtag.
Remember, smugly explaining to each other that wisdom means defeatism is out, whereas taking specific, real life, step by step, existent, active-y action yourself to achieve huge prosocial goals is in. If you prefer to be out, well, then just psychology reverse. :)

This blog post, Intellectual history for hacktivists: Video of my 27 Oct '21 talk at University of Washington hacker club Batman's Kitchen, by Douglas Lucas, is licensed under a Creative Commons Attribution-NonCommercial-ShareAlike 4.0 International License (human-readable summary of license). The license is based on the work at this URL: https://douglaslucas.com/blog/2021/12/19/intellectualhistory-talk-uw-hacker-27oct2021/ You can view the full license (the legal code aka the legalese) here. For learning more about Creative Commons, I suggest reading this article and the Creative Commons Frequently Asked Questions. Seeking permissions beyond the scope of this license, or want to correspond with me about this post one on one? Email me: dal@riseup.net.