Note: In 2021 I'll publish at least one blog post per week, ideally on Wednesdays, but more practically, whichever day I get to it. Here's entry 7 of 52.
Note: I haven't forgotten about Biden! I'll post about him next week.
Note: You should probably skip this review if you want zero spoilers.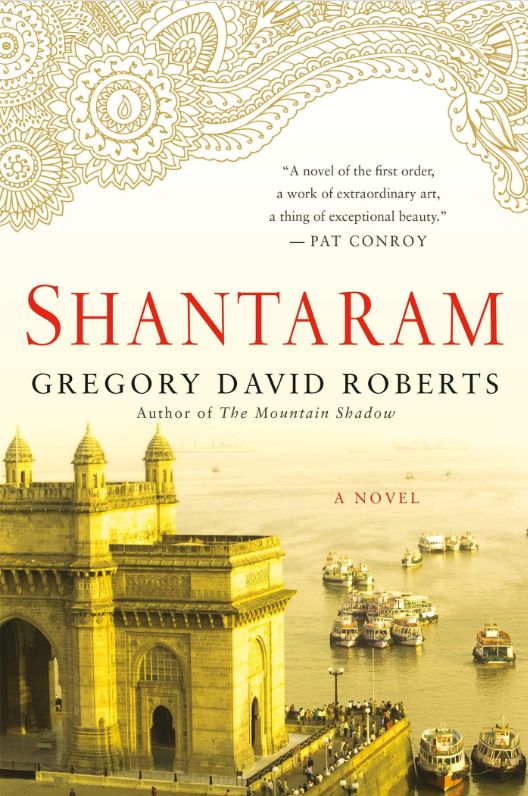 On Monday I finally finished reading the 2003 novel Shantaram by Gregory David Roberts. The semi-autobiographical bestseller came to my attention because Putingate whistleblower Reality Winner, whose August 2018 sentencing I reported on in person, included it in her art from the FMC Carswell prison in Fort Worth Texas, specifically in the piece reproduced below. The book is 933 large pages in the paperback edition I have (pictured left), so it took me quite a while to finish. Here's what I gained from it, what I didn't like, and my thoughts on whether you should consider reading Shantaram, if you haven't already.
First, a quick summary. The story revolves around the main character Lin, who, after escaping imprisonment in his home country of Australia, where he'd robbed banks to maintain a drug habit, arrives in India with a false passport to live as a fugitive. There he participates in many areas of life unfamiliar to many Westerners or non-travelers, among them a restaurant-and-bar where fairly well-off migrants from Western countries reflect, as Lin sits at their table, on the ups and downs of their shifting fortunes and gossip about Mumbai. Lin meets the goofy and basically nonstop-happy Prabaker, an Indian taxi driver whose characterization is an offensive Sambo caricature, not a careful depiction of a fully realized individual. Prabaker becomes a sidekick for Lin and invites him, when the fugitive's chips are down, to live in the city's friendly Colaba slum. The Australian accepts, and then provides improvised medical services to the slum dwellers, an endearing (but also borderline stereotyped) section of the novel that shows the inhabitants of Colaba owning little, yet helping each other tremendously with little to none of the war of all against all common in the so-called civilized world. In other news, Lin somewhat randomly meets an elder statesman of a large gang/mafia, the oddly philosophical Abdel Khader Khan. Lin's in love, too, with one of the restaurant-and-bar crowd, a Swiss woman named Karla who's in the habit of offering purplish one-liners about life. The fugitive assists her in liberating her friend Lisa from the vile Madame Zhou's prostitution/slavery den. Zhou retaliates by getting Lin thrown into a wretched prison once more, this time in India. After the Australian suffers much behind these new bars, Khader bribes the authorities to free him. In gratitude, and to learn skills for revenge, Lin goes to work for Khader in Mumbai's criminal underworld, swapping out currency and trading passports on the black market, plus physical training and fistfighting members of a rival gang. This dark side of Lin increasingly comes to dominate over the slum doctor side, culminating in the fugitive travelling to Afghanistan as a gun-runner for Khader. Due to battling in that country, he barely makes it back to India, where he soon heads to Zhou's for revenge. At the novel's climax, he finds Zhou already a wreck, and, changing his mind, chooses to let her live. Lin muses that the cheerful slum dwellers, not the macho criminals, are the truly heroic ones — which doesn't stop him a single inch, for another 100-or-so gratuitous pages after the climax, from continuing to fistfight members of rival gangs and promising those men in his particular gang that he'll go on future missions beyond Mumbai with them, presumably a setup for the sequel I haven't read, The Mountain Shadow.
As many reviews have noted, the best aspect of the novel is its vivid, lively depictions of various places. These off-the-beaten-path settings include Prabaker's native village of Sunder, the Colaba slum, Zhou's slave den, the Australian prison (in flashback), the prison in India, Bollywood sets, Afghanistan mountains and caves, a temporary settlement built atop a skyscraper, and more. The author's personal experience of the environments enrich his portrayal of them, as when you stumble upon a Reddit post by a stranger who's not dedicated to writing, but who's suddenly putting together gorgeous, moving prose because they're talking about something they're profoundly invested in personally and know all the fascinating details of. For audiences starved of adventures, Shantaram seems as good a way as any, short of actual travel, to experience unfamiliar locations. But, then again, I unfortunately haven't read many realist stories set outside Britain, Europe, and the United States. To read about India in English, there are probably many worthy alternatives to Shantaram out there; it's simply a matter of finding them.
The novel is also enjoyable when it focuses on a bank-robbing druggie gone wrong changing for the better, into a compassionate doctor living and practicing among the friendly dwellers of the largely ignored, but massive, slum village in Mumbai. At these points, the book seems, or did to me, spiritually uplifting, and it really piqued my curiosity about this slum and similar parts of the planet, not that I know how accurately Gregory David Roberts depicts Colaba. In these portions, the novel reads like a modern-day Les Misérables, the 1862 French novel (and mainstay Broadway musical) about the ex-convict Jean Valjean who similarly improves his lot and turns to helping others. (I don't know, but given reporting about Reality Winner's numerous altruistic endeavors throughout her life, I imagine this component of the novel might appeal to her especially.)
Sadly, the Les Mis-esque portions of Shantaram don't win out. As the pages mount up, Lin becomes heavily invested in the drug lord Abdel Khader Khan, treating him as a father figure godsend. Now that he's in thrall to Khader, Lin's altruistic side fades away, leaving readers to wade through seemingly endless tough-guy scenes of macho dialogue and beat 'em up. The book gives the impression that each twist and turn of these rival gangs scheming and warring against each other are of utmost importance to Roberts, but readers more interested in thoughtful humanity will probably lose sympathy with the suddenly swaggering Lin, as I did, and hang on only for the descriptions of the unusual Afghanistan setting, where the Australian's warlike side emerges full blown, without any real apology. Toward the end of Shantaram, I was reminded of author Peter Straub's Blue Rose crime novels from 1988-1993, in which again, labyrinthine complexities of plot are supposed to be gripping, yet really, reading, trying to keep track of the reversals and revelations, having my patience and memorization capacity taxed, I was just hoping for Straub to go rogue from corporate expectations and write something that simply interests or amuses him, as he did in his 1999 novel Mr. X, namely the fun scene, wholly unnecessary to the plot no one remembers anyway, of a college kid on amphetamine, sleeplessly blazing through tests and causing assorted humorous troubles (as best I can recall from having read that book a decade or so ago, anyway. Also, still waiting for a Peter Straub comedy of manners novel.) It isn't really required for fiction to be a Rube Goldberg machine of cloaks, daggers, and derring-do to maintain audience interest, but living in a world of easily digestible intellectual abstractions and unnoticed emotional hypervigilance, that's what audiences today are trained to look for from corporate entertainment: whether it's the banging jolts and high-pitched shrieking of the ubiquitous cartoons everyone from toddler to adult seems to watch nowadays, or the action-heavy, fatal exploits of weapon-toting superheroes in blockbuster movies, characters in film will switch sides, chase MacGuffins, navigate ridiculous plot twists, and try to kill each other for hours and hours, and since all this is usually folks' starting point with art, other options aren't always readily salient. Anyway, to sum up Shantaram along with its reliance on needless hyperstimulating plot machinations, Lin first gains reader sympathy, going from gun-waving druggie to altruistic slum doctor, then loses it, dwindling into a cardboard gangster character working his studly way through the forgettable mazes of noir plot. The fugitive's climactic forgiveness bestowed upon Madame Zhou, as predictable as a million other Christian-esque forgiveness stories (see for instance the Star Wars movies, where blowing up inhabited planets, committing mass genocide, is no significant obstacle to redemption: no trials, no reparations, no transformations, no nothing), makes little lasting impact on Lin after quick passages of him standing before her musing yet more aphorisms before returning to beat 'em up (where sure, he sometimes muses additionally, but he keeps on in the gang, doesn't he). Among other things, Lin blames his second imprisonment for his downfall, but as I'll conclude below, I think there's more to his dark side coming out on top than the novel openly expresses.
The poor characterizations are another problem with Shantaram. Lin's sidekick, Prabaker with the never-ending flashbulb smiles, was already mentioned briefly; he's largely a troubling Sambo caricature, the offensive stereotype that paints people who aren't white and are classed far below the colonial rulers and their offspring as happy and loyal and stupid untermensch. The women, Karla and Lisa among them, are routinely described in terms of their attractive physical appearances, and their roles are mostly delimited to how they impact the Australian and his sex drive. I suppose both these flaws were regrettably par for the course in 2003, prior to the widespread adoption of social media, but I'm glad white male authors can't so easily escape with this sort of unaware, compulsive thing anymore.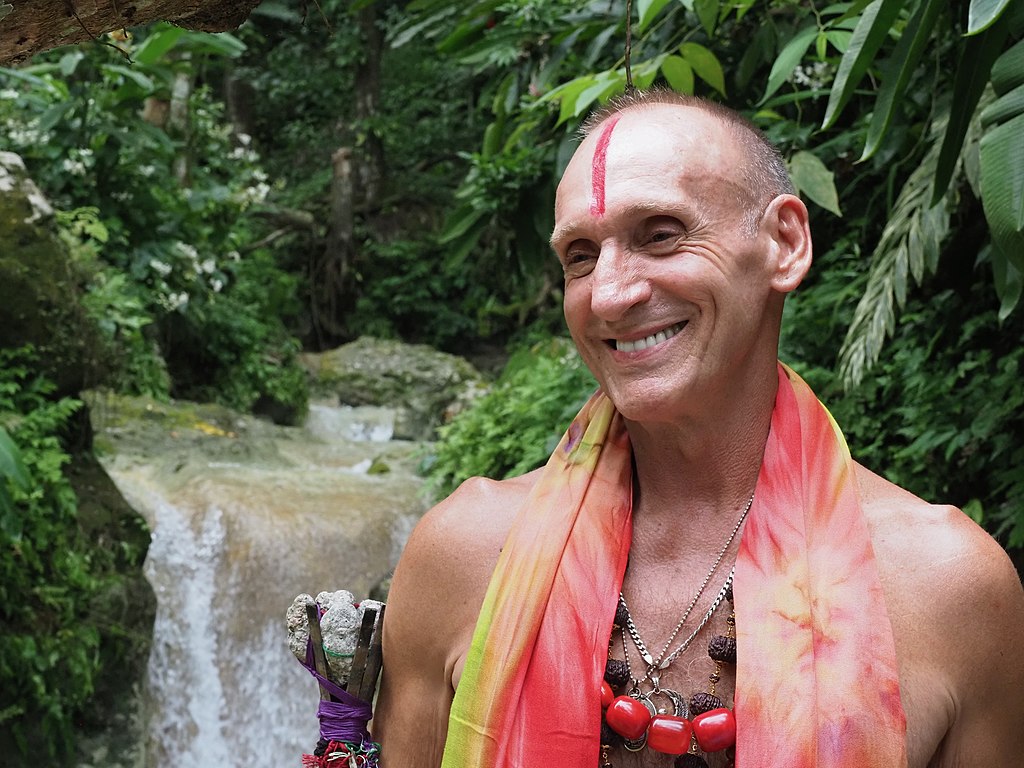 Finally, I want to talk about how Lin seems, to me, unreal, depersonalized. I'd imagine someone who robs banks, busts out of prison, and travels the world to be a person of great strength, for good or ill. Maybe I'm wrong, and there are more things in heaven and earth than dreamed of in my philosophy, but I'd expect such a fugitive to have bold opinions, disciplined willpower, and definite preferences. Yet Lin floats, without much volition, as if pushed by undescribed waves, from healing doctor to warlike gun-runner, to someone listening to music on a beach or drinking in a bar, to many other roles, with little explanation of his zigzagging path beyond obvious observations in his first-person narration to the effect that, say, strutting gangsters want attention and aren't happy in themselves. Duh. Papering over this depersonalized way Lin comes across are corny aphorisms from Karla and the-author-speaking-through-Lin. Many reviews have mocked these purple groaners, but just to give one example, I'll open to a random page in the middle of my copy. Page 451: "there's an innocence, essential and unblinking, in the heart of every determination to serve." Huh? Essential and unblinking? Well, maybe? After reading hundreds of these easy-on-the-ears, yet ultimately cryptic, assertions, one or three every few pages, I lost my hopeful tolerance that I might learn from them something profound, and began to grow exhausted with them and the book overall. The one-liners seem to cover for the lack of a real Lin — Why did he gain that doctoring ability in the first place? Why India, or Karla for that matter? — so Roberts shoehorns the aphorisms into just about every available spot, apparently trying to create the illusion that meaningful things are happening. Lin turns to Khaled as a father figure, hoping the drug lord (who himself spouts paragraphs of undergraduate-sounding metaphysical theories into the eager ears of the fugitive) will provide something of substance, perhaps an understanding of life that Lin lacks. But Khaled is himself just some puffed-up mob boss, impressive only because the author repeatedly insists through Lin that it is so. The understandings never really come — except as more charlatan's aphorisms. It isn't just that Lin was pissed off to get imprisoned again, and so became a gangster when he should have remained with the friendly folks at the slum. It's more crucially that, despite what we're told of the prison-break and doctoring abilities and other superhuman attributes, there isn't actually much of a Lin to begin or end with; referring himself to the ignoble Khaled for answers is just one dead end he tries of several. So in the absence of a more real, perhaps more determined individual to follow, the author instead fills too much of the novel with the supposedly cool scenes of rival gang fights. With all his anxious musings and flailing, flip-flopping soul-searches, Lin certainly doesn't know himself truly, not even by the end of the novel, which to be fair is the first released in a planned quartet — if readers have the patience for whatever the grand total page count and grand total aphorism count end up at.
For all its problems, the novel does cohere quite well, and Roberts' evocative, vibrant descriptions of the unfamiliar-to-me settings are worth the price of admission. They make me want to visit India even, and might be very enjoyable for you as well. The book includes a sampling of fun curios, from dancing bears to commentary on the challenging and sometimes dangerous peculiarities of Mumbai transportation. However, given all the complaints against the book described above, including the automatic turn-offs of weak/caricature characterization, there are probably better works about India and Afghanistan in English out there, more deserving of 900 pages' worth of reading time. I definitely decided against reading the sequel (The Mountain Shadow), which racks up nearly another 900 pages. Reviews of the sequel say that with the autobiographical material burnt through and thus unavailable to him after Shantaram, Roberts piles on the aphorisms even worse in The Mountain Shadow, as the crime plots continue their needless complexities that don't even titillate successfully. Beyond the setting descriptions, expressed sufficiently in Shantaram, I don't think there's more to learn from Roberts. So as 2021 gets underway, I'm now turning to read all of Ursula K. Le Guin's Earthsea fiction. There's only so much time.

This blog post, Review of the novel Shantaram, by Douglas Lucas, is licensed under a Creative Commons Attribution-NonCommercial-ShareAlike 4.0 International License (human-readable summary of license). The license is based on a work at this URL: https://douglaslucas.com/blog/2021/02/19/review-novel-shantaram/. You can view the full license (the legal code aka the legalese) here. For learning more about Creative Commons, I suggest this article and the Creative Commons Frequently Asked Questions. Seeking permissions beyond the scope of this license, or want to correspond with me about this post otherwise? Please email me: dal@riseup.net.