Note: In 2021 I'll publish at least one blog post per week, ideally on Wednesdays. Here's entry 6 of 52.
Note: I received a few comments on previous blog posts. Just yesterday I found them in my moderation queue and approved them. Thanks for your patience! Later this month, another post on Biden and a post about some Seattle graffiti. Also, I revised the Gamestop post from earlier this month a little, and fixed the aspect ratio on the snow pictures in my preceding entry.
Today the official Chick Corea website announced the fusion jazz keyboardist, who won 23 Grammys and recorded with legendary trumpeter Miles Davis, died Tuesday at age 79, due to a rare form of cancer. His official website currently shows the announcement on its front page. Here's the unfairly meager New York Times obituary. For the uninitiated, the fusion genre means something like rock + jazz, often with electric rather than acoustic instruments. It was huge in the seventies.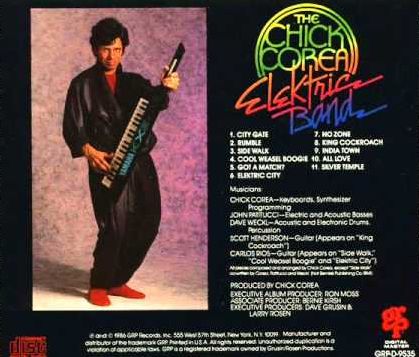 In my teens, I took lessons for several years on the electric bass guitar from an amazing jazz player. Before the lessons, this teacher would sit in the music store's basement practice room, rehearsing alone. One thing he would play in these solo moments was the speedy intro to Chick Corea's song "Got a Match?" with all the excellent articulation in his right hand that you hear from longtime Chick Corea bandmate John Patitucci. I'd stand outside in the hallway, not wanting to enter and start the lesson just yet, so that I could hold my breath and simply listen.
Learning to play parts of such songs myself, with the help of the instructor, taught me to really appreciate a lot of jazz, including Chick Corea. It was his self-titled 1986 album The Chick Corea Elektric Band that really stuck with me. (I still haven't put in enough effort to get into his other work; my bad.) The song "No Zone" was nicely otherworldly, speaking of mood states and possible meanings far away from the familiar world of corporate radio and conformist peers. "No Zone" leads into "King Cockroach," an epic tune with a deservedly grandiose ending. I must have listened to that album at least a thousand times in my life so far.
When I played the 1986 compact disc for others, they too often said, as if pronouncing a verdict of no worth, "This sounds like video game music" or "This sounds like porn music" or "This sounds like weird Miami Vice drug/coke music." I've never been much for group affiliation, so saying A is bad because it resembles B is an argument I quickly reject. Why not just evaluate A on its own merits? Being in a hurry is one legit reason I can think of, and I've heard it said that ethics requires analogous reasoning: the only way to rationally show that an act is unjust is if it's shown to be sufficiently similar to another act already agreed to be unjust. I don't know what to make of that and its infinite regress. I do think it's bizarre to listen to music and quickly dislike it merely because it bears similarities to some other music/thing.
Maybe give this 1986 live performance of many of the songs from The Chick Corea Elektric Band a chance on its own merits. The video was recorded at the Bern jazz festival in Switzerland. If you like it, you might also enjoy (uh oh, things similar to each other) Jaco Pastorius's band live in Montreal in 1982, plus Tower of Power playing "What is Hip?" in Chicago in 1977. Until next week!

This blog post, RIP Chick Corea, fusion jazz keyboardist by Douglas Lucas, is licensed under a Creative Commons Attribution-NonCommercial-ShareAlike 4.0 International License (human-readable summary of license). The license is based on a work at this URL: https://douglaslucas.com/blog/2021/02/11/rip-chick-corea-fusion-jazz-keyboardist/. You can view the full license (the legal code aka the legalese) here. For learning more about Creative Commons, I suggest this article and the Creative Commons Frequently Asked Questions. Seeking permissions beyond the scope of this license, or want to correspond with me about this post otherwise? Please email me: dal@riseup.net.