Note: In 2020, I'm writing 52 blog posts, one per week, released on Mondays or so. Here's this week's post, the one for Week 7…a few days late—try asking for a refund?
Note: This post obviously belongs, as Part 3, to a series of posts about my trip from Seattle, where I reside, to British Columbia in Summer 2019. Here's the completed series, a USian escapes the bubble: Part 1, Part 2, Part 3, and (forthcoming) Part 4.
When I was preparing for my adventure, my acquaintances, much like the border g̶o̶d̶ guard, asked me what I was planning to do. Would I visit the Butchart Gardens? "It is so lovely, and it looks much better during the day than at night, and [on and on]." Years ago, planning for a different adventure, a road trip across half the United States, I was asked my take on whether the route should have us see Nature or cities. "Neither," I said. "We should see people."
To learn what likely simpatico people in Victoria were thinking and feeling and doing, and to bring that psychic samizdat back to Seattle, I primarily had in mind, even from the early planning phases, three missions: 1) check out the anarchist bookstore Camas Books & Infoshop; 2) check out and participate with Food Not Bombs Victoria; and 3) check out and participate with whatever alternative mental health stuff might be springing up in the city. Much of my offline activism my first few years in Seattle involved Seattle Food Not Bombs (especially as a driver!) and working with folks in or around, uh, the Seattle chapter of the, uh, Hearing Voices Network, which as you know is the oldest academic honor society in the United States complete with secret handshake, engraved golden key, and notable members including US presidents and Supreme Court justices, Ursula K. Le Guin, Henry Kissinger, and me. Aiming to improve my irl understanding of subject matters like (radical) education, food security, and replacing dumbass psychiatry, I hoped to gain a bit bigger view of the world, to escape the typically reactionary USian default me me me dolla dolla bill lol unrealistic fake news lol me me me dolla dolla bill — and also, to just interact with everyday Victoria people hanging out, the ordinary Victoria public transit system, and so on. That seemed far more valuable to me than tourist traps. In Seattle my hands have been nicely dirty with real life, so why would I not want that elsewhere?
So, this post covers those three — successful! — missions, each of which took place on a different day of my adventure. I didn't take any photos of the missions, however, so throughout this Part 3, I'll rely on others' photos or funny images.
Mission one: Camas, anarchist bookstore in Victoria (Wikipedia). They recently sent out this communiqué regarding supporting Unist'ot'en and Gidimt'en camps' resistance against proposed pipelines in the area, (Amnesty; blockades shut railways across Canada), which I unfortunately know little about. I walked to Camas from my hostel, something of a 1̶.̶2̶5̶-̶m̶i̶l̶e̶ 2̶.̶1̶-̶k̶i̶l̶o̶m̶e̶t̶e̶r̶ 2.1-kilometre hike one way. I arrived, looked around inside at several of the same books that already existed on my bookshelves back home, and got into a great conversation with a staffperson there. I told him about the drop in ambient anxiety in Victoria relative to the United States, and how I assumed that was due in part to the universal health insurance and the lack of mass shootings. He said he understood how I would perceive Victoria that way, but from his vantage point, everything seemed too calm. "Unrest," he said, "is best."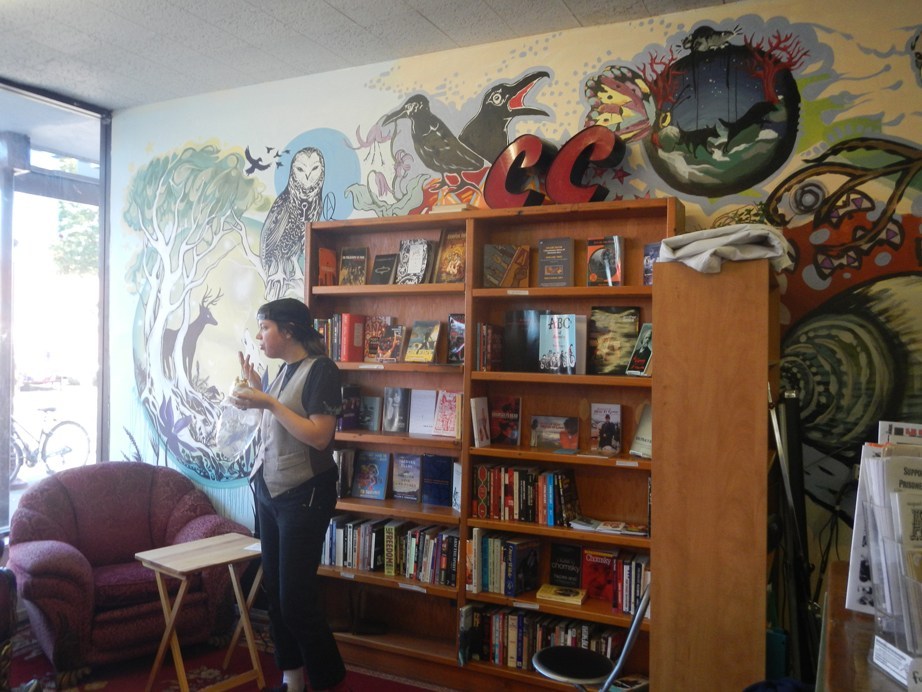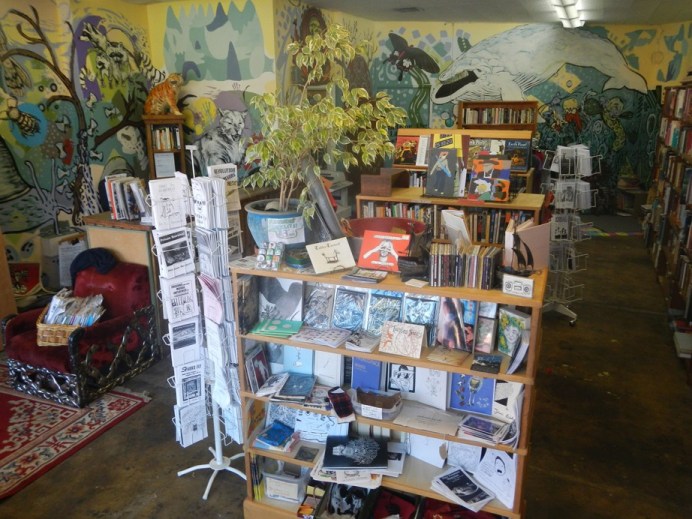 Camas is really cool. Relative to other anarchist bookstores I've been to in the United States, Camas much more strongly emphasized First Nations or indigenous related material. Were I living in Victoria, or staying for a longer duration, I'd go back to get some different books, meet people, find out about projects, etc. Camas is open daily. Fantastic. Just typing this, I miss it, and wish I were there chilling out in those chairs, reading a book, waiting for an intriguing passerby to inevitably come in and strike up conversation far more interesting than what I usually hear offline.
(In middle school, I drew anarchy signs into my handwritten name and drew them into the steam on the shower door at home. Maybe I saw them first on nineties electric guitars, or maybe on the ANSI art of bulletin board systems. That kid and this adult would get along well.)
Mission two: Food Not Bombs Victoria. Part of the global conspiracy to feed people. Gathering surplus food leftover from restaurants, distributors, and other sources, then cooking it and bringing it to a downtown park, on a shoestring budget, and sharing it with everyone, particularly people who might really need it. All the world has chapters, so if you're looking to help someone yourself, instead of voting for someone to instruct someone to instruct someone to consider another vote or two or thousand about paying someone to instruct someone to pay someone to instruct someone to pay someone to pay someone to pay someone to maybe help someone someday — or not — and plus you can make friends and participate in your community…why then, go find a Food Not Bombs in your area or start one.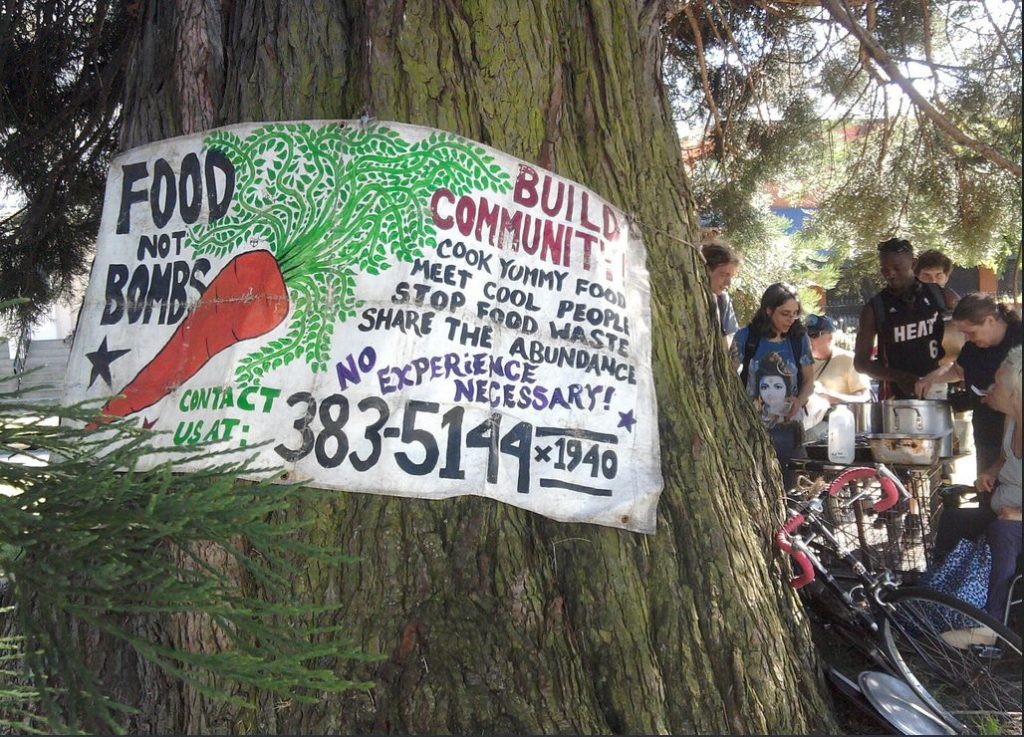 Having FNB-ed quite a while in Seattle, I got in touch with the amazingly welcoming Food Not Bombs Victoria folks, because I was curious how FNB would compare/contrast up there. And I was hungry!
At an apartment, I joined a handful of cooks. Really cool, right, here I am in another country a few days, and already I'm in an apartment with a bunch of friendly local strangers, working on a common cause. And yes, as you might remember from Part 2, everything in this apartment was likewise smaller than the objects would be in the counterpart US apartment. As I recall, even the sink water handles were smaller! The donated food was gathered, I think, primarily from a co-op grocery. With what was then my usual klutzy difficulty, I helped make a salad with sliced cucumber, carrots, a little kale, some sprouts, etc., and another person made a dressing for it with vinegar and various oils. The rest of the food made was similarly standard FNB-style cuisine. We then transported the food from the apartment to the downtown square/park, Centennial Square on the Douglas(!) street side, where the sharing is held every Sunday ⁠— also where, years ago, Occupy Victoria encamped.
At the park, the meal was held under a large tree, upon whose branches an FNBer hung an impressively large Food Not Bombs Victoria sign. The black sign had a lot of colorful graphics and words on it (sorry, no photo!). If I recall correctly, Food Not Bombs Victoria also supplied some local literature, zines, etc. About 20 individuals dined on this most scrumptious meal. That included random businesspeople passing by, various park denizens (such as skateboarders), multiple homeless or traveler or otherwise off the radar humans, plus some FNBers who hadn't cooked with us but wanted to hang out.
FNB Victoria implemented two good ideas others might want to pick up. First, not only did FNB Victoria bring to the park a box of clean, re-usable mugs, cups, bowls, and cutlery, but also, many, perhaps most, of those sharing generally already knew to use those implements and then place them back in the box after eating. These bowls, pieces of cutlery, etc. would later be washed by FNB Victoria and used the next week. Second, the sharers mostly arranged themselves in a lazy circle around the tree. As opposed to FNBers on one side of a table and non-FNBers on the table's opposing side, FNB Victoria's organically emerged quasi-circle seating/standing arrangement felt very not us vs. them to me.

Mission three: Alternative mental health. Before ferrying to Victoria, I pinged my contacts involved in that movement, seeking suggestions for my trip. To my knowledge, Victoria has no Hearing Voices Network chapter, then or now, but someone did point me to Movie Monday. It's a weekly series of eclectic and thoughtful films, often with presentations and discussions. Free admission, donations encouraged. The 100-seat theater is in the same building as a (now closed down, I believe) psychiatric ward. In 1993, Movie Monday coordinator Bruce Saunders was held at that ward, diagnosed with bipolar disorder. Stuck there, he got the idea to show movies at the unused theater, because quality education and entertainment and conversation are as needed as food in life. He continues to coordinate Movie Monday, and it has been going for more than 25 years (listen to this seven-minute MP3 interview with him). The movies aren't always about mental health topics and aren't just for audiences interested in that subject. Movie Monday started that way, but has since expanded to other subject matters. When I went, we watched Six Primrose, about a food security project in Dartmouth, Nova Scotia.
After the movie, a short discussion took place among the audience. I learned about some resources, people, etc. for alternative mental health interests in Vancouver BC. Those I can pursue on my next adventure to British Columbia!
Waiting at the bus stop to return from Movie Monday to the hostel, I got into a conversation with a random Canadian woman also waiting for the transit ride. I tried to ask her questions about Canada, but she easily and repeatedly diverted the conversation back to the United States.
"Why," she wanted to know, "won't they fix their country? Or, why don't they just leave?" (Apparently I myself had temporarily become a nomad, resident of nowhere.)
Although I don't know all the answers to her questions, perhaps you reading know some of them for yourself. The best I can do for motivation at the moment is to compare my whole adventure to the excitement expressed in the amazing 2015 song "Go!" by the band Public Service Broadcasting, about the spaceflight that put the first humans on the Moon. Listen, and I'll keep trying to talk USians into traveling with Part 4 of this series next week!
This blog post, A USian escapes the bubble: Summer 2019 adventure to British Columbia, Part 3, by Douglas Lucas, is licensed under a Creative Commons Attribution-NonCommercial-ShareAlike 4.0 International License (human-readable summary of license). The license is based on a work at this URL: https://douglaslucas.com/blog/2020/02/20/summer-2019-adventure-british-columbia-part-3. You can view the full license (the legal code aka the legalese) here. For learning more about Creative Commons, I suggest this article and the Creative Commons Frequently Asked Questions. Seeking permissions beyond the scope of this license, or want to correspond with me about this post otherwise? Please email me: dal@riseup.net.