Note: In 2020, I'm writing 52 blog posts, one per week, released on Mondays or so…except when I'm not because reasons, pandemics, life, etc. This was going to be a placeholder 'oops' post for Week 26, but as usual, I kept typing…
Note: I updated last week's post some; you might like to take a look at it again: Happy Rioting, Self-Defense, and Fucking Up Shit!
Note added Thurs 2 July: Links for recent articles at NPR and the Economist discussing COVID-19 spreading not by protestors but by parties, and a ProPublica article from July 1: "Internal Messages Reveal Crisis at Houston Hospitals as Coronavirus Cases Surge" Blame those on top, not your neighbor
I have a huge blog post in the works, giving an overview of, and listing resources for, escaping the box of conventional psychiatry. But it'll have to wait another seven days or so, as I need to sit this workweek out, at least in terms of blogging. Although I'll keep typing:
For unknown reasons, I've felt sad today and late yesterday.
Here in Seattle, the past 48 hours or so, I've been thinking, off and on, about Texas, where I'm originally from, probably because of the COVID-19 news there and everywhere. More than 5,000 new cases per day now in Texas. Over the past few months, Texans have told me not to worry about it. Around March or so, I offered to connect a regional hospital in Texas with PPE donors in Dallas; hospital staff declined, saying more PPE wouldn't be necessary, though I suspect also the (current) neurotypical standard of seeing vulnerability as fault might have been at play. A Texas parent insisted to me that her adult offspring must not think about faraway coronavirus because it's too stressful: I order you to stop texting these grown-ups about it, Douglas. Texans close to me recently went to gyms and salons and lectured me on their safety and how Trump would get this all fixed. (Except he and his are causing it.) But these are all well-documented, predictable reactions of propagandized humans to pandemics and politicians, just like during other outbreaks, such as this one a century ago.
The solution isn't to vote for your destroyers but to arrest them, following realistic and practical steps (informed action feels better than anxiety), and thankfully although many of my Texan friends from the past few years have disappeared from my life — I guess they're too weakened to risk the unpopularity pursuing unusual topics might bring; but, I don't know for sure, since we no longer talk, typically — skyrocketing follower counts of, and widespread interactions with, good accounts show that more and more people globally are taking interest in helping themselves and others each day (instead of just buying and selling every last iota in a self-destructive race to the empty top), so maybe humanity will get somewhere, presently.
I also see many nice little evidentiary pieces of a better world. The neighbor out on his lawn playing his acoustic guitar and smiling, for the first time I've ever seen him smile. Customers in the grocery store swaying to the music from the overhead loudspeakers, when they were pretty much never doing that previously. All these little things add up: a reality with time for tasks other than serving powerful employers. Yet the clock is ticking till the unemployment payment boost evaporates on July 25/26/31 (depending).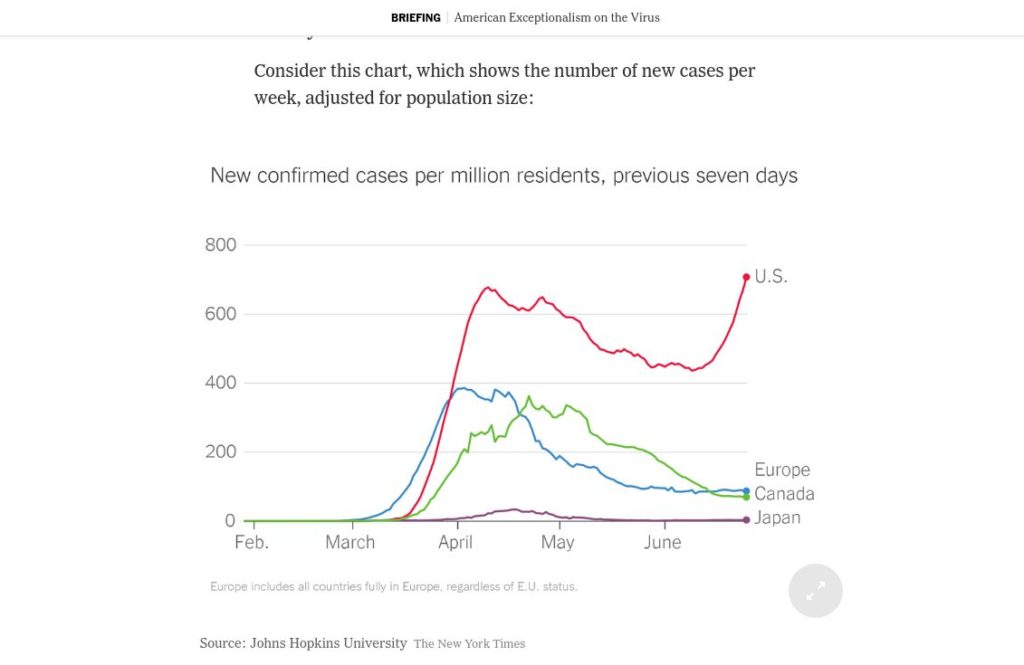 So why the fishbowl picture at the start of this post? The past few days I've been unfortunately thinking (I'd rather think about something else) that the real core of reactionary Texas ideology is its premise that the individual is not affected by anything but the individual's own willpower; the individual is not affected by the environment, and to speak of how conditioning or pollution or pandemic might be impacting you, according to the Randroid/Texas vision, is to confess your moocher inability to climb from rags to riches by innovating through the sweat of your He-Man brow, etc. It occurred to me that these increasingly infected Texans are sadly stuck in a small pond, and proudly don't know it. Like fish in a fishbowl. And unaware of the rising temperatures — they of course think global warming is a hoax, just like Donald Trump calls coronavirus a hoax (and calls global warming a hoax) — and dismissive of any other possible impact from any other possible attribute of their surrounding environment, the Texans swim around their small pond telling each other they will succeed, they will innovate! Meanwhile, all the multinational criminal conspiracies destroying the planet/environment, are like a person the fish can't or just won't perceive, walking up to their fishbowl, grabbing it, and, while the fish continue to explain their rugged individualism (or so very hairsplitting neoliberalism!) to each other, just throwing the bowl at the wall. The bowl is flying toward the wall, the water is sloshing out, and the medium-size fish is sucking up to the biggest fish (in hopes of paid employment in eating other fish) and insulting the smallest-size fish for protesting, but it doesn't matter, they're all about to hit the wall, victims of much they once vaguely sensed and slammed the mental door on ("you shouldn't think too hard"), or, well, victims of being goldfish I guess (metaphor strain!).
I want to type something like, "Please specify the conditions within which, what changes would need to happen so that, you could give your time and assistance not to celebully politicians who have willfully killed many people, but say, to Food Not Bombs, who hasn't killed anyone and only tries to help?" but I need to do some dishes and then go to bed, I guess, and I've never got an answer from anyone to my "what conditions, if any, are required so that you might…" question. It's basically asking the general public to admit what accommodations we might need to obtain asap, to combat rather than support our extinction. Which things to fix first (maybe these). And we're pressured to see needing/procuring accommodations as making us less than. But even that "pressured to see" is pointing to an environment, which under rugged individualism, doesn't exist and/or can have no effect on rags-to-riches High Value Men / Action Figure Superheroes. We're pressured to see the bad environmental circumstances surrounding us (poverty, mass shootings, no/low access to quality food, anyone could continue) as personal failings, when really, those circumstances aren't the fault of everyday people, and without talking about them loudly, we won't ever fix them by convicting those causing them.
I want to power off my laptop and never power it back on. Death tolls getting to me today, and all the bots, and all the humans who have turned themselves into bots ("you shouldn't care too much"), screaming that masks are a myth, or whatever, at the ER and ICU and other medical professionals on Twitter and in Texas who are asking for help. I should be grateful I'm not there, but it feels in some ways that I still am…
28 June 2020, The Dallas Morning News: We went inside Parkland's COVID unit during its 'worst week' as coronavirus cases spike in North Texas
The critically ill patients in Parkland's COVID-19 Tactical Care Unit couldn't wear masks even if they wanted to. They each have a plastic tube jammed down their throats, straight to their lungs […] It's eerily quiet on this long, open ward and the 30 patients on ventilators seem frozen in place. They're unconscious, sedated with powerful drugs, in part to prevent them from ripping out the lines that are keeping them alive. […] Not one would hesitate for a nanosecond to trade the invasive plastic tubes for the masks that we, breathing free on the outside, get to wear. Not the 52-year-old man in one bed or his 77-year-old mother a few beds down. Not the man who went on a ventilator Friday night or the one who has been on a machine for more than two months […]
Note also that whistleblower Dr Rick Bright filed on 25 June 2020 an addendum (10-page PDF … it says "second addendum"; what was the first?) to his whistleblower complaint (89-page PDF) about Trump cronies retaliating against him because he "insisted on scientifically-vetted proposals, and […] pushed for a more aggressive agency response to COVID-19″ so they could push ineffective, shit drugs for you to take instead. The addendum documents the authorities on the warpath against his efforts to get his position back and threatening those who might help him do so.
Hopefully, this pandemic will teach people, even in Texas, that far from being a singlehanded titan of industry, each person is just a tiny speck, just one 7.6 billionth of the people alive today (let alone past and future people, as well as nonhuman animals), and imagining a single person as a willpower-y Robinson Crusoe, or belting out that the virus/environment won't impact you because you think it's fake, is like trying to section off with floating rope one part of the swimming pool from somebody else in another section peeing. Doesn't work.
We're all in this life thing together.

This blog post, Texas case count musings by Douglas Lucas, is licensed under a Creative Commons Attribution-NonCommercial-ShareAlike 4.0 International License (human-readable summary of license). The license is based on a work at this URL: https://douglaslucas.com/blog/2020/06/29/texas-case-count-musings/. You can view the full license (the legal code aka the legalese) here. For learning more about Creative Commons, I suggest this article and the Creative Commons Frequently Asked Questions. Seeking permissions beyond the scope of this license, or want to correspond with me about this post otherwise? Please email me: dal@riseup.net.