Note: In 2021, I'm blogging once a week, typically on weekends. This is entry 24 of 52.
Note: Readers of last week's post might enjoy seeing some of the revisions I made to it, such as the addition of subheads.
Note (added 9 July '21): The argument in the last paragraph of this post is that psychiatrists' dehumanization of their patients is revealed by psychiatrists not putting in effort on things like compounding pharmacies that would benefit their clients, but instead paying attention to those they do regard as valuable humans, such as their colleagues or Big Pharma representatives/ghostwriters.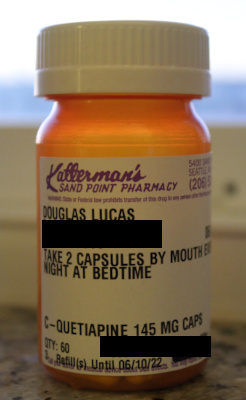 When I lived in Texas during my teens and twenties, a decade or more ago, I'd not yet encountered a lot of high-quality information countering psychiatry. Here and there a friend might say something, or an unusual news item might flash across my radar, causing me to briefly question the psychology industry, but although these blips of knowledge did help dent my confidence in the mental health system subtly, I still remained, overall, a believer in and user of conventional psychiatric services. But there's one very clear exception to this.
Even early in my experiences with the prevailing mental health system, I did realize the unavailability of psychopharmaceutical dosages in any increment desired was a red flag signaling that Big Pharma shouldn't be trusted. If the pill-makers truly cared about the well-being of patients, they'd sell the psychopharmaceuticals in pretty much every dosage possible. For instance, AstraZeneca would offer quetiapine (Seroquel) at 300 milligrams, 299 mg, 298 mg, 297 mg, 296 mg, and so on, as well as at 301 milligrams, 302 mg, 303 mg, and the rest. That way prescribers and patients could select the dosages that would provide the precise antipsychotic effects supposedly needed (the distress the diagnosed experience is real and at times strange, but the chemical lobotomies, to use the term Big Pharma initially employed to introduce the pills to psychiatrists, aren't long-term solutions). And simultaneously, the psych drug consumers could take as little of the psychopharmaceuticals as possible, in hopes of dodging or minimizing adverse effects including but not limited to weight gain, metabolic syndrome, tardive dyskinesia, fatigue/tranquilization, brain shrinkage — the list goes on and on.
On the familiar commercial market today, Big Pharma supplies the drugs only at certain dosages — in the United States, quetiapine/Seroquel can be filled in the 200-300 milligram range at a regular pharmacy only at 200 mg, 225 mg, 250 mg, 275 mg, and 300 mg — but patients deserve custom dosages of any increment, especially for the sake of tapering down or off the drugs. Helping a patient taper down or off, increasingly referred to as deprescribing, is just lately penetrating the consciousness of conventional medicine, since the pill industry planned patients to be on the drugs for life; doctors who aren't up to speed on the topic are seriously behind. See for instance the amazing 16 March 2021 article in the peer-reviewed journal Therapeutic Advances in Psychopharmacology by Adele Framer (aka Altostrata), founder of SurvivingAntidepressants.org, with the in-your-face title "What I have learnt from helping thousands of people taper off antidepressants and other psychotropic medications."
Sometimes patients without compounding pharmacies attempt to break or cut their pill tablets at home, but this often doesn't work well. For starters, a jeweler's scale used to measure the cut tablet might not register small weights accurately or precisely. Making matters worse, if the individual at home tries to cut a tablet and screws up (little tablets can be slippery, among other reasons), they don't get a second chance, since the monthly bottle contains only 30 pills. The psych drug consumer now has to try to pick tiny tablet shavings up off the floor where they fell and figure out how many of the crumbly shavings to swallow, along with whatever grody grime from the floor is sticking to the shavings. It isn't convenient to weigh and cut pills yourself if you're travelling, either. And how does anyone know if the chemical is evenly distributed across the total volume of the tablet? Breaking, say, a 25 mg tablet in half to obtain a 12.5 mg dosage won't work if the chemical is mostly on one side of the tablet due to vagaries of the corporate manufacturing process. If the tablet is scored, that can help, but not enough for precision necessarily, and it doesn't feel very encouraging when the regular pharmacist promises you the tablet will be scored and when you get home, it turns out it isn't. Patients whose pills come in capsules, such that they can unscrew the capsules and count out each bead of the psychopharmaceutical to reach a custom dosage, may have better luck — I have no personal experience trying to customize capsule dosages at home, only tablets — but not all psychopharmaceuticals are available in capsule form.
Enter compounding pharmacies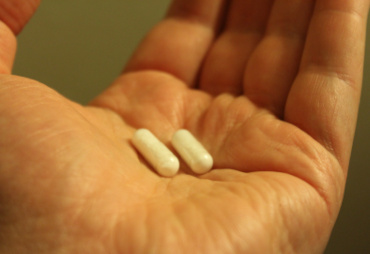 Compounding pharmacies are your way to hack the problem of prefab dosages so you can obtain custom ones. Tons of USians taking pharmaceuticals have never heard of compounding pharmacies (which is why I'm writing this). To compound simply means to make a medicine by combining ingredients such that the result is tailored to the needs of a specific patient. For example, someone might need a particular medication, yet have an allergy to a dye ingredient used in the versions made at large by Big Pharma, so the patient goes to a compounding pharmacy to have pills created that are without the dye but otherwise the same. Shouldn't all pills be tailored to the needs of each patient? Anyway, in the United States, compounded drugs are not FDA approved, but they or the compounding pharmacies are typically subject to other oversight, including state-level regulatory agencies. Compounding pharmacies work by basically doing similar weighing and cutting procedures as patients might try to do themselves at home, but the compounding pharmacists have at their disposal much better equipment and expertise to bring to bear on the task. I don't know the history of compounding pharmacies versus the "regular" ones typically found in corporate drug stores like Walgreens, but I bet it's fascinating.
To get started, the two things a patient mostly needs are an unconventional psychiatrist who will agree to prescribe at a compounding pharmacy (maybe they've already done so for other patients), and health insurance that will cooperate if the custom pills are expensive (compounded quetiapine/Seroquel is merely $40 USD per month out of pocket in Seattle). Finding such a doctor is easier said than done, but it's definitely possible, especially nowadays with the widespread use of telemedicine. Health insurers sometimes cover compounded drugs; check their policies and fight with them if necessary.
Custom dosages are especially needed for reducing or eliminating dependence on psychopharmaceuticals. If a person diagnosed with severe manic-depression and psychosis has been on a dopamine antagonist (an "antipsychotic") for decades, stopping cold turkey, or decreasing the dosage by 50% for two weeks and then quitting, can itself trigger psychosis — and sadly, psychiatrists will then claim it's the "underlying disease" acting up, rather than admitting that the huge jumps in dosage via regular pharmacies, or via conventional psychiatrists, could have been at fault. In my case, in my quest to get off this crap, I recently went down from 300 mg quetiapine/Seroquel per night to a compounded 290 mg, a decrease of merely 3.3%, whereas going down to the next dosage AstraZeneca offers, 275mg, would have been a decrease of 8.33% or approaching 10%. That's quite a difference that can have dramatic implications for whether an individual going down on such drugs remains safely functional or not. I'll quote Framer's article on the subject of protracted small, gradual tapers (I removed the footnotes; see the link above for the full info):
For decades, in both psychiatry and addiction medicine, there have been calls for research into tapering protocols for psychotropics so as to avoid withdrawal symptoms, with little result. We have found that very gradual dosage reduction at an individualized pace minimizes the emergence of withdrawal symptoms. Years ago, inundated by people with severe withdrawal symptoms from the "half, and half, and then off" reductions recommended by their prescribers, patient peer support groups propounded reductions of 10% per step, as suggested by many sources. Since 2011, SurvivingAntidepressants.org has advocated a conservative 10% reduction per month of the most recent dose – an exponential taper, the size of each reduction becoming progressively smaller, approximating the hyperbolic method endorsed by recent research. These gradual tapers to minimize withdrawal symptoms typically require the creation of customized dosages and take many months to several years, depending on individual tolerance for dosage reduction.
Some, like me, are in situations where even a 10% decrease might be too much too fast.
It's astonishing how many conventional psychiatrists I've had to see, and maybe you've had to see, who never mentioned compounding pharmacies, for I certainly brought up my desire for custom dosages to them during face to face appointments. These were docs in corner offices packed with awards. Based on exposés I've read about the medical industry over the years, I'm guessing in medical school, doctors maybe hear about compounding pharmacies once or twice tops, and then go on to forget all about them. Too busy, I suppose: after all, the psychiatry industry invented the disease of drapetomania, which diagnosed as insane slaves in the United States South who thought they should be free; psychiatry decided homosexuality was a mental illness and then finally un-decided that by vote as recently as 1973 (that's when 5854 psychiatrists voted to remove homosexuality from the system of diagnoses, while 3810 were in favor of keeping it in); and lately, the psychology industry has been criticized for assisting the United States military and spy agencies in committing torture. Hmm, too busy to learn about the compounding pharmacy down the street. I had to quit going to a mental health center here in Seattle (for refills of the pills I'm still physiologically dependent on) because the psychiatrists there would work only with that center's regular pharmacy. I suppose the effort to set up prescriptions with a compounding pharmacy was just too much for these precious lightweights.
Ultimately, this isn't about science. (Refuting what studies supposedly show about psych drugs is too much to include in this single post; check the links in the first sentence for more on the topic.) What psychiatry is really about is name-calling, pointing fingers, damning or cursing some as official less-thans. Just like many cults, as this book analyzes in great detail. Reflectors/fans of psychiatry might feel this post has disrespected doctors and their diplomas, which they probably idealize, and they probably believe those diagnosed have all this stuff (nightly tranquilizer pills, lobotomies, electroshock, etc.) coming to them anyway, just because the docs said so, and well, maybe someday a third party messiah will come along and improve the mental health system or something, but eh. I actually had a conventional psychiatrist in Seattle tell me that in the past few years: Okay, she conceded politely, the mental health system might have some troubles, but "we just have to do the best we can" until some outside factor slowly reforms things realistically and all that. Thankfully, out of the 1-in-5 or 1-in-4 USians on psych drugs, with COVID's psych drug shortages having provided a scary reminder of what's happening behind the scenes of the industry's shiny happy commercials, many, many, many people are no longer asking the hierarchical white coats for permission, and are busy horizontally helping each other improve their situations.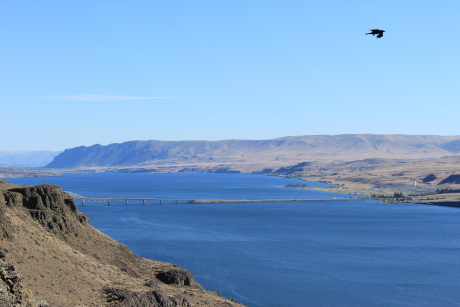 News blasts
Belarus. There's still a dictator in Europe: Alexander Lukashenko (alternate spelling Alyaksandr Lukashenka), protected by the Vladmir Putin regime in Russia. Lukashenko took office in 1994 amid the chaos caused by the collapse of the Soviet Union in 1991. In what would be hilarious were it not for the human rights violations under his rule, Lukashenko is really into the aesthetics of Soviet communism, wearing a decades-out-of-style uniform with a silly hat pictured in the video below (it's a bit like George W. Bush's fascination with official dress of station). Belarus is a presidential republic with a bicameral parliament and all powers centered on the president. Belarus keeps the Soviet-style KGB for spying on dissidents and arresting Lukashenko's enemies. Lukashenko dictates all industry, major media, and education in Belarus. He claims to provide stability in Belarus, but he's a chief cause of instability, and a puppet of Russia (which might sound familiar to US readers). Lukashenko jailed one of his major political rivals, banker Viktor Babaryko, and also jailed Sergei Tikhanovsky, a vlogger in his forties whose youtube channel "A Country for Life" was growing in popularity as Tikhanovsky interviewed members of the Belarusian public about the situation in their country. Tikhanovsky's channel, started in 2019 and still active thanks to his allies, aims to show ways to a better Belarus by featuring everyday Belarusians' stories and examples of entrepreneurs. But when in May 2020 Tikhanovsky was announcing his candidacy for president — Lukashenko has controlled that office since 1994, amid accusations of fraudulent elections — Tikhanovsky was detained supposedly for his participation in a protest against the integration of Belarus and Russia, leading to Amnesty International declaring him a prisoner of conscience. That's when Sviatlana Tsikhanouskaya, previously an English teacher and human rights activist, stepped in to replace Tikhanovsky in the presidential candidacy; they're spouses. Her platform similarly emphasized human rights, democracy, freeing political prisoners, reinstating term limits (as opposed to Lukashenko's dictatorship), and getting away from the union treaty / integration with Russia, viewed as an infringement on Belarusian sovereignty. She received many votes in the August 2020 election; some reports says she won, but according to leaked audio recordings involving poll workers, the dictator continued electoral fraud. He remains in power today. Soon after the election, the dictator's regime threatened Sviatlana Tsikhanouskaya's young children, and she was thus forced to flee the country to Lithuania. Her twitter is here (in English) and here's her English website. Allies of the couple have also faced intense political repression. Meanwhile more general mass arrests of dissidents took place in Belarus; plus, widespread organized crime and trade economy troubles are ongoing. Yet the largest pro-democracy march in the country's history took place on 16 August 2020, with more than 200,000 people rallying. Pro-democracy protests continue even as these activists are assaulted, raped, and tortured by police. Lukashenko plotted assassinations of political opponents living in Germany (including via explosives and poison): a 24-minute excerpt of a bugged recording of Lukashenko's then-spymaster was published by EUobserver in January 2021 here (see also the 12-page English transcript or the 8-page Russian transcript; this DW article in English too). The bugged conversation occurred in April 2012. At one point in the conversation the Belarusian KGB discussed killing a Belarusian-born journalist, Pavel Sheremet, who was living in Russia at the time and under constant surveillance. The spymaster wanted the assassination to send a public message, explaining to officers of the KGB's Alpha Group: "We'll plant [a bomb] and so on and this fucking rat will be taken down in fucking pieces — legs in one direction, arms in the other direction. If everything [looks like] natural causes, it won't get into people's minds the same way." Pavel Sheremet was eventually murdered in a car explosion in Kiev in July 2016. Lukashenko's forces currently use beatings, rape, and torture to maintain power, as well as fake rallies and Putin's protection, but Belarusians keep demanding free elections, release of all political prisoners, and the fall of the dictatorship. Embedded below is a video, just under six minutes, from YAC on 25 May 2021, titled "How Belarus Is Being Held Hostage." It is the source for most, though not all, of the information in this Belarus news blast.
Ethiopia. In 2019, after ending two decades of war between Ethiopia and Eritrea, Ethiopian prime minister Abiy Ahmed was awarded the Nobel Peace Prize. Within a year, Ahmed nevertheless launched a brutal military attack on Tigray, the northernmost region of Ethiopia. This is a bit like former U.S. president Barack Obama receiving the Nobel Peace Prize in 2009 and within two months sending a 30,000 troop surge into Afghanistan, except domestically. Ahmed attacked Tigray after he received criticism for postponing elections (he claimed COVID-19 concerns). Many, including the corrupt and long-standing Tigray People's Liberation Front (TPLF), said Ahmed was postponing elections to seize more power. Then Tigray held regional elections in September 2020 anyway out of defiance. Things escalated from there, including (in chronological order) the Ethiopian parliament blocking funds to the regional Tigrayan government, the TPLF attacking a federal military facility, and Ahmed sending into Tigray a heavy military force accompanied by airstrikes. The Ethiopian federal government is falsely calling it a "law enforcement operation," but it's a full-scale invasion. There are more historical factors and multiparty tensions underlying the Tigray War, but the preceding gives some of the absolute basics. Most importantly, the two sides described are both accused credibly of atrocities, though most of the evidence points to the Ethiopian federal forces along with their Eritrean and Amhara allies. The civilians are being trampled underneath all these fighters, with war crimes, crimes against humanity, and other atrocities taking place. These include mass killings, abductions, daily rape and gang rape of civilians as collective punishment, and other horrors. In some cases, men are being forced to rape their own family members, and in one instance a mother was forced to watch the execution of her twelve-year-old son prior to being taken to a camp where she and other women were raped. The threat of famine is currently rising due to interrupted food shipments. It has also been reported that Amhara forces are committing ethnic cleansing. Multiple countries globally have condemned Ahmed's invasion of Tigray, the United States has declared sanctions on Ethiopia and its leadership, and human rights defenders and investigators are demanding access to the region. World governments are urged to stop doing business in the area, particularly the telecomms industry, but I'm not sure what the current status of that is, anyone know? It would be amazing to see activists in the United States transform from ignoring the brutal conflict to pressuring the unfortunately mighty telecomms toward ceasing collaboration with Ahmed. Many interesting things come from Ethiopia, such as injera bread (made of gluten-free tef, the world's smallest grain, and very healthy too) and the music of the krar instrument, both found here in Seattle. Below is embedded the following recommended videos (the ones from YAC are largely the sources for this Ethiopia news blast): The first video, from YAC on 3 June 2021, is "Ethiopia's Descent Into Darkness In Tigray," at just under six minutes long, with the transcript available here. The second video, from YAC on 24 April 2021, is "The Ongoing Nightmare Of Ethiopia's Tigray Genocide" at two minutes long. The third video, from YAC on 13 March 2021, is "World Governments Urged to Stop Doing Business With Ethiopia" at about a minute long. The fourth video, uploaded to youtube on 2 November 2017, is some Eritrean folk music, singing accompanied by the krar.

This blog post, How and why to use compounding pharmacies, plus Belarus and Ethiopia news blasts, by Douglas Lucas, is licensed under a Creative Commons Attribution-NonCommercial-ShareAlike 4.0 International License (human-readable summary of license). The license is based on a work at this URL: https://douglaslucas.com/blog/2021/06/19/how-why-compounding-pharmacies/ You can view the full license (the legal code aka the legalese) here. For learning more about Creative Commons, I suggest reading this article and the Creative Commons Frequently Asked Questions. Seeking permissions beyond the scope of this license, or want to correspond with me about this post one on one? Email me: dal@riseup.net.