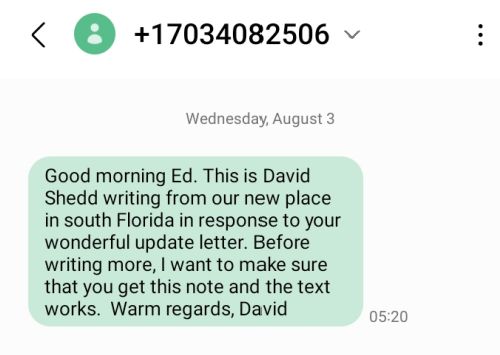 On August 3, I woke to see on my smartphone a text from David Shedd, a retired career intelligence officer who started at the CIA as an intern decades ago and climbed the ranks to senior management, even meeting with Obama face to face in 2008 to discuss continuing the agency's torture program. Why is a lifelong spy who also headed the Defense Intelligence Agency messaging me at five in the morning? He's as spooky as anybody in international espionage: he was on the transition team of organized crime-linked Donald Trump, he's on faculty at Patrick Henry University — a Creationist school requiring all students and staff to attest that the Bible is their deity's inerrant word — and who knows what else. And now he's in my texts.
Back to back in 2018, I wrote one article, for Buffalo's Daily Public, and contributed to the writing of another, at Boing Boing, regarding video footage Shedd ordered censored that year. So that's why I'm on his radar generally. But all that was more than four years ago. Why ping me now?
First, some background to contextualize his odd message.
The Backstory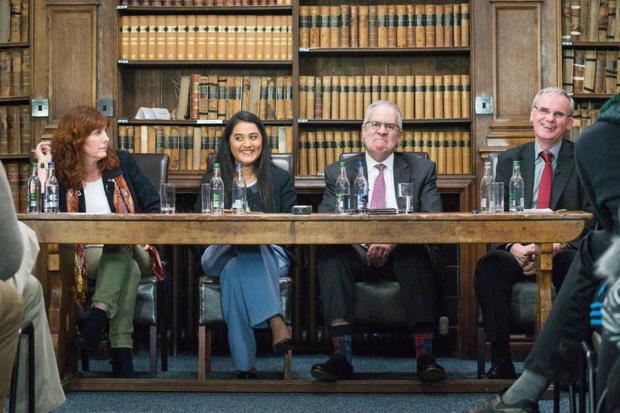 On February 27, 2018, the Oxford Union held, then censored at Shedd's demand, a three-person panel on the very topic of whistleblowing. Here in the United States we don't hear much about this debating society, but in the United Kingdom the Oxford Union is a huge deal: not only have Malcolm X, Winston Churchill, and additional historic figures spoken there, but over the years three of their student presidents have become U.K. prime ministers. A few months ago, one of the planet's biggest newspapers offered the headline: How the Oxford Union created today's ruling political class.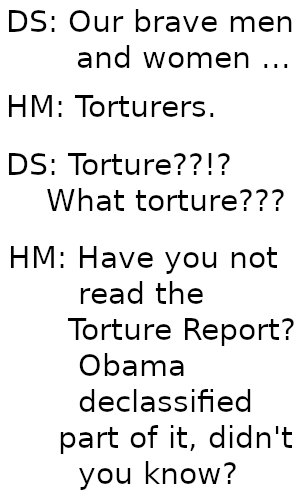 The controversial panel, held in the forum's Goodman Library, consisted of philosopher and human rights activist Heather Marsh, longtime Guardian reporter Ewen MacAskill, and Shedd. Toward the end of the evening, the spy didn't fare well in a back-and-forth with Marsh about torture and other subjects involving how hurting people in shadowy cages is bad actually, so with a politican's pettiness, Shedd told the Union never to release the video recording. Marsh and her lawyers contend the Union is contractually obliged to upload the film as promised to youtube, which they've so far failed to do. The handful of photos they posted don't count.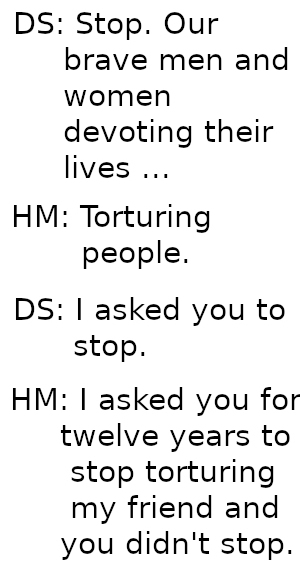 A few months later, Marsh became a whistleblower herself, posting audio of her portion of the panel as well as a transcript. She wrote an accompanying analysis of the censorship, too, discussing how free speech for corporations, predators, and tyrants is shrilly upheld but the words of women and other marginalized people against the powerful are regularly shut down. When the Oxford Union bills itself as the "world's most prestigious debating society" and the "last bastion of free speech" — then agrees to third party censorship of their own footage of a panel on whistleblowing — the society reveals its ultimate loyalty to the likes of Shedd making up the protection racket that today's governance amounts to, where the arch-abusers run wild, occasionally promising security and belonging to the gullible who surrender their self and become obedient.
Learning of Marsh defeating Shedd, and Shedd's subsequent censorship demand, I decided to cover the story and bought phone numbers for the his homes so I could ask him for comment. Through public records sites, personally identifiable information of just about anyone in the United States, king or streetsweeper, is available online legally in exchange for lucre. I politely called the Shedd-associated numbers, which did not include the one he texted me from. His wife — I think that's who answered — came to the phone, but didn't put him on the line. "Stop with the harassing phone calls!" she said, though I'd been well mannered, and though her husband had been a senior manager at a notorious worldwide purveyor of waterboarding, stress positions, sleep deprivation — you know, harassing people, to say the least.

Politely seeking comment is harassment? They clearly have an outsize sense of persecution. I simply wanted to ask him straightforward questions such as Mr Shedd, should I describe you in my article as petulant? Or do you prefer petty? How about sore loser? Anyway, my calls to his homes were the only contact I've ever had with Clan Shedd, and since I didn't get ahold of the man himself, I'd never had contact with him until his weird SMS. It's a routine thing: journalist writing article requests comment; doesn't hear back. But more than four years later, a sudden text?
To finish up the backstory, note that while the Oxford Union student newspaper mentioned the controversy in 2018, and so did the World Socialist Web Site that same year (one; two; three; four), nobody else — besides me (with my in-depth reporting), Marsh, and social media supporters — has uttered a peep. Even Ewen MacAskill, the third panelist, has said nothing from his perch on good terms with the highly influential Guardian newspaper. Likely that's because in the aftermath of the censorship, the Oxford Union gave MacAskill a paid lecture series to talk to audiences about, you guessed it, whistleblowing. You see, experts on whistleblowing don't talk about censorship they know of. They keep quiet like good puppies awaiting treats. War is peace. Freedom is slavery. Ignorance is strength.
Now fast-forward to this summer, what triggered Shedd to contact me out of the blue.
Why now?
In the time frame of Shedd's message, two things were occuring that might have prompted him to send me his strange little note.
One: Unbeknownst to me until late August, the Oxford Union in July asked Marsh to give a solo talk, something she wrote about today on her Patreon in a public post. She asked if they'd post the panel video — with Shedd blurred and muted if necessary, something they've done before when an individual didn't want her performance published. In response, the Union ghosted Marsh. Presumably the debating society, following up on her question, asked Shedd if he'd change his mind, and the hierarch must have said No. And had nothing better to do than text a freelance journalist deceptively — petty and petulant and a sore loser — worrying about how all this is going to reflect on his legacy. Silverbacks like Shedd love legacy: parades, presidental libraries, pyramids. Retired and aging, he must fear the facts around February 27, 2018 will correctly tarnish his status in history. Books and articles are routinely published that trumpet Shedd (and separately, the Oxford Union), so he's accustomed to accolades, not dissent.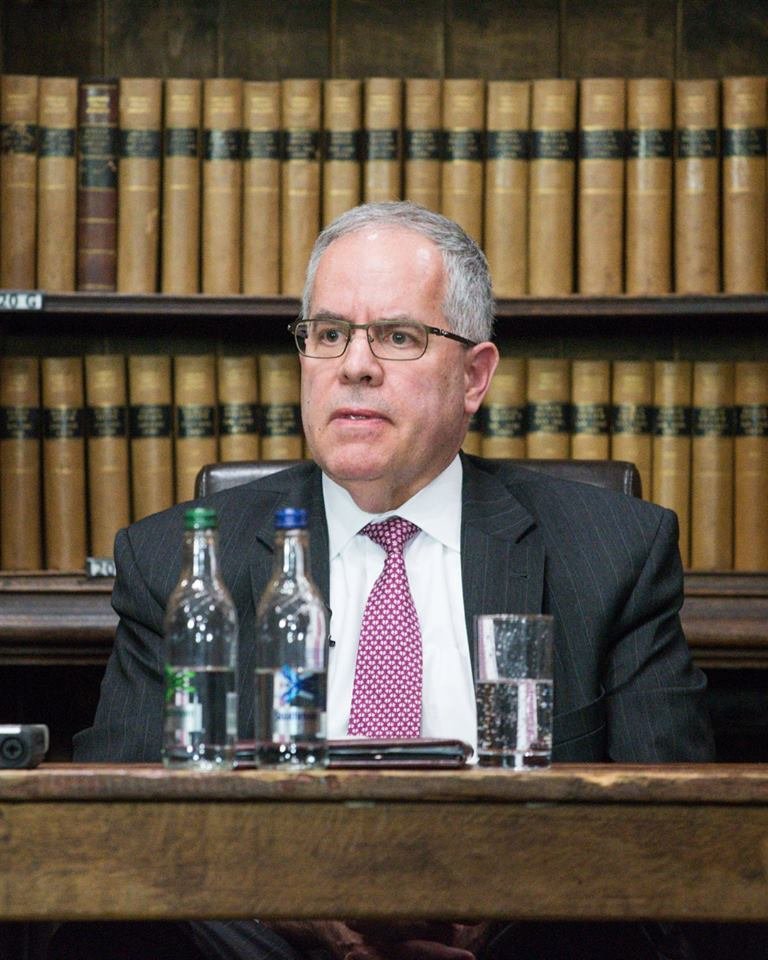 The other: On an ongoing basis I have for years submitted pieces to mainstream and alternative media sites that either focus on, or include, Shedd's censorship. Revelation of the facts in a large venue would greatly help impute guilt to Shedd in the public record so he can accordingly be shunned and feel shame, unless of course his emotional processing is atrophied, which it probably is from aiding in the command of the CIA. That organization has a long history of propagandistic manipulations of the media. See for instance Watergate reporter Carl Bernstein's 1977 Rolling Stone deep dive on the topic addressing cover-ups of how the United States news media "worked hand in glove with the Central Intelligence Agency." All that said — to indicate the water I'm swimming in — I have no evidence, nor even intuition, that anything illicit has happened with my freelancing, but it's within the realm of possibility somebody at such a venue told somebody who told somebody who told somebody a freelancer named Doug is still working on winning amplification for this story, and it reached Shedd's ears.
With the 2018 and 2022 contexts established, let's scrutinize the spy's missive.
Scaredy cat's sneak attack
Good morning Ed. This is David Shedd writing from our new place in south Florida in response to your wonderful update letter. Before writing more, I want to make sure that you get this note and the text works. Warm regards, David
The message arrived at 5:20 a.m. Pacific time (I'm in Seattle). Assuming he was actually in Florida, that would be 8:20 a.m. Eastern. Pretty early to shoot off a mysterious communiqué — maybe he was in a bad mood, rising on the wrong side of the bed after earlier listening to the Oxford Union ask his permission to publish the video. Since he apparently controls them now and apparently told them No way.
I have no idea who Ed is, if anyone. In December 2020, Shedd authored an op-ed titled "Edward Snowden Should Not Get A Pardon Under Any Circumstances," so I don't think Shedd means him.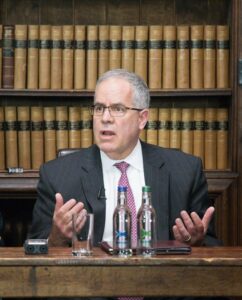 As stated above, I'd never before seen this (703) 408-2506 number, but it's a northeastern Virginia area code where the CIA is located some ten miles from D.C. And my trusty public records services confirmed it belongs to David R. Shedd. Now I have a convenient number to call him at in case I need to request comments again. And so do you.
Regarding Shedd obtaining my phone number, maybe he paid for public records too, maybe he successfully stored my digits for over four years and put in the effort to move them to his (703) 408-2506 device, or maybe, as I documented the Austin-based private spy firm Stratfor assisting with in an unrelated but similar matter, he called a friend with access to surveillance databases and got it that way, saved himself a few bucks. He spearheaded the 2008 revisions to Executive Order 12333, which outlines when and how federal intelligence agencies may spy, so I'm sure he knows multiple ways to grab someone's digits.
Here's the big question. Why the deception gambit? The message asks the recipient to respond to confirm the connection is good. Why not just address me as Douglas and say … what exactly? Stop talking about me getting whopped in that debate?
Surely after more than four years, it was no mere pocket-dial or oopsident. If you've spent time reading leaked cables between government agents and the like, you know they pick words carefully and stamp security classifications on their papers and all that jazz. Somebody in the spy-versus-spy, backstabber-versus-backstabber world of meetings in the White House and the intelligence agencies is probably going to take his communications pretty seriously especially in light of Marsh concurrently asking the Oxford Union to release the recording.
To understand this better, let's turn to the spy glossary created by that Austin firm Stratfor, sometimes called a "shadow CIA," staffed with former military, former intelligence agency spooks, and an assistant to corporations in defending against activists. They define disinformation in part as "A plausible story designed to confuse the other side or to create an uncomfortable political situation." Pinging the system means in part "Emitting information that is designed to be intercepted by the other side. Usual purpose: figure out their response patterns. Other uses, confusing the other side." In short, subterfuge is a way of life for these people, including propaganda and manipulation of media like freelance journalists. They're not serving the public honestly; they're serving the shareholders and themselves; so why expect a message from a straight shooter?
My guess is Shedd, too timid to use his own name, was trying to bait me into responding, and/or stress me out: I'm watching. CIA is watching. But if you ask them for comment, they'll just say I must have dialed the wrong number. Hahaha!
Since vanishingly few have ever published about the whistleblowing panel censorship, you have to wonder who else besides the Oxford Union Shedd is intimidating. He's not stopping me.
David Shedd keeps losing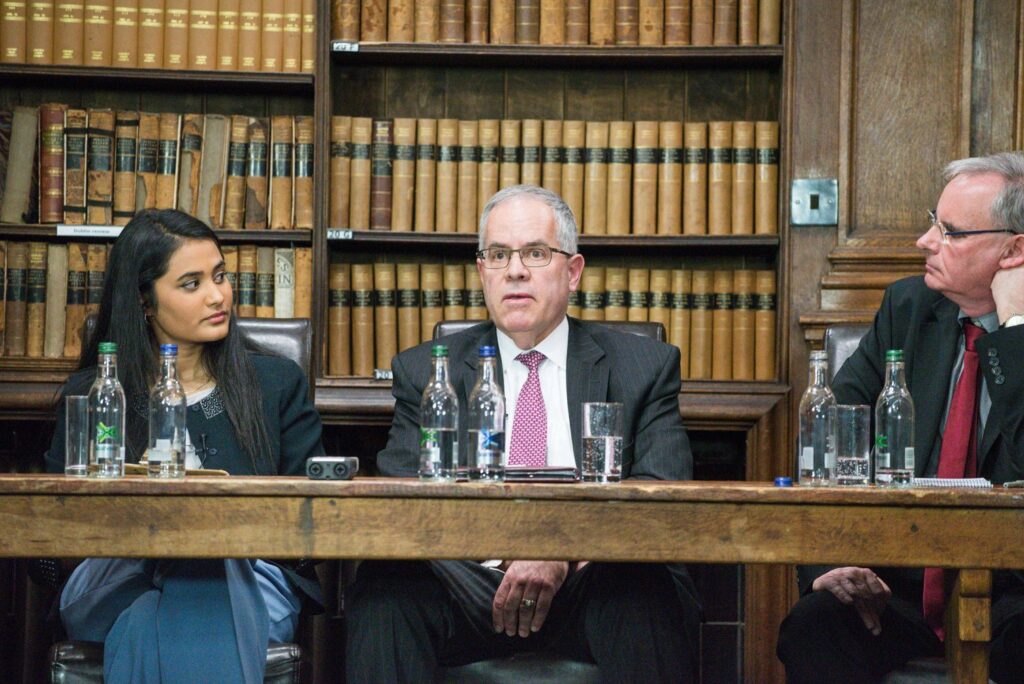 Such childish antics are among the activities of egregious human rights-violating hierarchs — when they're not losing debates. Because on their side, they don't have the truth. He prefers propaganda and fears the facts.
If Shedd's goal was to scare me, he failed. Fragile Shedd lost again. Whatever the CIA (or Stratfor) may say, protection rackets for the highest bidders, as Marsh pointed out on the panel, aren't security. As she said, "security is strong involved and supportive communities networked with other communities." When I moved to Seattle in 2016, I began participating with local chapters of the Hearing Voices Network and Food Not Bombs. These egalitarian movements — and more associations with genuine activists — have afforded me close friends who, unlike many among the civilian/loyalist population, understand my work and show up to support me regularly or when something spooky happens like Shedd's text. Protective, interlocking horizontal networks turned Shedd's grenade into a grape bouncing off me harmlessly.
I think, somehow, one day, the whistleblowing video will be released. And then Shedd will have an opportunity to realize he's not entitled to exceptional treatment. It's not just his lifelong subterfuge that he tried to deploy on me. I think he's also trying to fool himself. The longer the footage stays secret, the more easily he — and the public — can follow the head-in-sand, pro-impunity bipartisan philosophy of "look forward, not back" to avoid facing the truths Marsh (and others) have brought forward about our real legacy of torture, governance protection rackets, and so many more injustices. And the more petty and petulant Shedd's sore loser legacy becomes.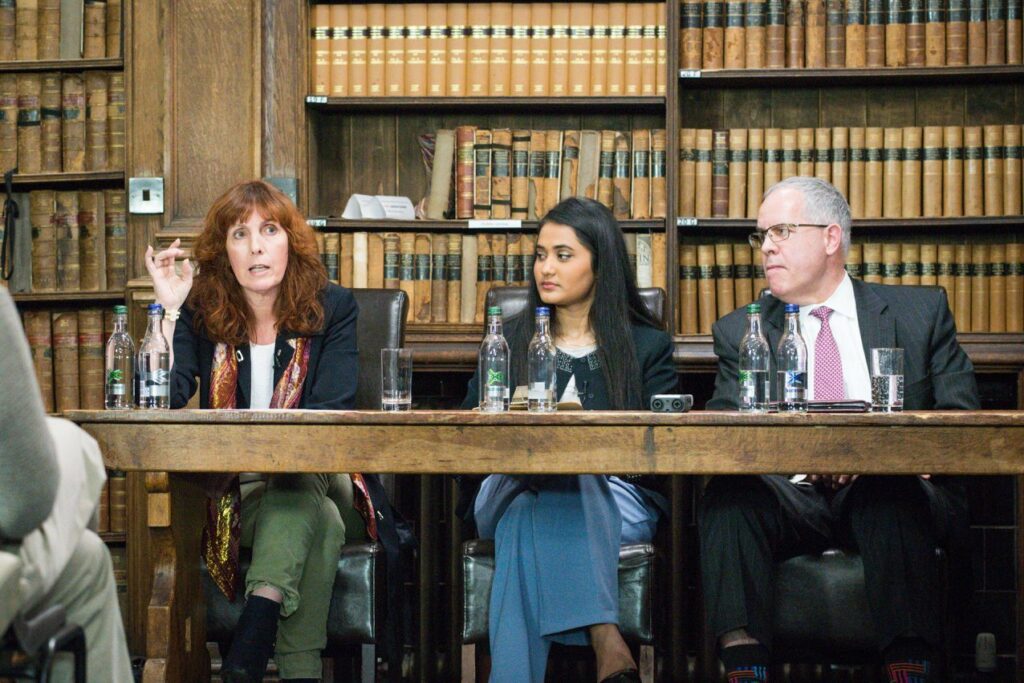 This blog post, Why's the CIA's David Shedd texting me out of the blue?, by Douglas Lucas, is licensed under a Creative Commons Attribution-NonCommercial-ShareAlike 4.0 International License (summary). The license is based on the work at this URL: https://douglaslucas.com/blog/2022/09/01/why-cia-david-shedd-messaging-me/. You can find the full license (the legalese) here. To learn more about Creative Commons, I suggest this article and the Creative Commons Frequently Asked Questions. Seeking permissions beyond the scope of this license, or want to correspond with me about this post one on one? Email me: dal@riseup.net. And gimme all your money!