Note: In 2020, I'm writing 52 blog posts, one per week, released on Mondays or so. This Wednesday post is for Week 19!
Note: When in Texas I first began doubting the political party duopoly in the United States, the best argument against leaving the mainstream corporate culture seemed former British prime minister Margaret Thatcher's: "There is no alternative" to biz, lesser evilism, etc. Since then, I've found and learned to see many good things too often drowned out by the volume of the duopoly and corporations. If you search my website, twitter, or just ask me (email dal@riseup.net or comment on my blog), I can point you to plenty of prosocial projects to participate in. Soon I'll write a blog post listing projects I recommend organized by subject matter, etc.
Note: Regarding this post, yes I know conventional science/medicine, like alternative science/medicine, often leaves a lot to be desired to say the least, but I unfortunately don't have time to get into that part of things in this particular post. If you want material on that topic, please see these by others, for starters: 1, 2, 3, 4, 5, 6.
"It is not your fault, I know, but of those who put it in your head that you are exaggerating and even this testimony may seem just an exaggeration for those who are far from the epidemic, but please, listen to us" — intensive care physician Dr. Daniele Macchini, in translation from Humanitas Gavazzeni hospital in Bergamo, Italy, Friday 6 March 2020. (Additional attribution information.)
Same day as Dr. Daniele Macchini's testimony from Italy, "Q: Mr. President, you were shaking a lot of hands today, taking a lot of posed pictures. Are you protecting yourself at all? How are you — how are you staying away from germs? THE PRESIDENT: Not at all. No, not at all. Not at all. […] Q: Have you considered not having campaign rallies? THE PRESIDENT: No, I haven't. […] Q: Isn't it a risk if there's that many people close together? THE PRESIDENT: It doesn't bother me at all and it doesn't bother them at all." Transcript provided by White House of Friday 6 March 2020 remarks by Donald Trump after tour of the Centers for Disease Control and Prevention in Atlanta Georgia.
A week prior at a rally, Trump said: "[T]he Democrats are politicizing the coronavirus. You know that, right? Coronavirus. They're politicizing it. We did one of the great jobs [… The Democrats] have no clue, they don't have any clue. […] this [disagreeing with him regarding coronavirus] is their new hoax." Transcript of Trump rally Friday 28 February 2020 in North Charleston, South Carolina. I aim to help replace the Democratic Party and the Republican Party with prosocial self-governance (representative governance is by definition not self-governance); the point is, Trump called disagreeing with him on coronavirus creating a hoax.
Overview
Whistleblower Dr. Rick Bright is scheduled to testify before the United States federal House of Representatives on Thursday 14 May 2020 at a hearing titled "Protecting Scientific Integrity in the COVID-19 Response." The hearing starts at 10 a.m. Eastern Daylight Time (here in Seattle, that's 7 a.m. Pacific Daylight Time). Find the House committee on energy and commerce webpage for the hearing here. You should be able to watch the hearing live online at this easy-to-remember URL: https://live.house.gov. It should be archived by C-SPAN here-ish, and maybe C-SPAN will stream it live online thereabouts as well. Here's the PDF of Dr. Bright's four pages of written testimony for the hearing; here's his 89-page whistleblower complaint PDF.
In sum, Dr. Bright, a lifelong public servant and scientist to whom the Centers for Disease Control and Prevention gave its top award, and who as director of the US Department of Health of Human Services' Biomedical Advanced Research and Development Authority (BARDA) spent years and years working on global pandemic preparedness capacity and response, formally stated to the US Office of Special Counsel this month that he was retaliated against by his supervisor Dr. Robert Kadlec as punishment for insisting "on scientifically-vetted proposals" to overcome the COVID-19 pandemic and for pushing "for a more aggressive agency response to COVID-19" (among other related reasons), so he wants his position at BARDA reinstated — and that's all putting it in really polite bureaucratic legalese, when the details, discussed/excerpted below, are far more frightening: Team Trump sometimes succeeded in stopping, slowing, ignoring, or taking away the practical protective measures Dr. Bright was fighting for, and instead Team Trump is trying to give you and those you care about treatment, even potentially fatal treatment, backed by zero evidence, zero clinical trials, no nothing except dolla dolla bills and secondary euphoria for his cronies. Though such sociopathy is right on track with history blue or red, read Dr. Bright's whistleblower complaint and written testimony, watch his testimony live or afterward, and then do something informed about it.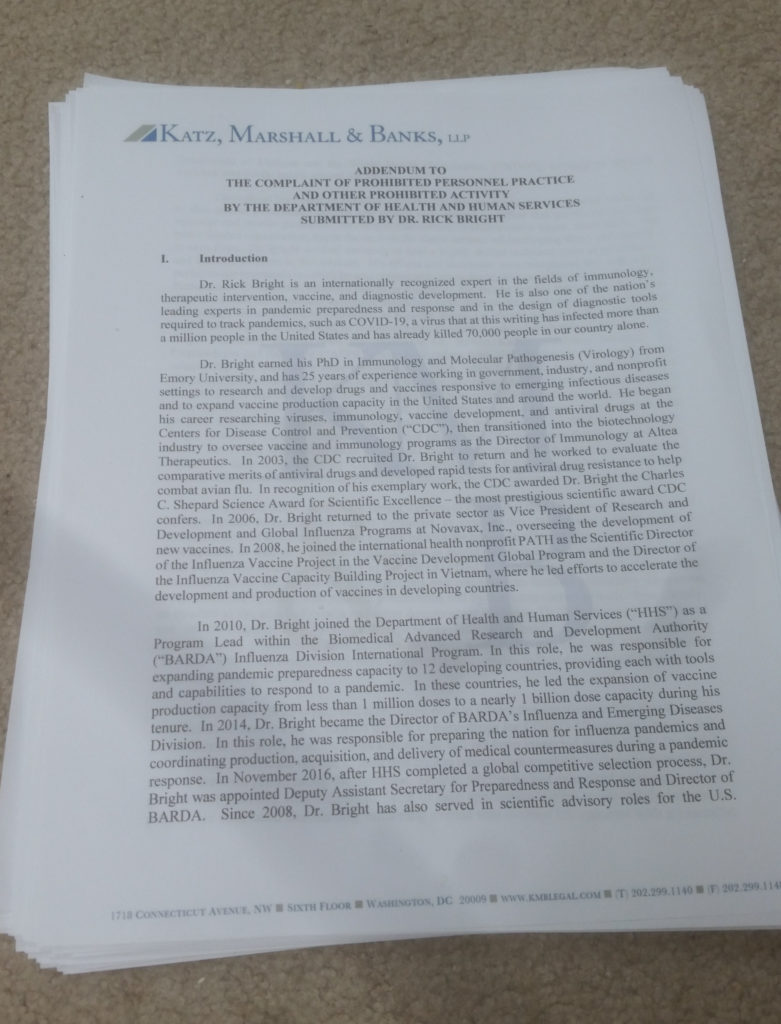 Wider context
Unless canceled, the testimony will happen at a time when the overt United States trade economy (as opposed to, say, covert human/rape trafficking exchanges or non-communist, prosocial sharing economy, or other daily facts typically not included in economist statistics) has just lost from the pandemic something like 20-22 million paid-jobs in a single month (April 2020), more than the country has ever lost in a single month throughout history (including the Great Depression) — and that's downplaying the continuing crash, since the calculations rely on official statistics leaving out certain measures of people existing outside paid-work. Reuters journalist Ann Saphir explained the granular details quite well in an 8 May 2020 article, except then from the article's first three paragraphs disappeared the all-important "perspective" of how this particular wiping out of paid-jobs compares with every past wiping out of paid-jobs in the U.S.: it's eliminated more by a factor of 10 to 12. Since the piece still does not note this unadmitted change (among others) — already a Seattleite told me over the phone she didn't know about the paid-job implosion, so it's important for people to have this information accurately — I asked Ann Saphir in two tweets and an email to explain, but she hasn't responded; will update if she does. I emailed Jennifer 8. Lee from the faded NewsDiffs.org project for pointers to ongoing projects that, like NewsDiffs once did, track unadmitted changes on mega-media websites, much like the time in 2013 when I asked NewsDiffs to track unadmitted changes on wikileaks.org as that hierarchical organization of Julian Assadnge's was turning into the crap it is now (I stayed on NewsDiffs about this for a year until in 2014 NewsDiffs finally replied to me to decline), to see if the Internet can track unadmitted changes to Reuters articles, but I haven't found a suitable project so far. It's crucial because if you email someone an article, you have no guarantee that what they see is what you saw, and also sharing a hyperlink can lead to a criminal indictment, so there's also no guarantee that the hyperlink you paste still leads to the same content it once did by the time the Department of Justice gets around to clicking it, a poorly understood issue. Ann Saphir I love your article! Just put the "perspective" back and explain what happened with the unadmitted changes and why!
If the trade economy's collapse weren't enough of a rude awakening, Dr. Bright's testimony is also scheduled to come at a time when according to John Hopkins University, as of 13 May 2020 in the United States COVID-19 has killed some 77,200 people, far outstripping in less than half a year 58,220 people, the grand total number across decades of US military deaths in the entire Vietnam War. By the way, according to Avi Schiffmann's global tracker dashboard, as of 13 May 2020 Vietnam reports a grand total for their confirmed COVID-19 cases, only 288, and on 8 May 2020, Reuters reported (at least they did on 13 May 2020 when I last clicked to their article!): "After proclaiming success in containing the coronavirus, Vietnam is positioning itself as a safe place to do business, capitalising on demand from international manufacturers looking to diversify their supply chains away from China." Although the 77,200 deaths in the United States is a shockingly high number, that sad figure is simultaneously not even a third the quantity of the population of the city of Lubbock, Texas. That's why many do not yet personally know someone COVID-19 killed or someone who has even showed symptoms, thus explaining, in addition to the international propaganda whether from this country or elsewhere, why I reckon some individuals I interact with are telling me novel coronavirus is a myth, etc. However, a lowball estimate for the total number of United States COVID-19 deaths by the end of this year, well, say roughly 750,000 — three-quarters of a million people — easily (if you're not familiar with twitter, when checking out those last three links to an autodidact's tweets, expand by clicking "Show this thread"). The total U.S. population is something like 329 million individuals. Barring dramatic change from, say, the public reading Dr. Bright's whistleblower complaint and watching his 14 May 2020 testimony at https://live.house.gov and responding not by fearfully requesting but instead by forcing change, a fourth of a percent of USians will be killed by COVID-19 come 31 Dec 2020, bare minimum. The average person in the United States knows around 600 people. Obviously regions and lives differ wildly, but via back of napkin calculations and averaging things out, by New Years Eve 2020, pretty much everyone in this country who's still alive will personally know at least one person, probably more, novel coronavirus will have killed. Once no longer deniable, this body count, still unimaginable in practical terms today ("What are you preparing for? What are you preparing for? What are you preparing for?" a Washingtonian demanded of me in February when I started sharing info on the disease the World Health Organization declared a pandemic on 11 March 2020; "it's just the flu; won't affect my life") will place us in a very different rhetorical space than we're in today. Lobotomizing yourself into a lemming by chanting "You care too much" and "You know, there really is a lot of good TV lately" might for the first time no longer be in. And nope, the United States has nowhere near enough hospital beds to handle what's coming at exponentially faster and faster rates.
So to summarize the wider context around Dr. Bright's testimony:
Trade crash: By a factor of 10 to 12, the United States just lost the most paid-jobs in a single month in its history ever
Pandemic: Pretty much any US resident still alive on New Years Eve 2020 will personally know at least one, probably more, individuals COVID-19 killed
Responsibility: As always, informed action urgently required now from each and every person
Dr. Bright's biography
Wider context set, back to Dr. Rick Bright's testimony on Thursday 14 May 2020 10 a.m. Eastern. Here's (again) the 89-page PDF of the formal whistleblower complaint he filed to the US Office of Special Counsel on 5 May 2020, and here's (again) a PDF of his four pages of written testimony. But who's this Dr. Bright and why should you care? After all, many folks are incredibly busy trying to educate their squirming kids and fight off their drug-addicted deadbeat husbands and organize a neighborhood pod to resist their absentee landlords. Let me try to give you a short version.
Dr. Bright — whose monosyllabic aptronym, in the court of public opinion, might be an ace up the sleeve to trump Trump — is according to his written testimony:
a career public servant and a scientist who has spent 25 years of my career focused on addressing pandemic outbreaks. I received my bachelor's degree with honors in both biology and physical sciences from Auburn University at Montgomery in Alabama. I earned my PhD in Immunology and Molecular Pathogenesis from Emory University in Georgia. My dissertation was focused on pandemic avian influenza. I have spent my entire career leading teams of scientists in drugs, diagnostics and vaccine development — in the government with CDC and BARDA, for a global non-profit organization and also in the biotechnology industry. Regardless of my position, my job and my entire professional focus has been on saving lives. My professional background has prepared me for a moment like this – to confront and defeat a deadly virus like COVID-19 that threatens Americans and people around the globe. I joined the Biomedical Advanced Research and Development Authority (BARDA) in 2010 and from November of 2016 until April 21 of this year, I had the privilege of serving our country as its Director. During the time I was Director of BARDA we successfully partnered with private industry to achieve an unprecedented number of FDA approvals for medical countermeasures against a wide variety of national health security threats.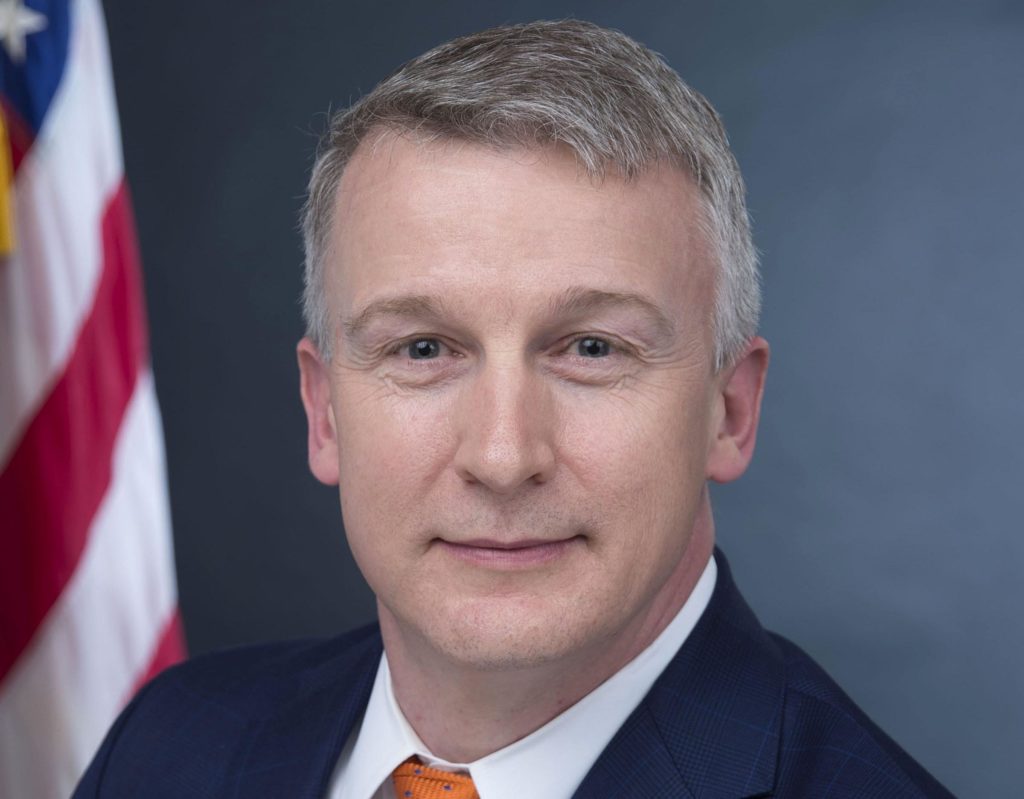 Dr. Bright's whistleblower complaint gives more of his background:
He began his career researching viruses, immunology, vaccine development, and antiviral drugs at the Centers for Disease Control and Prevention ("CDC"), then transitioned into the biotechnology industry to oversee vaccine and immunology programs as the Director of Immunology at Altea Therapeutics. In 2003, the CDC recruited Dr. Bright to return and he worked to evaluate the comparative merits of antiviral drugs and developed rapid tests for antiviral drug resistance to help combat avian flu. In recognition of his exemplary work, the CDC awarded Dr. Bright the Charles C. Shepard Science Award for Scientific Excellence – the most prestigious scientific award CDC confers. […]

In 2010, Dr. Bright joined the Department of Health and Human Services ("HHS") as a Program Lead within the Biomedical Advanced Research and Development Authority ("BARDA") Influenza Division International Program. In this role, he was responsible for expanding pandemic preparedness capacity to 12 developing countries, providing each with tools and capabilities to respond to a pandemic. […]

Dr. Bright transformed BARDA into a larger, more stable, and better funded organization, hyper-focused on the single mission of developing drugs and vaccines to save lives. Dr. Bright worked tirelessly to lead a highly skilled technical team of government and industry partners in this mission. His efforts and successes were recognized and reflected in performance appraisals in which he was consistently given the highest possible ratings. See Bright Performance Evaluations, attached hereto as Exhibit 1. Dr. Bright and his team responded to the Zika and Ebola outbreaks and developed diagnostic tests, therapeutics, and vaccines that are being used today. When COVID-19 emerged as a global threat, Dr. Bright was uniquely positioned to lead BARDA in its crucial work of combating this existential public health threat.
But then what happened, right?
Dr. Bright sticks up for himself and you
Dr. Bright's whistleblower complaint says — the first 26 pages are mostly this and bureaucratic paperwork details — that in April 2020 his supervisor Dr. Robert Kadlec and others "involuntarily removed" him from his "position as Director of BARDA and transferred" him to the National Institutes of Health without warning or explanation why as retaliation because he "insisted on scientifically-vetted proposals, and […] pushed for a more aggressive agency response to COVID-19." The complaint continues, saying his "supervisor became furious when Congress appropriated billions of dollars directly to" Dr. Bright's office and when he spoke with members of Congress. They liked, not Dr. Kadlec's work, but Dr. Bright's.
Dr. Bright asks on PDF page 24 from the Office of Special Counsel "a stay, to be returned to my position as BARDA Director, followed by a full investigation." On 8/9 May 2020, the New York Times reported that Dr. Bright's lawyers said that, after looking at the complaint, the Office of Special Counsel did last week make "a threshold determination" that the Department of Health and Human Services "violated the Whistleblower Protection Act by removing Dr. Bright from his position because he made protected disclosures in the best interest of the American public" but this is nonbinding and useless if Trump and the public ignore. Here's a 49-tweet thread helpfully exploring a 36-page OSS sabotage field manual from 1944 if, say, you're pissed, ready to admit watching Frasier is downright boring, and you have handy a pair of pliers and some courage.
Now that pages 1 – 26 are finished, PDF pages 84 to 89 of Dr. Bright's whistleblower complaint helpfully explain acronyms and job titles to go with various names, leaving us with pages 27 – 83: the 56-odd-page addendum submitted by Dr. Bright / his lawyers. This is the real protein of his whistleblower complaint.
To be continued…
This writer needs to go to sleep! I'll post Part 2 soon, hopefully tomorrow, including what became of my lentils. Remember: https://live.house.gov Thursday 14 May 2020 at 10 a.m. Eastern.

This blog post, Whistleblower Dr. Rick Bright's testimony, part 1 of 4, by Douglas Lucas, is licensed under a Creative Commons Attribution-NonCommercial-ShareAlike 4.0 International License (human-readable summary of license). The license is based on a work at this URL: https://douglaslucas.com/blog/2020/05/13/rick-bright-whistleblower-testimony-part1/. You can view the full license (the legal code aka the legalese) here. For learning more about Creative Commons, I suggest this article and the Creative Commons Frequently Asked Questions. Seeking permissions beyond the scope of this license, or want to correspond with me about this post otherwise? Please email me: dal@riseup.net.