Note: I published this review on 31 May 2020. It received substantial attention, including more than 1,300 retweets of my tweet announcing the post. Now, on 7 June 2020, I'm updating the review a little. Adding a table of contents, the #OpDeathEaters goals, links to research on RMS and Bill Gates and others, more stuff, plus some copyediting and proofreading. Thanks! (Note also that today 7 June 2020 it's reported that the United States Department of InJustice is demanding the United Kingdom hand over Prince Andrew to appear in court over Jeffrey Epstein child trafficking links.)
Table of contents
Intro – #OpDeathEaters trending; the common denominator for street executions by cops and child rape by pedosadists is impunity
What "Who Killed Jeffrey Epstein?" does sorta right
What "Who Killed Jeffrey Epstein?" does wrong
Practical and realistic solutions to impunity
Recommended reading
Epstein survivor Maria Farmer: "2020 is the year when…"
Intro
Today (31 May 2020), #OpDeathEaters trends on Twitter. The three tweets in just a bit below, all regarding the trending, address how the hashtag and Anonymous operation, founded in 2014 by Heather Marsh as a continuation and amalgamation of earlier ops she'd previously initiated (#OpGabon, #OpRohingya, #OpCanary, #OpGTMO, as well as others), pre-dated the Pizzagate and QAnon efforts to drown it out, and like previous waves, gains traction now.
Illustrating academic credibility, here are excerpts from criminology professor Dr Michael Salter's book published by Routledge in 2016, Crime, Justice and Social Media, discussing #OpDeathEaters' goals and more than half a decade of ongoing online public research drawn from court pleadings and investigative journalism reports and similar reputable sources, by thousands of accountholders, into child trafficking by the powerful. The #OpDeathEaters Frequently Asked Questions is also a good place to start; it's from 2014.
Tonight (31 May 2020), the US cable television channel Investigation Discovery, known for true crime programming, airs at 9 p.m. Eastern a three-hour special called "Who Killed Jeffrey Epstein?" The first third was released on 25 May 2020 online, but the show as a whole premiers tonight. A marketing staffperson from Investigation Discovery gave me advance access to video screener files of the entire special. I watched it early, to review it for you here in this post.
Why do Jeffrey Epstein and the ongoing international child trafficking networks associated with him and many others matter while, during more than 100,000 pandemic deaths here in the United States, this country is on fire like a Seattle cop car photographed yesterday (30 May 2020), pictured below the following stark New York Times front page from 24 May 2020 with a pic superimposed over it of Trump on one of his many golf outings as president. "What better place to make backroom deals, blackmail guests, and contact transnational organized crime assets than in the middle of an empty golf course and resort", @YourAnonCentral tweeted 7 Sept 2019.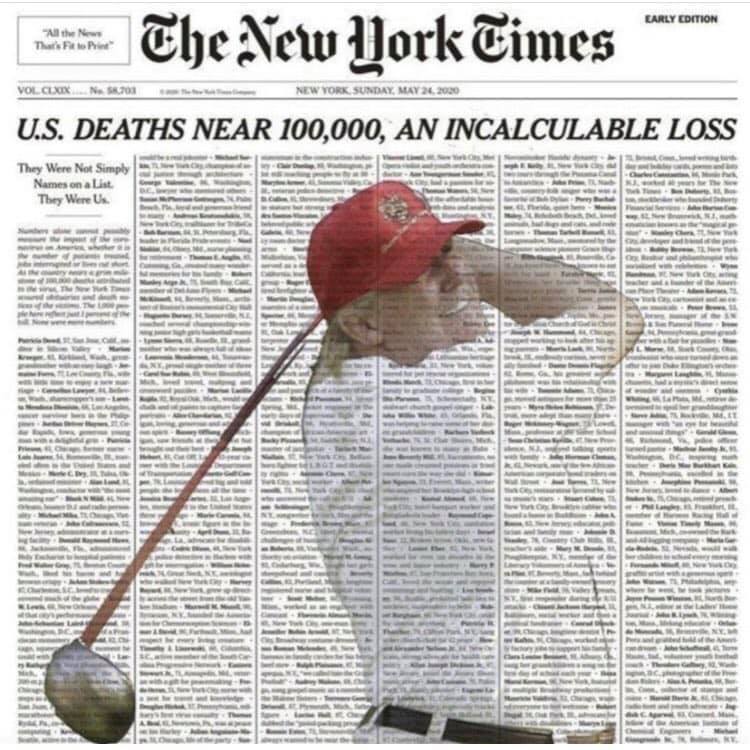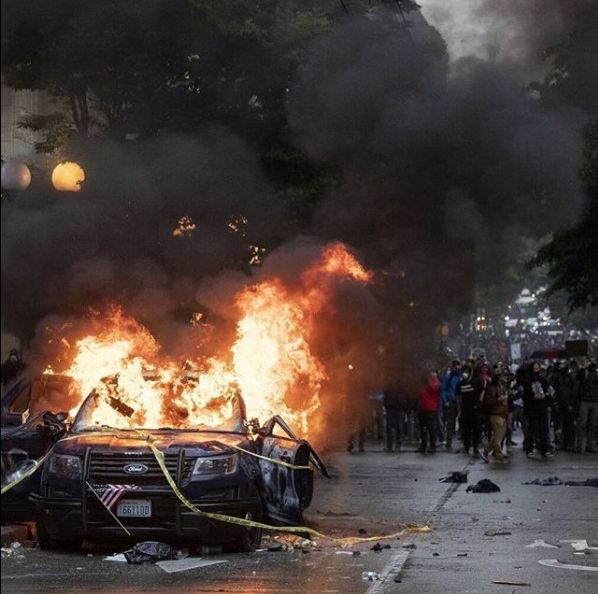 Simply put, Jeffrey Epstein and all the other powerful pedosadists matter presently because (among other reasons) the common problem with both VIPredators raping kids and street executions of black people is impunity: the exemption from punishment or consequences. This tweet from @YourAnonCentral, an account I recommend you follow on Twitter, explains:
You can skip the Investigation Discovery special if you want, unless you want full details on the program, because I'll tell you my take on what the program does sorta right, what it does wrong, and most importantly, link you to better readings on the topic and practical, realistic solutions for ending impunity. That way tonight you can fill, or support those who are filling, the streets.
Also currently happening (7 June 2020), #opTrumpTweets: twitter users replying to Donald Trump's tweets, posting #OpDeathEaters information. In other words, lately if you click on one of Trump's individual tweets, the top reply may well be about evidence of his pedosadism. See this thread from @OpDeathEaters, an account I reckon you might should follow, for more:
What "Who Killed Jeffrey Epstein?" does sorta right
The special opens effectively with audio from Jane Doe 3 talking with police: "Jeffrey's gonna get me. You guys realize that, right? He's gonna figure this out, and he's gonna … I'm not safe now. You understand that, right? I'm not safe." If humanity doesn't value the lives of children, then logically, we go extinct.
The special incorporates many of the photos linking idols with Jeffrey Epstein, which effectively make the clear point of the blackmail power of pedosadist networks. Below, I provide screenshots from the program: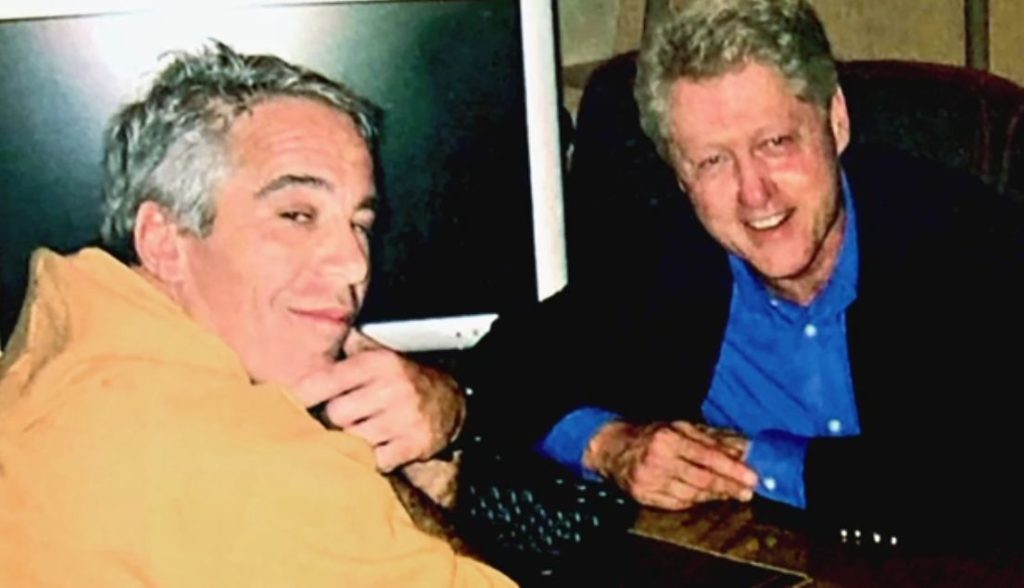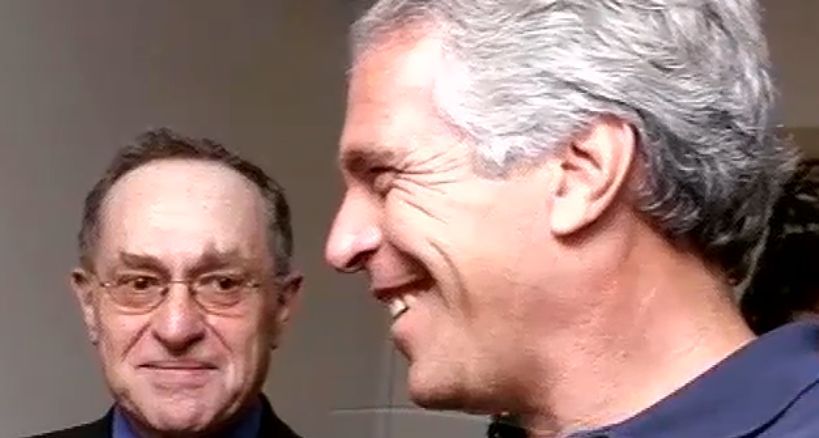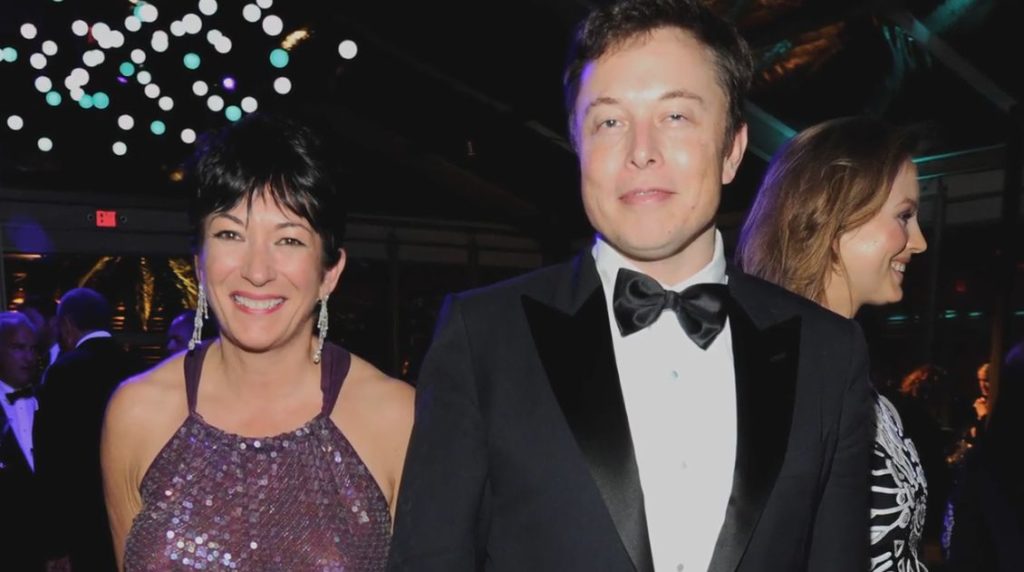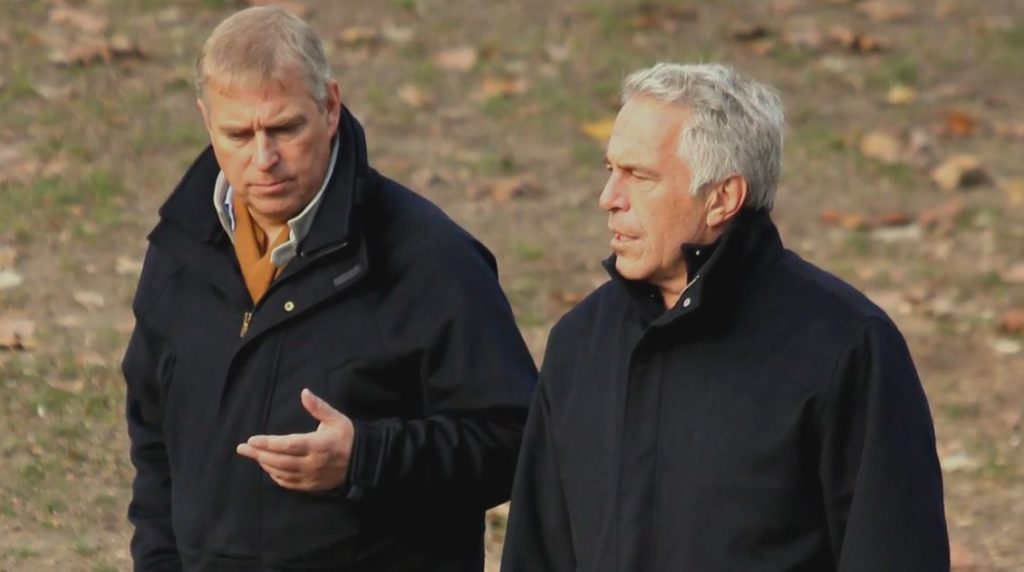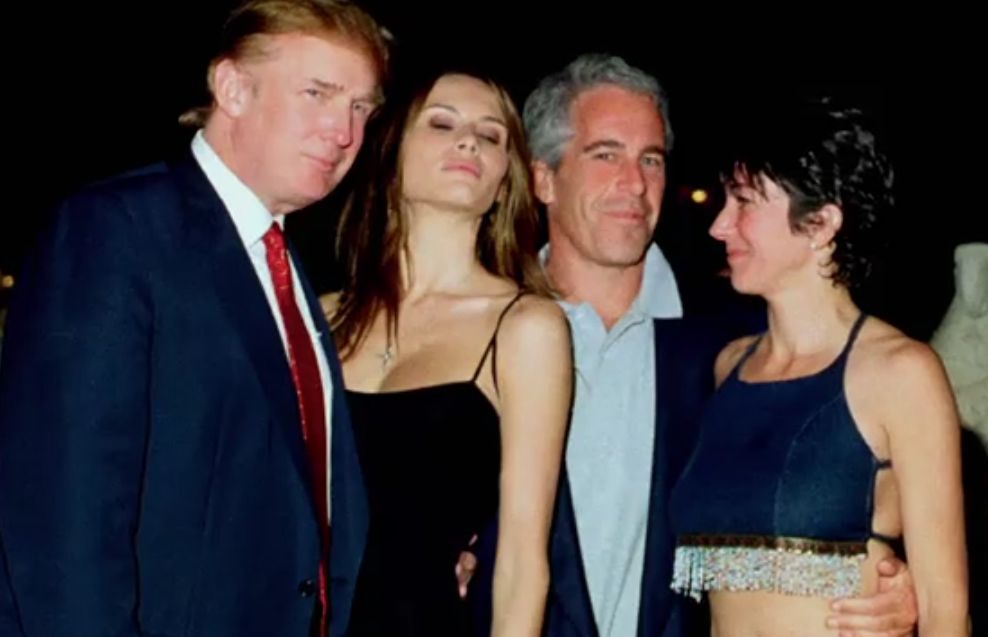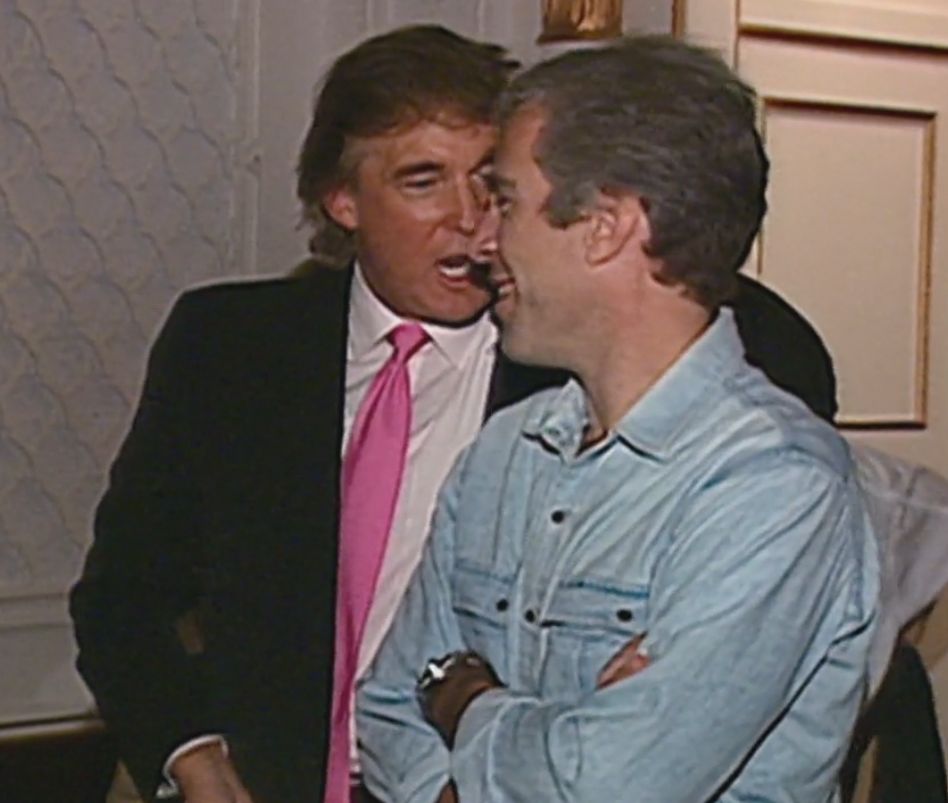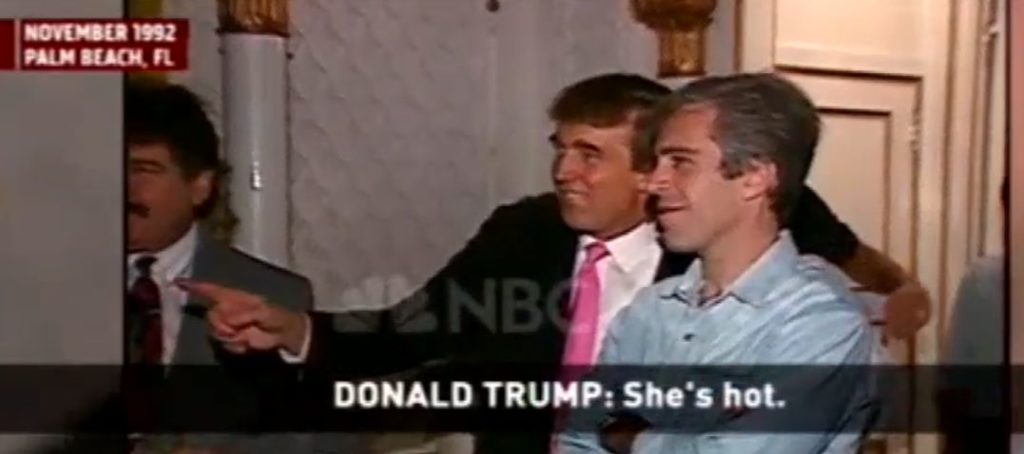 The special also includes some good to great quotes from various interviewees. I reproduce them below.
Lawyer for Epstein victims, Lisa Bloom: "We are talking about at a minimum hundred of victims, potentially thousands — I believe it was probably thousands of victims. Because I believe those who came forward are just the tip of the iceberg. Most of them are never going to want to come forward."
Writer Conchita Sarnoff: "The Epstein case goes from Palm Beach to New York to the White House to Buckingham Palace. Where you have politicians [image of Bill Clinton shown], business leaders [image of Bill Gates shown], opinion makers [image of Elon Musk with Ghislaine Maxwell shown], very powerful people implicated [image of Prince Andrew shown] in one way or another — is so expansive, it is a global case. It crosses the political barrier and it is the longest-running child sex trafficking case in US legal history to date."
Writer Conchita Sarnoff: "What this case has, I think, shown is that we live in a society with two systems of justice: one for the rich, and one for the poor. And Epstein knew this all along."
TV journalist Diane Dimond: "All these people, from federal prosecutors to politicians to prison officials, say 'There will be accountability' — really? I don't see any indictments. No accountability at all."
Lawyer for Epstein victims Spencer Kuvin (I believe this is an outtake): "Now that the world is coming to a realization that really what's, you know, happening by powerful men, by wealthy men, abusing young women and taking advantage of young women."
Writer Conchita Sarnoff (I believe this is an outtake): "government officials looked the other way; and newspaper editors and networks; and everyone looked the other way, for many years." She also says (I believe in another outtake) the case implicates "politicians, bankers, heads of universities, heads of think tanks"
The special also includes the deposition footage where Jeffrey Epstein is asked about his notoriously "egg-shaped" (or oval-shaped) penis. This is an important fact about Jeffrey Epstein because 1) especially back then, a way of corroborating his victims' stories, and 2) it's a weapon for keeping the story in the news. The question-asker during the deposition is lawyer for Epstein victims Spencer Kuvin, who explains in the special that 3) it was a power move by him against Epstein (Eggstein?). "I wanted Epstein to know that despite his wealth, despite his power, and despite who he felt he held influence over, I didn't care. I didn't care who he was; he wasn't going to intimidate me. And I was going to ask him the most personal, embarrassing question I could possibly think of." and "My hope was, the question alone would get him upset, that he'd slip up, he'd get mad at me. And he essentially pled the fifth to every question that was asked of him."
Spray #JeffreyEggstein on the White House.
The special at least mentions the flight logs (published by Gawker in 2015) for Jeffrey Epstein's private plane which according to multiple of his associates had secret surveillance equipment installed (for blackmail). Among those on that jet in 2002 and 2003, for a flight to Africa, Bill Clinton (soon after his White House terms ended), entertainers Chris Tucker and Kevin Spacey, and from the Obama administration, Obama appointee Gayle Smith.
Finally, given that most investigative journalism doesn't include victims' voices much or center them, except as impersonal blocks of hard-to-hear Jane Doe voices on police tapes that then well-dressed WASP-y professional interviewees explain to the camera lenses, "Who Killed Jeffrey Epstein?" presented more from victims, especially Maria Farmer, than I expected.
The audience is shown recorded footage of Epstein victim Chauntae Davis answering a reporter: "Do I feel his death is an appropriate punishment? Absolutely not. It gives nobody justice, and it leaves a lot of unanswered questions."
Maria Farmer gets airtime to say: "I would love to see justice in the form of every co-conspirator needs to be behind bars. They belong there. They're criminals."
There's more great stuff from Maria Farmer regarding her paintings of Epstein's network and victims/survivors. I will share much of that at the end of this post.
However, the good aspects of this special, most of which honestly anyone can find with some decent Internet searches, don't make up for the wrongs.
What "Who killed Jeffrey Epstein?" does wrong
Nor does the special touch another 'tech god,' Richard M. Stallman aka RMS. Here's an #OpDeathEaters thread with research into him.
The pro-pedosadism payoff of keeping the focus mostly on Jeffrey Epstein as an individual personality is that he becomes a fall guy, and audiences do not look at the ongoing global child trafficking networks. The special fails in this regard, though not as badly as I feared, because it does talk at least some about other individuals, such as Brunel (see below), at least a tiny bit, perhaps a reflection of pressure from interviewees, increasingly sophisticated Internet-attuned audiences, etc. Still, to really keep up with these ongoing global child trafficking networks in a dynamic way as we must, we need a framework for a global commons for public data collaboration, namely GetGee.
There are plenty of other powerful pedosadists the special avoids. Click to this @OpDeathEaters thread and page up or page down to see links to threads investigating particular VIPredators. Today (7 June 2020), @OpDeathEaters tweeted: Despite the fact that Epstein is a far bigger story than media is trying to reduce it to, Epstein is not that big a deal compared to many – Demmink, Kashoggi, Berlusconi, Gaddafi, Bongo, Brunel, so many in Russia and China … networks in every state and industry. #opDeathEaters
Searching twitter for @OpDeathEaters tweets or #OpDeathEaters tweets is another great way to find information on whichever VIPredator. For example, in January, I ridiculed FOX News personality Tucker Carlson for giving airtime to a pseudo-expert warning of the "global tyranny of the metric system," but I neglected to check for #OpDeathEaters research into Carlson. It's easy to do. After logging in to twitter (which seems to yield better search results), at https://search.twitter.com just type "tucker carlson from:OpDeathEaters" or "tucker carlson from:OpDeathEatersUS" or "tucker carlson from:YourAnonCentral". You can also try https://twitter.com/search-advanced or study online how to improve search techniques for social media. Whenever you're thinking or writing about some celebully or other, it should become a habit to search #OpDeathEaters or from:OpDeathEaters on twitter to see the real story behind the personality.
The special uses a great deal of false, soft, go-to-sleep language that normalizes pedosadism. This thread from the @OpDeathEaters twitter account, which you should follow along with the United States-specific @OpDeathEatersUS account, teaches you the basics.
For more about how language controls your thoughts and you have a right to change your words and own your thoughts, consult authors George Orwell, Philip K. Dick, Heather Marsh, or a good dictionary, particularly etymologies.
Below, examples of offending, false language from "Who Killed Jeffrey Epstein?" Often, the key problem is the false language conflates sex with rape.
Forensic pathologist Cyril H. Wecht is given airtime to say "the kinds of crimes that Jeffrey Epstein was charged with — fooling around with 14, 15, 16 year old girls." Epstein was not "fooling around," he was raping children.
For Jeffrey Epstein's death circumstances in jail, the special discusses US attorney general William P. Barr saying "I was appalled […] perfect storm of screw-ups." The special doesn't explain that "perfect storm of screw-ups" is obvious bullshit meant to evoke sympathy for imaginary kindhearted authorities and their accidental blundering, and further, William P. Barr's ridiculous focus on William P. Barr's emotions, limbic system, etc, whether he was or was not appalled or perhaps shocked or would it be startled? No one should give a shit about complicit Barr's alleged emotional reaction to Epstein's death circumstances; his dialogue is a ploy to redirect attention toward the feelings of a person in a fancy suit, him. Don't let these people redirect.
Over images of Bill Clinton, Donald Trump, Bill Gates, the special at one point describes Epstein as being connected with "big name people, famous people," thus putting some of the most powerful people in the world on par with Kim Kardashian, the Real Housewives of $City, etc. It may have been a mistake of that particular interviewee — from my own appearances in documentaries, sometimes you get one try; the camera's there for ninety minutes on an afternoon, and in my experience and from reading, filmmakers have way too much power over the final version relative to interviewees — but audiences hearing such language endlessly makes generations forget or fear using or even just reading other words: criminal conspirator. rapist. pedosadist.
Epstein "should have been safe there" somebody in the documentary said of MCC jail which locked up Epstein. No. Whether it's prisons (hear activist Azzurra Crispino discuss prison conditions on Democracy Now!) or psych wards (see Disability Rights Washington's May 2020 report on the hospital to jail pipeline), nobody who's not trying to propagandize thinks such lockups are safe. Doesn't take a genius.
TV journalist Ashleigh Banfield says Epstein was "hiding his sexual proclivities" Raping kids is not a sexual proclivity; sex is not an attack. Epstein was covering up his participation in raping and child trafficking in hopes of capturing more prey, escaping reprisals, etc.
Someone (I forget who) in the special describes Jean Luc Brunel, owner of the MC2 modeling agency, as a "French modeling scout" rather than accused child trafficker. I would have to watch again, but I believe the special does not say that Brunel actually owns MC2; I believe it uses vague language. More on Brunel.
There are also the completely wrong interviewees. To take just one example, convicted debt collector and Epstein financier partner Steven Hoffenberg says in the special that "The victims are getting zero right now." Interview others, especially more Epstein victims who if they require more protection to go on camera must therefore be furnished more protection. More on "Who Killed Jeffrey Epstein?" interviewee Steven Hoffenberg:
The sensationalizing throughout the special belongs to entertainment, not education. Spooky tech noir music to get your heart racing plays in the background of "Who Killed Jeffrey Epstein?" as a deep male voice slowly narrates about how an ultra-rich pedo somehow associated with 'famous people' 'fools around' with young girls and gets away with it. That does not nurture the individual minds and social environments required for the public to impose justice.
Finally, the special completely evades the work of thousands of #OpDeathEaters participants and the op's founder Heather Marsh, not mentioning it whatsoever, when in fact in February 2018, on an Oxford Union panel about whistleblowing, which that supposed "last bastion of free speech" immediately censored, Marsh told the audience all about Epstein. Before the Miami Herald's Epstein reporting months later. Note to the intelligentsia and commentariat, exploiting the unpaid backbone of investigative journalism—the world's lovely social media sleuths and autodidacts—does not end well, especially since we outnumber and outsmart you. See the suggested reading below for more on Heather Marsh's censored Oxford Union panel. For now, I'll just embed the audio of her portion and excerpt from her transcript of what she said on the censored panel about Jeffrey Epstein and the former Oxford Union president and UK prime minister Ted Heath.
Jeffrey Epstein is a man in the United States known to have raped and trafficked dozens or hundreds or who knows how many children. The US Attorney General at the time, Alberto Gonzales, said he would have instructed the US Justice Department to "pursue justice without making a political mess". Epstein's little black book contains people like Donald Trump, Bill Clinton, Prince Andrew. There is only one way to interpret that directive and that is impunity for anyone above a certain social strata or anyone with blackmail on them. The Pentagon, since 2010, has refused to investigate, at that time it was over 1700 cases, of child abuse media they have found on Pentagon computers. The people in the US are finally starting to talk about all the taxpayer funded NDA's that protect people in congress against reports of rape and sexual assault. California alone has reportedly paid more than $25 million in the last three years to buy criminal impunity for their politicians. In the UK, you have your own child rape inquiry where UK police have spoken many times of investigations which have a strata they can't go above – where those above that strata are referred to as the Untouchables, protected by the Official Secrets Act and many other layers of secrecy. Your former Oxford Union president and UK Prime Minister, Ted Heath, how many people came forward and said they were his victims as children, but there was never an investigation during his lifetime. So security for them means immunity from criminal prosecution, not just for their actions against so-called enemies but against anyone.
Practical and realistic solutions to impunity
Now, the portion so often left out of corporate edutainment describing a problem: how to solve it.
Yesterday (30 May 2020), protesters in Minneapolis and Atlanta posted on social media images of child soldiers. It is unclear if these kids are with JROTC or white supremacist families or what. But allowing your VIPredators, with all their power over conditioning systems from corporate media megaphones to video games to textbooks, to rape kids, logically leads eventually to this from your neighbors and even your own kids.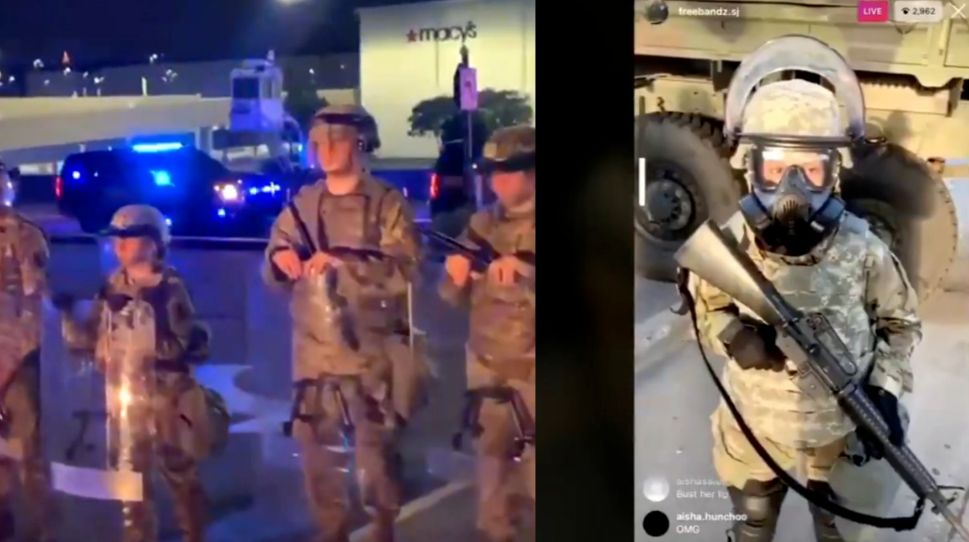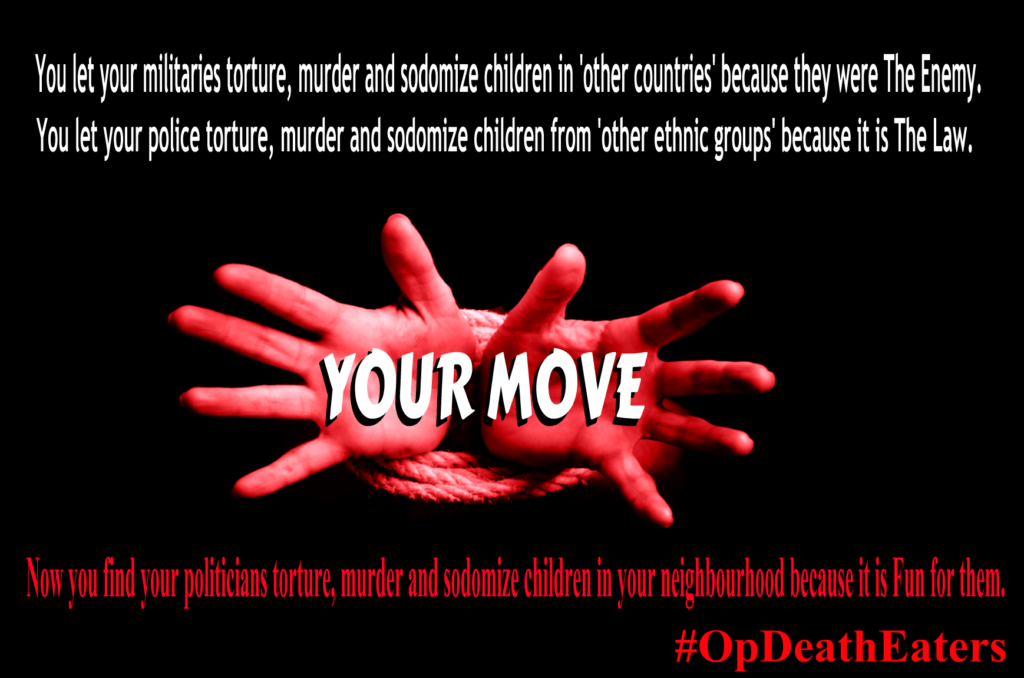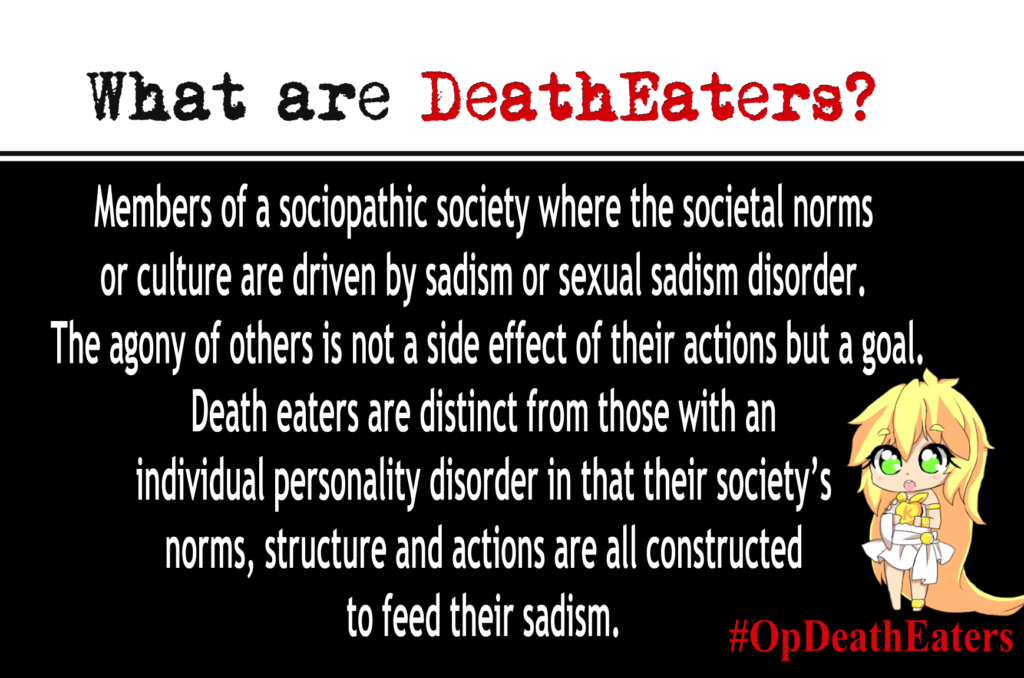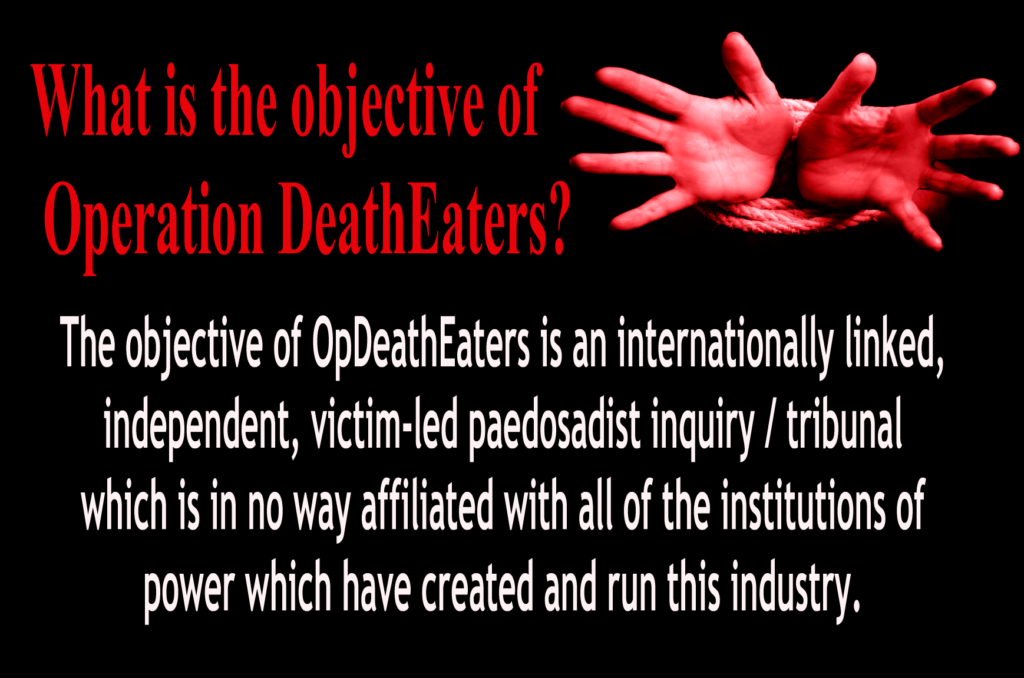 The above three memes from here and created by @SpartaZC / @YourAnonCentral. Same for the two similar memes farther below.
The objective of Operation Death Eaters is an internationally linked, independent, victim-led pedosadist inquiry / tribunal which is in no way affiliated with all of the institutions of power which have created and run this industry. Here are the eighteen long-term goals of #OpDeathEaters. Goal #5: Clearly define possible independent inquiry options for each country and build support for them.
But what's an inquiry or tribunal? People might remember the Nuremberg trials at the end of World War II. But let's hold off on tribunals for now, since convictions require public examinations and discussions of evidence, and dive into inquiries, which make those examinations and discussions happen.
To explain what inquires are, let's start with a very familiar phenomenon that they are not. Remember Obama's Look forward not back regarding torture by the Bush II administration? That's when Obama repeatedly explained there would be no prosecutions, and thus only impunity and normalization, for torture. In the United States, something like 1% of people in the country have a security clearance (think top secret; to see the deep state, go to https://www.usajobs.gov/search and filter job openings by required security clearance). These individuals are part of a parallel un-society, where torture is accepted and practiced. Because Obama announced we would have no public inquiry into why the United States "tortured some folks" as he put it, when you're trying to talk radical politics with salaried liberals at board game night, there's a good chance that one of them or someone they're close to has a security clearance for accessing classified information and doesn't like what you're saying (and that's the end of it, if you're lucky). A person you pass on the sidewalk might be, or might have a family member who is, involved in torturing people (including assisting with the infrastructure for it as a contractor). To date, there's been no reckoning with this reality as a country because of Obama's Look forward not back (among other reasons). It's the same with the pacto del olvido (pact of forgetting) in Spain, where that country in 1975-1977 decided to avoid dealing with the legacy of their 1939 to 1975 dictator Francisco Franco. A third example would be in families or small communities where a person who behaves strangely gets labelled / scapegoated as the identified patient with a psychosis diagnosis, but all the (anti)social and other forces (such as pollution) pressuring that person into that strange behavior remain elephants in the room, skeletons in the closet, etc. Street executions, torture, and dictatorships are also, relative to healthy prosocial people, psychoses.
Collectively turning a blind eye — with formal announcements like Look forward not back, pacto del olvido, or a psychiatric diagnosis — is the opposite of an inquiry, whereas an inquiry is the public participating in a hearing and discussion of the evidence, the accusations of wrongdoing. During inquiries, everyone publicly links together the past, present, and future to ask, who were we, that certain things happened (street executions or torture or pedosadism), and what can we do about it now to ensure it never happens again in the future?
There are examples of inquiries, or efforts toward them, on both the small family/community level and for entire countries and planetwide. For instance, in Finland, the Open Dialogue method, under experimentation for implementation in the United States, is getting the best documented results for first episode psychosis (mental health): 85+% of the people helped by Open Dialogue never have a psychotic break again and never need psychiatric drugs. In Open Dialogue, if a person acts bizarrely, say a teenager at a family home, the mental health professionals head over instantly (not: schedule a thousand-dollar appointment for two months later after the patient's psych ward lockup and the professional's ski trip). The Open Dialogue practitioners maybe given the teen a benzo for sleep. While he's sleeping, his family or friends might say to the professionals: "Let me tell you what really happened." In other words, control the narrative and cover up wrongdoing. The Open Dialogue professionals don't permit this. No one can begin until everyone can participate. Then, once the person who was in an altered state wakes and is calmer thanks to sleep, everyone gathers to have a small-scale inquiry. What happened? Is the coach at the school abusive? Let's get that coach present to hear what he says about the accusation of abuse. Is the food at home causing the teenager distress? What can we do differently, together? It's the same on the country or global level. For example, consider the South African Truth and Reconciliation Commission (TRC), which took place as apartheid was formally ending in that country. With varying degrees of success and failure, the South African TRC required human rights violators from both the white supremacist reactionaries and the revolutionary liberation movements to—on live television, on live radio, and with the victims' families present and participating—confess their crimes in detail (while asking for limited amnesty). Inquiries and their similar cousin, truth and reconciliation commissions, existed prior to the South African TRC, but in studying and discussing how to set up such solutions, the South African TRC is a landmark people often start from.
"Who Killed Jeffrey Epstein?" didn't get anywhere remotely close to this, but there's every reason for us all to now work, in our various little and big ways, to create independent, internationally linked, victim-led inquires and/or tribunals to stop the impunity of street executions by cops, the impunity of torture, and the impunity of the common denominator that catches the most powerful wrongdoers in the net, pedosadism.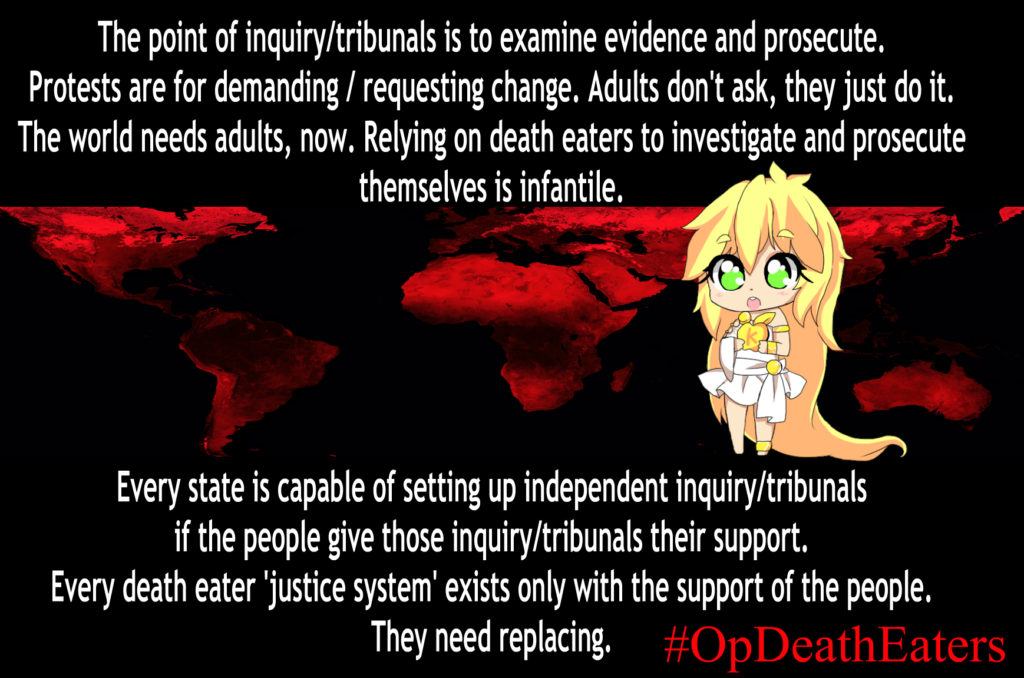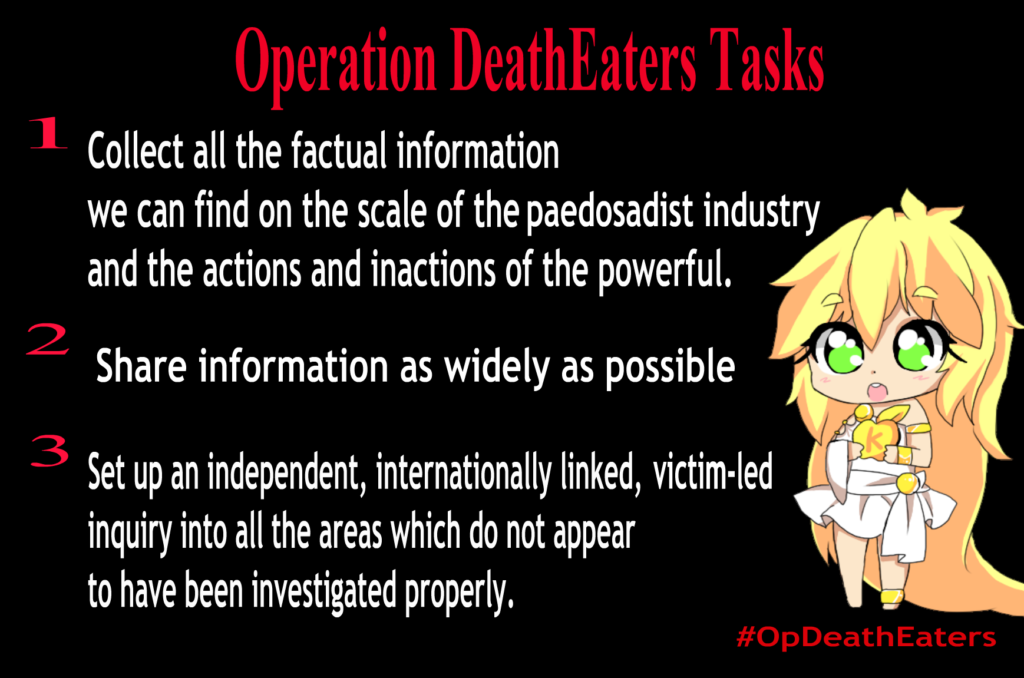 Recommended reading
Writer Conchita Sarnoff's book TrafficKing: The Jeffrey Epstein case
Lawyer Bradley J. Edwards' book Relentless Pursuit
Heather Marsh: OpDeathEaters Frequently Asked Questions (FAQ) and Operation Death Eaters long-term goals.
Heather Marsh (2014): The other battle for the Internet
Heather Marsh (2014): Sociopaths, psychopaths, and death eaters
Heather Marsh (2014): How we came to be ruled by death eaters
Heather Marsh (April 2020): The catalyst effect of COVID-19. (See also her glossary.)
Heather Marsh (May 2018): Transcript of whistleblowing panel censored by Oxford Union and her analysis of that censorship. See also my article about the censorship and my contribution to Boing Boing about calling a home of David Shedd, the CIA senior management panelist who demanded the panel disappear.
Heather Marsh's books in the Binding Chaos series published by Must Read Books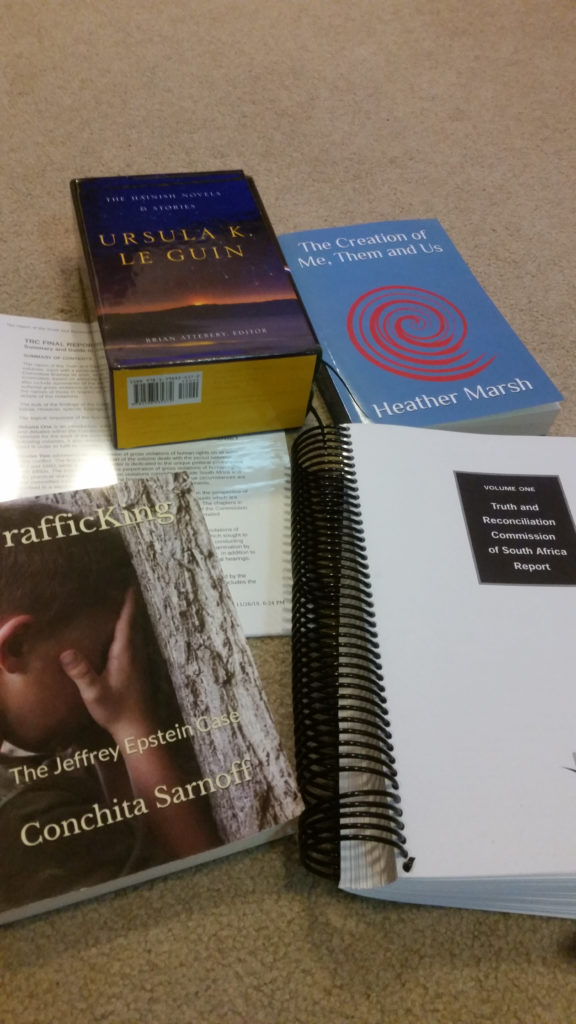 I've only read some material on the South African TRC but here's what I've found thought provoking and informative so far. The book A Country Unmasked by Alex Boraine, TRC's deputy chairperson, the documentary Long Night's Journey Into Day (try Kanopy.com and your public library for access), and the South African TRC official website, including the official TRC report and the online register of reconciliation where members of the public formally apologize, sometimes at length, for turning a blind eye and not doing more to help themselves and others overcome apartheid.
Follow on Twitter: @YourAnonCentral, @OpDeathEaters, @OpDeathEatersUS, @OpGabon, @OpRohingya, @OpCanary, @OpGTMO…and me.
And now, from "Who Killed Jeffrey Epstein?", over to Epstein victim—and survivor—Maria Farmer for the mic drop.
Epstein survivor Maria Farmer: "2020 is the year when…"
The Investigation Discovery special concludes with Epstein victim/survivor Maria Farmer talking about her artwork. First she shows her painting of Epstein and his network.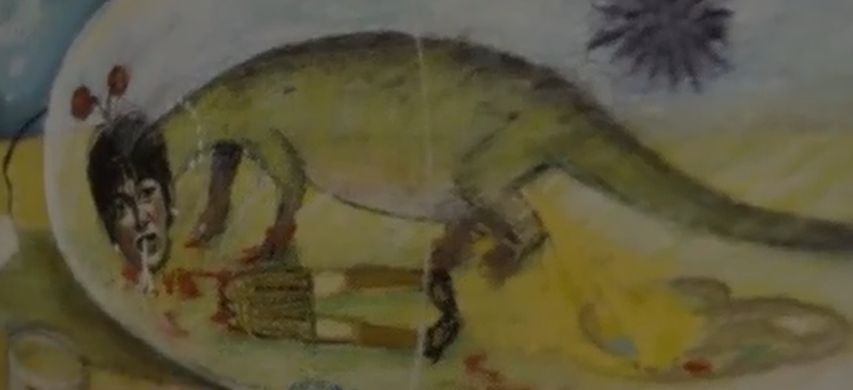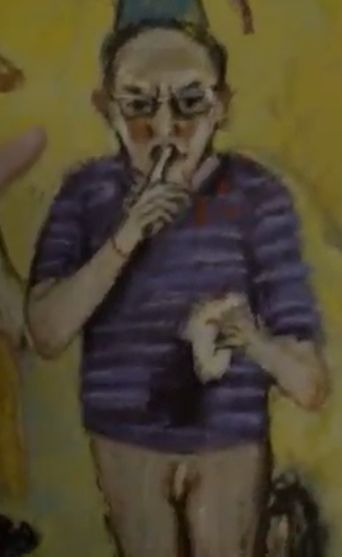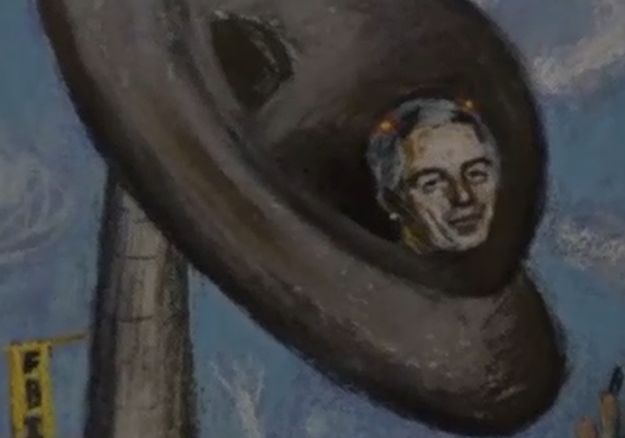 Then Maria Farmer shows artworks from her project to paint Epstein victims/survivors.
She explains: "I'm doing a series, drawing all the women, all their portraits. Honoring them, because they're victims, but they're also survivors. I'm giving them each a drawing so that they know that they matter. We're binding together, and there's strength in numbers, let me tell you something! They're not getting away with it anymore. 2020 is the year the predators become the prey."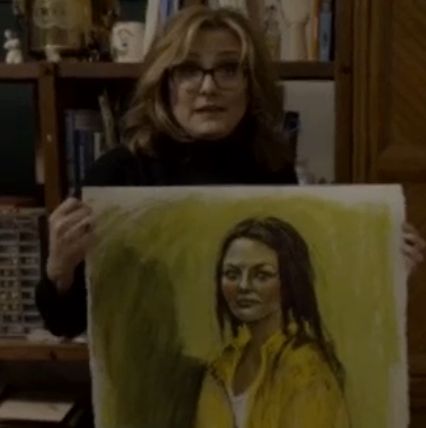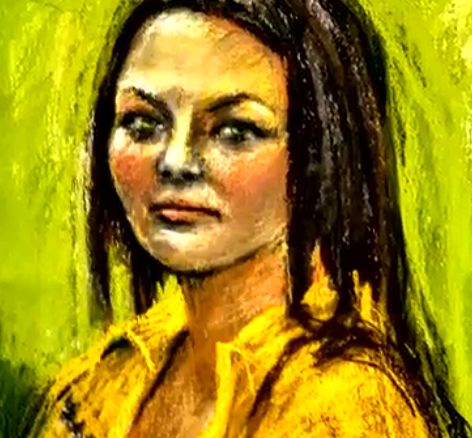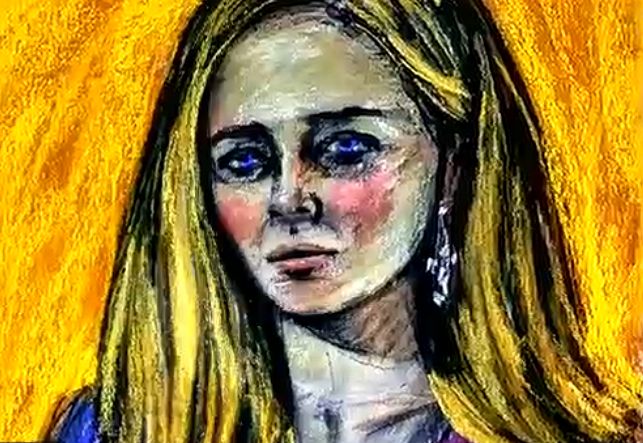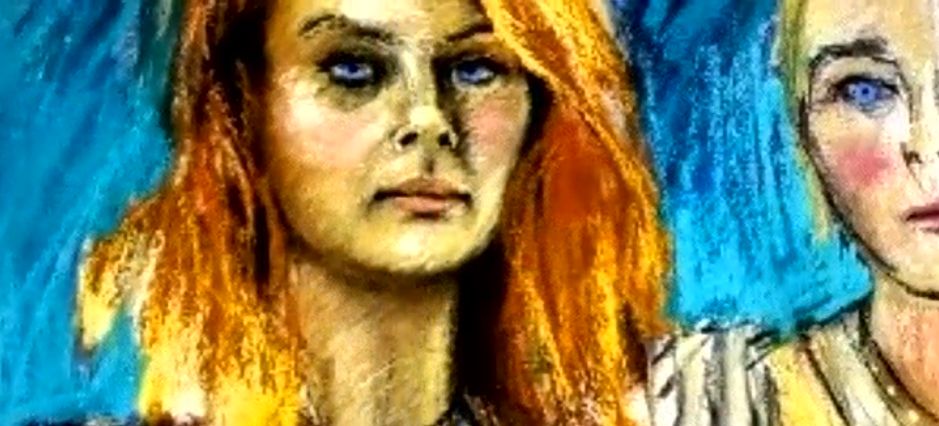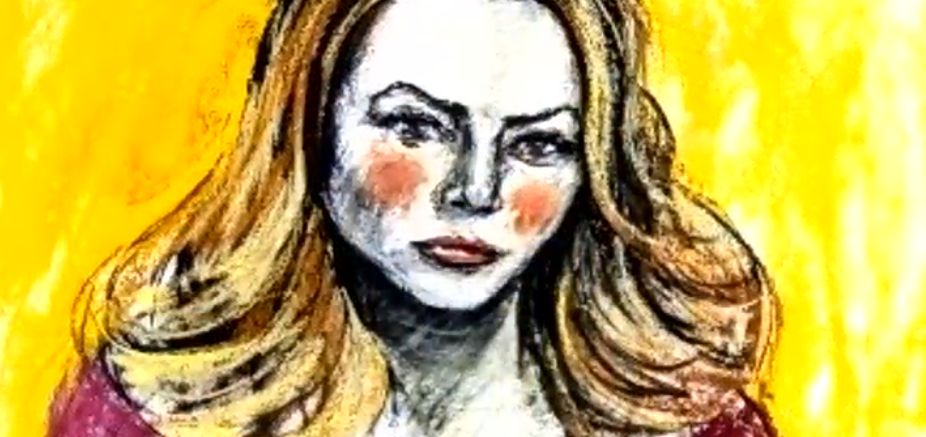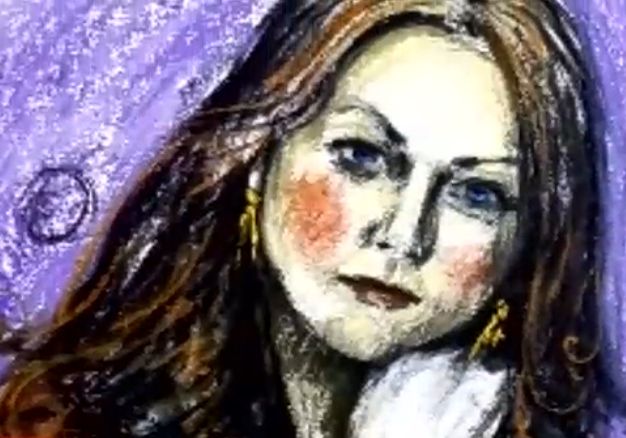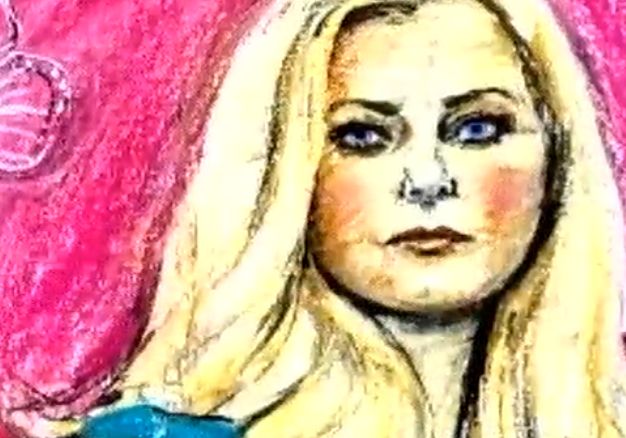 This blog post, Updated: My #OpDeathEaters review of Investigation Discovery's "Who Killed Jeffrey Epstein?" airing Sun May 31, 2020 by Douglas Lucas, is licensed under a Creative Commons Attribution-NonCommercial-ShareAlike 4.0 International License (human-readable summary of license). The license is based on a work at this URL: https://douglaslucas.com/blog/2020/05/31/opdeatheaters-review-investigation-discovery-who-killed-jeffrey-epstein/. You can view the full license (the legal code aka the legalese) here. For learning more about Creative Commons, I suggest this article and the Creative Commons Frequently Asked Questions. Seeking permissions beyond the scope of this license, or want to correspond with me about this post otherwise? Please email me: dal@riseup.net.