Note: In 2021, I'm writing a new blog post every weekend or so. This is number 31 of 52.
Note: Turns out Matt Walker's book Why We Sleep isn't so excellent after all, contrary to what I said in this entry when I posted it on 6 August 2021. In November 2019, Moscow-based independent researcher Alexey Guzey, who has a background in economics and math, posted a devastating critique of Walker's bestseller, which Guzey put together across two months (and updated most recently in April 2021). I regret the blunder, and highly recommend checking out Guzey's critique.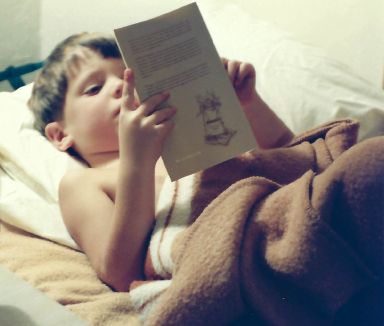 From my teens until my early thirties, the whole ordeal of trying to fall asleep was a nightmare for me. I was frequently late for high school; a gruff principal, patrolling the hallways, would bark "Why are we late!" at me as I dragged myself into the prison-like building. I never had an answer for him. Subsequently, paid-jobs were a challenge back then too, as a result of the sleep problem. Psychiatrists generally said there was little to nothing I could do about it, besides swallow their pills and pay their bills. Many people, not just psychiatrists, told me I was defective and needed to get on federal disability. There seemed to be no answers anywhere.
Later I learned a lack of skills was a common issue among prep-school graduates. I think the private K-12 idea was that youth needed to be taught to decline Latin nouns in all five declensions (poeta, poetae, poetae, poetam …), but the very stuff making up much of life — cooking, cleaning, and or even readying to fall asleep — didn't need to be taught. Instead, it was to be dispatched by paid caregivers in the shadows, so the soon-to-be adult aristocrats, for their careers, could rearrange paperwork abstractions for banks or thinktanks or their parents' businesses. Though I use the words tips and suggestions below, I really mean skills, abilities people have to learn or figure out; humans aren't born knowing these things, so if they aren't taught them and are too short on time or too weakened by corporate destruction to discover them for themselves…
As regular readers of this blog (or my twitter feed) know, across the last six or so years, I've intensely studied various health topics and dramatically changed my health practices accordingly. Nowadays, I'm able to fall asleep fine and get up regularly at, say, 5 a.m. or 6 a.m., to go jogging and then work public school substituting assignments lasting a month or more. Just this past workweek, I had to stay up till 4 a.m. creating detailed lesson plans — a requirement for a course I'm taking to get certified in teaching English to speakers of other tongues — yet after finishing, I was able to nab three, four hours of sleep and still trust myself to wake up in time to start, at 9 a.m., teaching the language learners from around the globe with the instructor watching, grading my performance. Clearly I've figured out some things about sleep.
I wish I'd learned these sleep skills earlier in life — as many do, especially those with strong employment histories — so in case others haven't yet, below I provide tips for falling asleep. I don't directly address the challenges of staying asleep or waking up promptly, though my suggestions will also aid individuals struggling with those two issues. I should note this post is written from the perspective of a single guy in his mid-life. I've occasionally had noisy roommates nearby, or partners with whom I've co-slept, but I can't tell you the first thing about what it's like to simultaneously deal with sleep and an infant, or other parenting circumstances.
Below I discuss three skills for improving sleep, especially falling asleep; next week I'll finish up with additional ones. After the three sleep-improving suggestions, I'll provide a news blast for the assassination in Haiti.
How to catch Zs with ease: three ideas
Recognize sleep's importance. Imagine you spend a third of your life practicing the saxophone. Every day, for approximately eight hours total, you play scales and arpeggios, rehearse great saxophone songs, improve your sight-reading, learn how to repair the instrument, and more. Then a wild jerk appears and jabs his finger at you, saying, "If you dedicate a third of your lifespan to the saxophone, you should simply ignore the details and let whatever happens happen." Obviously, the dude's line of thought is ridiculous. Becoming an excellent saxophonist requires developing many different skills, planning and carrying out practice regimens, identifying and pursuing specific artistic goals, and so on. Ignore all that and your saxophone dream is over. Yet people with trouble sleeping often treat their problem the exact same way as the jerk. I did; confronting the challenge was too overwhelming: I was so far behind my peers that it was easier to make up postmodern reasons for why falling asleep well supposedly wasn't worth worrying about (and I didn't understand it was a skill I could study and develop). Almost everyone on Earth is going to spend a gigantic chunk of their lifetime asleep, maybe even a third of it, plus the time spent arranging sleep. So, sleeping is one of the biggest components of being alive. Therefore treat it as such, respectfully: read about sleep, experiment with different sleep practices, talk with friends about sleep, etc. Educate yourself on the topic.
To get good sleep, you have to fight for it (gently) every single day. Embedded immediately below is a 23-minute youtube video titled "Good Sleep — A Key to Good Mental Health: Ideas of a Former Therapist" by Daniel Mackler. The video has lots of helpful tips for good sleep, particularly in terms of mental health and psychosis. I really recommend watching it. The best concept I personally took away from the video is his idea that daily, you have to pour effort into ensuring you'll get good sleep that night. He puts it like this: "The conscious part of me has a job, has a responsibility to set up my life so that I can sleep well." To put it my own terms, each day, including each evening, the world will conspire to keep you up late or to otherwise ruin your sleep. For example, friends/family/telemarketers/spammers will call or message, enticing you to stay up and talk instead of winding down for bed. Capitalism will insist that resting is weak and that strength is burning the candle at both ends, as with the leech ("middleman") company Fiverr's advertisement from New York City subway cars, pictured above. Frightening or distracting noise might pollute your environment, preventing you from calming down for sleep. If you don't battle these things daily, if you just ignore it all and let whatever happens happen, the myriad enemies of good sleep will completely take over. You have to battle for your sleep; for instance, by the late afternoon, start thinking ahead about how to ensure you'll get enough good sleep that night.
Lighting and glowing screens. Cutting out light, especially glowing screens, as the night approaches has been the single biggest improvement for my sleep — ever. Quoting from chapter thirteen of the excellent book Why We Sleep by neuroscientist Dr. Matthew Walker:
"Before Edison, and before gas and oil lamps, the setting sun would take with it […] daylight from our eyes, sensed by the twenty-four-hour [circadian] clock within the brain […] tiredness, followed by sleep, would normally occur several hours after dusk across our human collective. Electric light put an end to this natural order of things. It redefined the meaning of midnight for generations thereafter. Artificial evening light, even that of modest strength […] will fool your [brain's] suprachiasmatic nucleus into believing the sun has not yet set […] Sleep in modern humans is delayed from taking off the evening runway, which would naturally occur somewhere between eight and ten p.m., just as we observe in hunter-gatherer tribes. Artificial light in modern society […] tricks us into believing night is still day […] Artificial evening and nighttime light can therefore mimic sleep-onset insomnia — the inability to fall asleep within twenty-five minutes. By delaying the release of melatonin, artificial evening light makes it considerably less likely that you'll be able to fall asleep at a reasonable time […] Just when things looked as bad as they could get for the suprachiasmatic nucleus with incandescent lamps, a new invention in 1997 made the situation far worse: blue light-emitting diodes, or blue LEDs […] evening blue LED light has a more harmful impact on human nighttime melatonin suppression than the warm, yellow light from old incandescent bulbs, even when their lux intensities are matched [… humans] stare at LED-powered laptop screens, smartphones, and tablets each night, sometimes for many hours, often with these devices just feet or even inches away from our retinas […] It has a very real impact on your melatonin release, and thus ability to time the onset of sleep [… in a study,] Compared to reading a printed book, reading on an iPad [glowing screen] suppressed [sleep-inducing] melatonin release by over 50 percent at night. […] iPad reading delayed the rise of melatonin by up to three hours […] Unsurprisingly, individuals took longer to fall asleep after iPad reading relative to print-copy reading […] individuals lost significant amounts of REM sleep following iPad reading […] the research subjects felt less rested and sleepier throughout the day following iPad use at night [… also there was] a lingering aftereffect, with participants suffering a ninety-minute lag in their evening rising melatonin levels for several days after iPad use ceased — almost like a digital hangover effect.

Emphasis added
Occasionally people say "dark mode"-type settings on digital devices help, but I doubt they help very much, since the problem existed severely enough with mere incandescent bulbs prior to 1997 and the invention of blue LED light. And it's an option provided by the foxes who are guarding the henhouse.
Ideally, as the evening ends and night arrives, I shut off all glowing screens — hopefully around 8 p.m. — though sometimes paid or unpaid work requirements interfere. I use either natural light from windows, and/or soft warm yellow light from incandescent bulbs, to conduct my night-time routine (e.g., reading a non-challenging book in the bathtub prior to bed). As soon as I can, I turn off those incandescent bulbs, too. I make my bedroom as pitch-black as possible. And, right before bed, I don't take one last quick look at my email: even a few seconds of that artificial glow is enough to falsely tell your brain it's suddenly daylight.
Recently, when I was visiting Texas, I stayed in a motel room with a smoke detector on the ceiling straight above the pillows. A little green light on that smoke detector glowed all night long above my eyes. So the next day, I obtained duct tape and covered the light up. Elsewhere in the motel room, I used handtowels to block various lights, such as the glowing display on the air-conditioning unit. A pitch-black bedroom helps hugely.
From time to time, I go to one of West Seattle's beaches in the evening to watch the sunset, which seems to help regulate sleep.
The sun is wonderous, gifting us all life free of charge (yep, everything in life is free), but artificial light pollution, particularly in urban environments, is an under-discussed problem. I really recommend, from Adam Kendall's blog Ideas for saving the world, the post "Fixing light pollution." I'll excerpt it:
I think every street light should have a lid on top of it, so the light doesn't go up into the sky. I think every building taller than 10 floors should have all their lights turned off from 10pm to 6am every night. I think every building between 5-10 floors should have all their lights turned off from 11pm to 5am. I think every street light except for those at crosswalks and street intersections should be turned off from midnight to 4am every night. I think every household should get four to eight free trees to plant around their house, so that the tree cover blocks household light from escaping into the sky. I think every street should be lined and covered with trees too, to help block the light from escaping into the sky. While doing all of that wouldn't eliminate all light pollution, it would reduce it by a lot, enough to be able to go to a city park at night and see a night sky filled with stars as if you're in the wild. Our cities should be lit up at night by the stars in the sky, not our artificial light. Turning cities dark at night would be good for the environment too. Our light pollution is drastically harming the lives of nocturnal species. It effects the migration patterns of birds. Cities are basically dead zones for all non-human species, and as cities continue to grow and take up more land, it's creating the next great mass extinction period. Also, seeing the night sky is spiritually and mentally beneficial to people, it helps us connect with the earth, it helps us to connect with life and the universe when we're able to see the night sky.
Next week I'll continue with my remaining tips for falling asleep; for now, I'll conclude with a fun, memorable quotation from sleep researcher Dr. William C. Dement: "Sleep is delicious!"
News blast: Assassination of Haitian president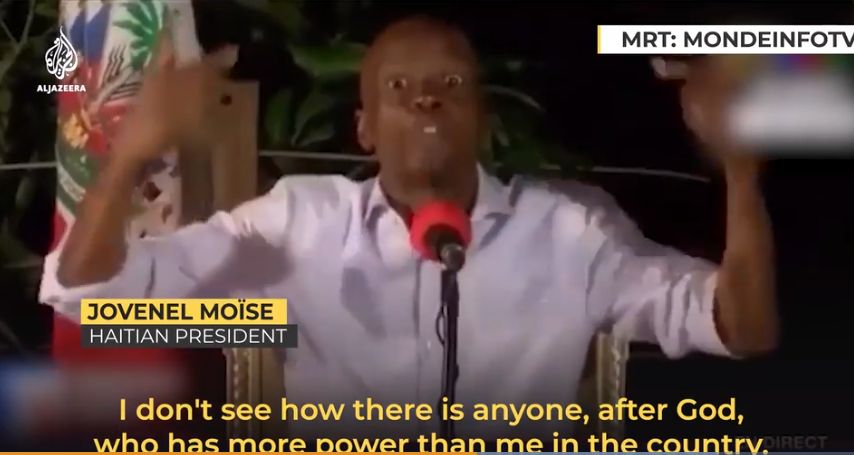 Today's news blast continues the news blast from last week, which discusses the 7 July '21 assassination of tyrannical Haitian president Jovenel Moïse. Unless you're really familiar with this situation, you might consider reading or re-reading last week's news blast before continuing to my next paragraph. Also, the 4-minute "Start Here: Murder in Haiti" segment from Al Jazeera, embedded below, is useful for catching up on the basics of what happened, though the video is from July 8 and thus quite old, in relative terms.
The day Moïse died (with twelve gunshot wounds and an eyeball gouged out), the United Nations Security Council condemned the assassination and then the next day privately met at their in-NYC-but-not-in-NYC (extraterritorial) headquarters to hear from the representative of Haiti. Don't you wish we all had a transcript and footage of that opaque meeting?
I wonder how little or how much the United Nations Security Council (which includes such unlovely permanent members as the Chinese government) understands about the assassination — on August 2 (just a few days ago), the Security Council president said:
"the issue of a possible peacekeeping mission in Haiti has formally been raised and discussions are ongoing. The main concern right now is the safety and security of the United Nations mission currently operating in Haiti."
On July 8, UN special envoy Helen La Lime told reporters that Haiti made a request for security assistance from the United Nations. That same day YAC.news commented bluntly: "A UN-styled military intervention may be considered, however, the [capital city's] ongoing gang war that's displaced 14,700 people make[s] the prospect challeng[ing]."
Seemingly no one among the worldwide public fully understands this assassination for sure, but without knowledge of the setting, nobody can get very far in figuring it out. Agence France-Presse news correspondent Amélie Baron, located in the Haitian capital of Port-au-Prince, describes the context of the country in her passionate 24 July article "Asking the right questions in Haiti." I'll excerpt parts of her lengthy, amazing article:
"These days, my phone rings off the hook. "Why was Jovenel Moise assassinated?" […] The country is effectively missing from French history books. Despite listening to hours of lectures about the Napoleonic wars during my time at university in the French city of Nantes, I never heard the names Toussaint Louverture or Jean-Jacques Dessalines — heroes of Haiti's independence movement against France, the colonial power […] the idyllic beaches of Haiti that were swamped with high-class tourists in the 1970s were no longer featured in tourist guidebooks – while tourism is all the rage in the Dominican Republic […] Because contemporary history cannot be learned in books, I decided to head to Port-au-Prince in February 2005 — my first trip on my own, and my first time out of Europe […] The country is seen as one of the most corrupt in the world […] Today, prisons [in Haiti] are massively overcrowded, full of men who are too poor to pay for a lawyer that could or would even want to take their case. Housed in dire conditions, they wait months, sometimes years to see a judge […] Funnily enough, only in rare cases do people with money end up in prison. They never even get arrested […] Why do some media outlets choose to call Haiti the "poorest country in the northern hemisphere" (debatable) rather than "the first black republic in history," which is a more lasting and positive truth?
Regarding Haiti and its independence movement which concluded in 1804 and yet is missing from French history books — and history books here in the United States — an intriguing fact is that Bug-Jargal, first published in 1826 and one of the early novels of the late writer Victor Hugo, better known today for his novels The Hunchback of Notre Dame and Les Misérables, is set during the Haitian revolution. There are translations into English, but I've never read them (nor the French original).
So who were Moïse's assassins, and who were the masterminds? Interpol, the United States including the FBI and Homeland Security, Colombia, and the Haitian police have all been investigating. On July 9, White House press secretary Jen Psaki said Haiti requested security and investigative assistance from the United States and claimed "the investigation is being led by Haitian police forces on the ground." With the reputation the FBI has for overpowering investigations by local and state cops in the US, I find that hard to believe. Haitian police did engage in a firefight with some of the suspected killers on July 8, so I imagine the Haitian cops have been mighty pissed off about the assassination.
Haiti elections minister Mathias Pierre, in a July 10 interview with the Associated Press, said the Haitian police force is weak and under-resourced, and "small troops" are needed from neighboring countries to prevent chaos. In that article the AP journalists write:
"The stunning request for U.S. military support recalled the tumult following Haiti's last presidential assassination, in 1915, when an angry mob dragged President Vilbrun Guillaume Sam out of the French Embassy and beat him to death. In response, President Woodrow Wilson sent the Marines into Haiti, justifying the American military occupation — which lasted nearly two decades — as a way to avert anarchy."
The Haitian police identified the suspected gunmen as either 26 or 24 Colombians and two South Floridians originally from Haiti but US citizens: 35-year-old James Solages and 55-year-old Joseph Vincent. Haitian police also said three of the assailants were killed in a shoot-out, but that might have been seven of the assailants; I don't have the original source material and apparently there's information discrepancies from the Haitian police anyway. The supplied details of the situation have been unclear and shifting.
That's enough for today — I need to take my own advice and go to sleep — but next week, I'll resume news-blasting about the Moïse assassination, including some discussion of Colombian paramilitary groups, the environment from which some of the suspects came. If you want to continue reading about the assassination yourself, I suggest these links: here, here, here, here, here.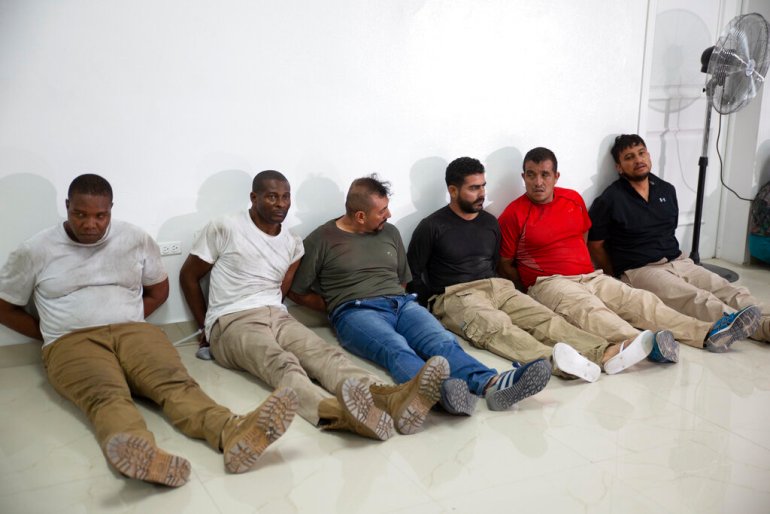 This blog post, Skills for falling asleep, 1 of 2; Haiti news blast, by Douglas Lucas, is licensed under a Creative Commons Attribution-NonCommercial-ShareAlike 4.0 International License (human-readable summary of license). The license is based on the work at this URL: https://douglaslucas.com/blog/2021/08/06/fall-asleep-skills1-news-haiti/. You can view the full license (the legal code aka the legalese) here. For learning more about Creative Commons, I suggest reading this article and the Creative Commons Frequently Asked Questions. Seeking permissions beyond the scope of this license, or want to correspond with me about this post one on one? Email me: dal@riseup.net