Note: In 2021, I'm blogging once a week, typically on weekends. This entry is number 27 of 52. I took the two Rosario Beach photographs on 3 July 2021.
Note: I added a note to my post two weeks ago that mentioned the media noise around "critical race theory." In short, the note provides this link to readers: https://pastebin.com/Ex3AmsEz. It's a collection of a hundred or so thought-provoking questions on the topic of race, for instance: "How many races do you think there are? What are they?" For my post three weeks ago regarding compounding pharmacies, I added a quick note making my argument in the last paragraph more explicit.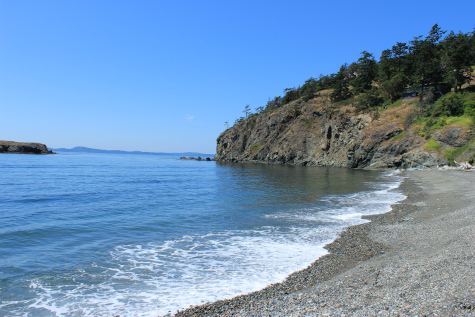 The recent Pacific Northwest heat dome broke regional records for hottest recorded temperatures ever — Seattle hit 108° F / 42.2° C; Washington state capital Olympia 110° F / 42.2° C; Portland Oregon 116° F / 46.6 °C; Chelan county in eastern Washington 119° F / 48.3° C; Lytton in southern British Columbia 121.3° F / 49.6° C before getting largely destroyed by wildfire — reminding Cascadia residents, who typically don't have home air conditioning, that climate change has their area, too, in its crosshairs. Hundreds of people died, and along Canada's coast, more than a billion marine animals were cooked to death due to the mass casualty event (as Multnomah county declared it). Depending on which experts you trust, the catastrophic heat wave was either worsened by, or outright couldn't have happened without, human-caused global warming. Humans as in me, you, and the world's most powerful predators, their names named and biographies analyzed by Spooky Connections in an effort to end impunity.
More disaster is on the way. The nonprofit news organization Climate Central, which as of summer 2019 listed rather mainstream funding — Goldman Sachs Charitable, several universities, the National Science Foundation, and so on — runs a Surging Seas project online. That undertaking includes an interactive map where you can pick a decade (2030, 2040, 2050, and so on), configure various other settings, and view sea level rise projections for any place you pick. The sea level rises will happen for chiefly two reasons: first, soaring temperatures heat water up, enlarging it, and second, ice that's land-based (i.e., not currently part of the ocean), will melt, thus entering the ocean for the first time and swelling it. Given moderate scenarios, the neighborhood where I currently live, part of the West Seattle peninsula, is expected to be underwater within just 29 years.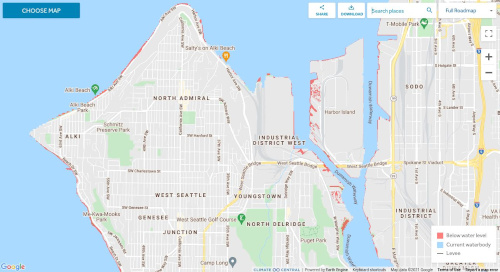 Information about global warming dangers streams in constantly from all sectors of life. The Pentagon has long considered climate change a threat to its abilities to threaten others. The Union of Concerned Scientists, in June 2018, produced a short report on the real estate implications of global warming-driven sea level rise in the contiguous United States; their analysis places hundreds of thousands of residential and commercial properties at risk of inundation across the next 30 years. The Seattle-based nonprofit news organization Grist offers regular reporting about climate change, including a Solutions Lab with articles amplifying positive ideas and efforts. Just the other day I watched someone draw #GreenNewDeal on the chalkboard of a pizza joint.
"Don't hate the media, become the media." — Jello Biafra
Like the temperature, the propaganda war ("the debate") looks set to intensify. This past week, the New York Times published an article about Fox Weather, Rupert Murdoch's 24/7 channel to debut later this year as a competitor to The Weather Channel. Fox Weather will be both cable television and digitally offered, "part of a digital push by the Murdoch family," as the NYT piece puts it. Fox Weather will be "overseen by Suzanne Scott, the chief executive of Fox News Media, and Sharri Berg, a longtime Fox executive who helped launch Fox News at its inception in 1996." As my personal experience with television types showed me, and as the excellent 1976 dark comedy film Network shows viewers, or heck, as even Alfred Bester's schlocky 1950s novel The Rat Race shows readers, the employees in that industry are amoral careerists, interested in ratings and dollars, not prosocial behavior and truth.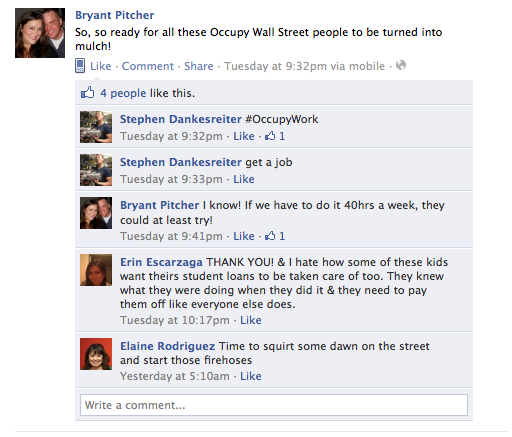 Back to the New York Times article:
"All the networks are ramping up for this," said Jay Sures, a co-president of United Talent Agency who oversees its TV division. "It doesn't take a rocket scientist to figure out that climate change and the environment will be the story of the next decade."
It's well-documented that FOX News has been teaching climate change denialism, and converting conservatives from their initial pro-GreenNewDeal positions to their current anti-GreenNewDeal positions, but I think there's something more to the picture. A pharmacologically sedated population entrained by glowing screens, their minds filled with red political messiahs versus blue political messiahs, is easy to divide and rule. If that sounds kooky, consider that a few years time was all it took to turn red Romneycare into blue Obamacare, and Joe "I'm a proud capitalist" Biden's infrastructure plan might end up merely a GOP plan, despite Dems controlling both Congressional houses and the White House. In other words, the duopoly is one party if you have enough functioning memory to not be fooled by the passage of a few years and the costume changes from red to blue or back again. Besides that point — which is a bit remedial and applies more to Boomer television-watchers; younger generations in the United States seem more politically astute, though not always — when global warming becomes undeniable, and displacing or eliminating populations becomes an even more overtly acknowledged strategy, FOX Weather will be there to explain why it's necessary and good, like we saw in the pandemic context when in March 2020, Texas lieutenant governor Dan Patrick on FOX News bluntly said that grandparents should be sacrificed to coronavirus in order to protect trade.
Indie media is far superior to either the FOX insanity or the blue weaksauce of polite sites such as CBS News affiliates or, despite its useful sea level rise interactive map, Climate Central. Or, going further than weaksauce, consider Carl Bernstein's reporting for Rolling Stone in 1977, showing the US media, with its globally powerful megaphone, working hand-in-glove with the Central Intelligence Agency; that's something that's no longer anything an investigator like Bernstein has to labor to uncover, since CIA agents openly run for federal office as Democrats nowadays (part one, part two), and despite reading my WhoWhatWhy article about him, people I know are still really into former CIA chief John Brennan, Obama's assassination and torture czar, like an idol.
Compared with the above folks, DIY individuals or small squads, perhaps with barely used paypal buttons (ahem), constantly put out better material — tracking corporate destruction of the environment, including climate change, @OpCanary on Twitter supplies and amplifies the best knowledge nowadays — though investigative budgets would be really nice to have: lawsuits over stalled open records requests, travel funds to interview people, etc., are all expensive. Rather than fund journos like me to take a train somewhere and ask private spies trick questions (which of course you can do if you want!), it'd be far more reasonable to overhaul the decentralized data movement so everyone can participate.
How to remove the pacifier and address problems optimistically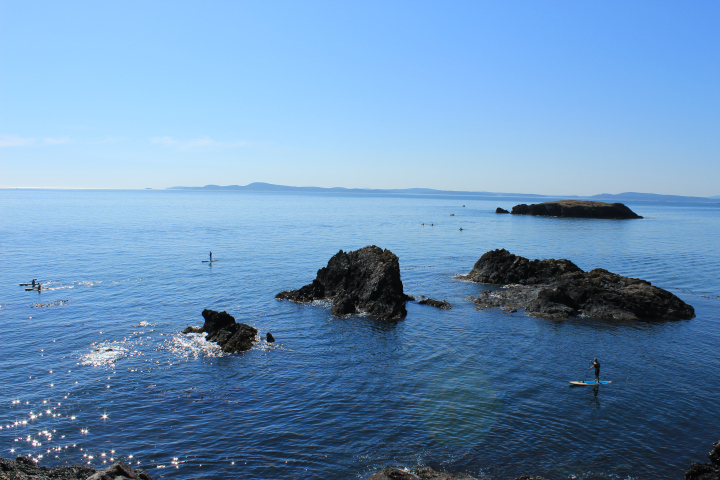 A few months ago, someone asked me several times how I manage to read/skim so much unpleasant news daily and think about it daily. It's a legitimate question that deserves a solid answer — it's definitely true that in some ways, so much unhappy information can make a person feel down in the dumps and disempowered. I've yet to produce a concise reply to the question, so I've been working on an analogy to explain it, based on (an oversimplification of) the social roles analyzed in this book released in 2020. It's an off-the-top-of-my-head cheesy fiction story. Here goes, more in summary format than scene.
Imagine a walled town, the grassy outskirts of which are filled with dangerous robotic monsters. (I think I just mixed up fantasy and science fiction tropes, like Ursula K. Le Guin's fun 1966 novel Rocannon's World or the beloved early Might and Magic computer games from the eighties, creating what's sometimes called science fantasy.) In the comfy but anhedonic town are forgettable citizens. These reflectors, reflecting the ideal of the town itself, constantly tell each other slogans such as you shouldn't care too much, and don't think too hard, and if it's not paying your bills, don't worry about it. The temperature is rising, due to the robotic monsters, but the townspeople agree not to talk about it. They all remember what happened to Neftali, after all. Neftali wouldn't shut up about the rising heat and the robots' weird sonar-like instruments generated the heatwaves, and the townspeople made fun of Neftali so bad for it that she stopped going to their boardgame nights and even exited the town walls altogether.
Outside the walls, on the grassy fields, Neftali came across a huddled, quivering group of other outcasts: several individuals who'd also left, or who'd been ejected, from the walled town. They were pretty strange outcasts. Because they kept saying things like, Why don't the boardgame people like me? or I was fucked up from the start, nothing will go right for me. Sometimes they even ran back into the town, trying to befriend the townspeople, but the townspeople simply made fun of them yet again, and then the outcasts had to slink back to their huddle on the grassy fields, commiserating and mumbling despair. They ate shitty food to make themselves feel better temporarily, they told each other they were too mental to exercise — one of the town's psychiatrists, sans evidence, had diagnosed them with innate unabilityism — and they stayed up all night drinking caffeine and watching gory horror movies. Regularly, townspeople would go to the edges of the walls and angrily hurl insults down at the outcasts, who'd then, quivering, repeat the insults to themselves.
"Look," Neftali said to these negative images, "enough with this internalized oppression; it's no fun. I just read this strange thing called an investigative journalism report" — (I'd have to improve my cheesy analogy somehow; this is where genre fiction would usually throw in something like magic to give Neftali the ability to figure out plot-point data) — "that says several of the robotic monsters behind the heatwaves have broken down and are strewn across some rocks by that tide pool. If we could go over there …" She wanted to conclude, we could study their heatwave-generating instruments for helpful clues, but she was pretty lonely herself, and was pushing the tolerance of the huddled outcasts. Even that sugary shitty food was starting to look pretty tasty to her.
"No!" a huddled outcast screeched. "If you mention the robots and the heatwaves, you're putting really bad energy out there; you're hyping things that are bad. Stop forcing unpleasant things on other people. It makes everyone upset." The outcast turned up the volume on a gory movie. "Someday a wonderful politician will arrive and save the day for us, but until then, the realistic thing to do is realize nobody can do anything about anything."
Grr, Neftali thought, these outcasts are just as bad as the townspeople. She did notice, when the townspeople went to the walls to expectorate angry insults, and the huddled outcasts responded by quivering and flinching, the two sets of people had a creepy anger-fear symbiosis thing going on. The townspeople didn't want to think or feel, trying to dodge the fate of the huddled outcasts, and not seeing any alternatives to this either-or; the huddled outcasts were just wrecks, often receiving guilt and shame the townspeople transfered to them, and the huddled outcasts similary didn't see any alternatives to this whole symbiosis. Neftali didn't want to get trapped in those roles, so she decided to go to the rocky tide pool herself. Except, with all the mysterious robots around, it was pretty dangerous to do that singlehandedly.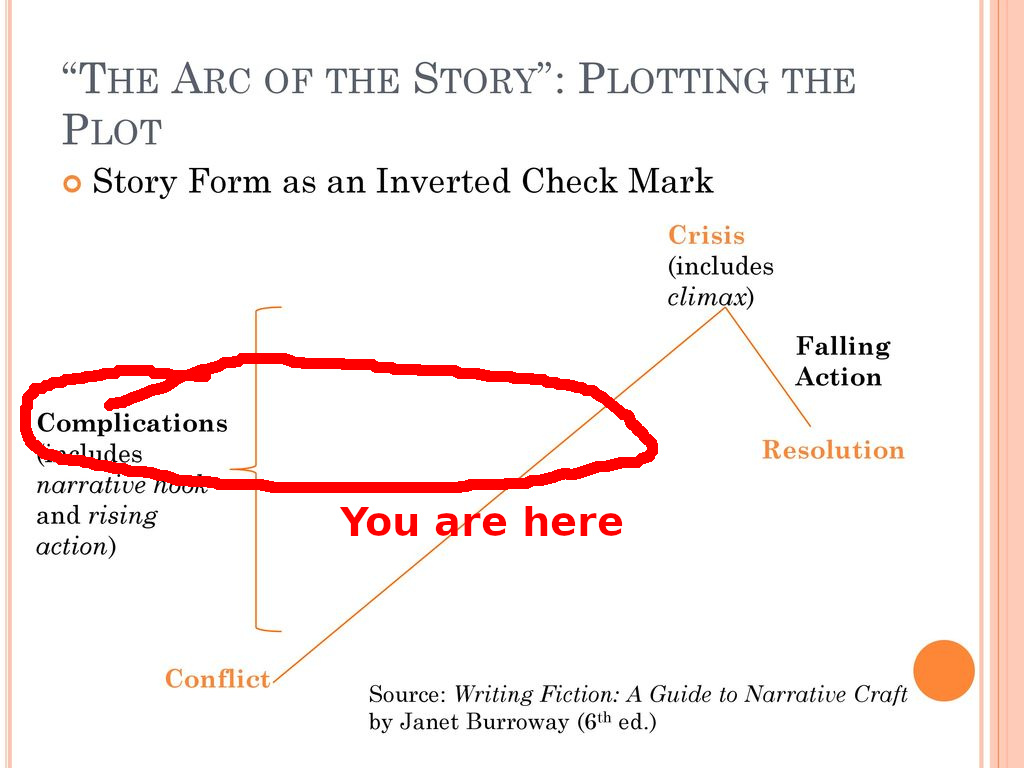 Now we skip 200 pages in this hypothetical bestseller of rising action in which Neftali intelligently solves her problems, winning over two allies from the flinching outcast group (since no one can save the day alone), and learning about the hidden lair of the monstrous robots, plus their sonar-y, computer-y, very highly technological mainframe, with, I don't know, an evil extraterrestrial origin, or rather, maybe they're actaully controlled by certain secretive townspeople oligarchs. Anyway, Neftali's sensible efforts have simultaneously irritated the monstrous robots, who're not just gunning for her, but also cranking up the temperature to heat-dome proportions, meaning now the ordinary townspeople and the rest of the outcasts are after Neftali and her pair of comrades as well, blaming them. It's really just the final image in the next paragraph that I want to leave people with, that ties into why I don't find reading investigative journalism reports merely upsetting, but rather, strengthening, too.
As the unfeeling townspeople mute their buried rage or occasionally scream it, and the flinching outcasts quiver and whimper in the corner, Neftali and her allies face staggering odds, it's true. But though Neftali did eat some of the crappy food and commiserate with the huddled outcasts from time to time, for the most part, she and her comrades feel healthy, strong, alive. They delight in their capability to smash monstrous robots; they know how to skillfully use their weapons and their bodies. They enjoy assessing the journalism reports of where the robots' weaknesses might be. Even when one of the monstrous robots badly injured Neftali, in fact briefly imprisoning and torturing her before her comrades came to her rescue, that was much worse than, but also a little like, being physically sick: no one enjoys having, say, food poisoning: you want the vomiting and diarreah to stop asap, but once it's over, you're a little proud of your ability to get through it, trauma aside, and that you stuck it out successfully. You recover as best you can and it's back to battle another day, the water in a jug tasting good and your mind clear from not eating the sugary food, from not accepting unabilityism.
Very incomplete list of steps to take against global warming
Consider divesting your energy from conventional politics, which already has millions of people and trillions of dollars — that sector doesn't need new recruits — and investing it instead in radical politics, which, lacking enough genuine and hardworking individuals, does need new recruits
Read better (political) philosophy texts: Ursula K. Le Guin, Heather Marsh, to change everything, etc. This article "Installing new governance" might be of particular interest as something quick yet profound to read.
Better news sources: YAC.news, sub.media, @OpCanary, @OpDeathEaters, etc.
Resources for direct action, etc., like Beautiful Trouble, or sabotage.
Learn to travel slowly, and especially avoid cruise ships.
Public libraries sometimes have really amazing free classes – I took a series of classes about how to file civil lawsuits in Washington state. People do things like this, they figure out ways to sue resources corporations over climate change.
People quit their jobs every single to day to defend the environment against resource corporations, for instance as water-protectors. Because it's real that people are doing this, doing so is in fact realistic, just underreported and underdiscussed.
Learn about efforts in other countries, network with activists there, get to know them and share knowledge across borders.
Talk about injustices, and improve skill at such conversations so you're not cowed when interlocuters try to enforce the norm of don't-talk-about-it by various means (such as making fun of you or saying there are too many words or whatever). You can see how effective talking about controversial subjects actually is when you look at stories of people coming out of the closet or open dialogue methods.
News blasts: Myanmar and Brazil
Myanmar. I previously wrote news blasts about Myanmar (in chronological order from earliest to most recent) here, here, and here. The very short version of the overall situation is that in February 2021, the military in Myanmar, also known as the Tatmadaw, seized power in a coup d'état, and the public has been joining ethnic armed militias or a civil disobedience movement to resist. In the months before the coup (note: authoritarians plan, prepare, and execute their programs across months, years, or even decades or centuries, given institutional memory), as Reuters reported in mid-May, officials tied to the Tatmadaw ordered telecomm and internet companies in the country to install intercept spyware to monitor the public. This includes tracing SIM cards, intercepting calls, blocking websites, and more. (Note: circa 2010-2015, I don't remember the time frame more specifically, when I called defense lawyers regarding political hacktivism cases, the connections would at times suffer from odd clicks and disconnects; separately, a defense lawyer working 'national security' cases, including for clients accused of terrorism, once told me many similar things that happened at their office that they assumed were tell-tale signs of surveillance.) Last week, Reuters further reported, that the junta has told domestic and foreign telecomm and internet company executives that they're banned from leaving Myanmar without permission and that they must finish fully installing spyware systems to allow the authorities to spy on the public's calls, messages, and web traffic. The same day as last week's Reuters article, Frontier Myanmar published a report explaining how the country's police, shortly before the coup, set up a special cybersecurity team to track the public's web usage, particularly (but not limited to) Facebook, and to surveil phone calls, using artificial intelligence to mine calls by the public and notify cops to review those in which words like "protest" or "revolution" were used.
Below, a 3.5-minute video by YAC.news is embedded. It covers the junta banning telecomm executives from leaving the country.
Also embedded below, a video by YAC.news a little longer than four minutes, titled "Between The Fascist Junta And COVID19 Myanmar Faces A Catastrophic Healthcare Collapse." Here's the transcript. To excerpt key points of that information about the Myanmar healthcare collapse:
At least 1.5 million people have been vaccinated according to regime media but the actual number is difficult to verify. Medical experts on ground say the number could be far less than announced. […] Since the coup d'etat, the junta has mismanaged the country's health care system, nearly collapsing it by saturating it with injured protestors. The former head of Myanmar's COVID-19 immunisation programme, Htar Htar Lin, was arrested and faces charges of high treason for promoting democracy. She and 11 other doctors were arrested for supporting democracy and allegedly organizing with the ousted and legitimate government of Myanmar, they may face long term imprisonment or death. […] The number of people being tested for COVID19 has also dropped due to fears of being arrested by the junta at testing spots. Oxygen is also running low across several townships and people have been reported to be dying due to a lack of it. The elderly are especially being affected by the virus and are reportedly the majority of the dead so far. […] All and all the junta has been an unmitigated disaster to the healthcare system and the handling of the pandemic. […] According to the junta-controlled Ministry of Health and Sports (MOHS), as of last month mutated strains of the virus, including the Delta variant, have been tearing through the country. At least 165,405 COVID-19 cases have been reported in Myanmar since the virus was first detected at the end of March 2020. At least 3,419 deaths have been attributed to the virus nationwide although medical experts on the ground have show skepticism and believe the some of the deaths attributed COVID-19 deaths may have been people murdered by the junta. As of Saturday, Bago, Sagaing and Yangon regions have reported the most coronavirus cases. […] While the regime has continued to administer some vaccines, it is now desperate to restart the economy it collapsed through its illegal take over. It is currently attempting to force people to return to school and work despite the specter of COVID19 creeping faster and faster across the nation.
This app can help people in Myanmar find oxygen needed due to coronavirus.
In the past week, a history writer in the Pacific Northwest, Edith Mirante, wrote a 20-tweet thread about the history of the relationship between Myanmar and Russia, which currently consists mainly of Russian arms deals and diplomatic enabling for the Myanmar junta.
Finally, a video from today or today-ish, and a little longer than a minute, is embedded below, showing courageous protestors defying the junta to rally for democracy, chanting in Burmese "Annihilate the Fascist Army!"
Brazil. A member of the BRICS trading group — Brazil, Russia, India, China, South Africa — and one of the strongest trade economies in South America (Argentina is another), Brazil is one of the places in the world hardest hit by COVID-19. More than half a million have been killed there by the disease, but Brazil's fascist president Jair Bolsonaro downplayed coronavirus, comparing it to the flu. Bolsonaro is hated for this. He's a big fan of Donald Trump and his administration is accused of corruption in international vaccine negotiations. An Al Jazeera article from this week reported that the majority of Brazilians surveyed support impeaching Bolsonaro. Last month, when the Brazilian leader attempted to board a commercial plane, he was run out by the passengers, who heckled him and called him a genocidaire; a video of this, some 40 seconds in duration, is embedded below.
Brazilian Universal Basic Income activist Fabiana Cecin tweeted the following context for Brazil on July 3: "Brazil is under a thinly-veiled QAnon-grade far-right military dictatorship. The bulk of high-level federal employees have been fired and replaced with military brass. Even some of the absolute top-level political cabinets were stuffed with generals." That tweet was in response to an article by Brasil Wire, an independent news organization hosted and published in Europe, about CIA director William J. Burns arriving in late June to meet with Bolsonaro. Brasil Wire says all polls show Bolsonaro would lose in the upcoming 2022 election against popular former president Lula da Silva, so now, a week after meeting with Burns, Bolsonaro is making threats that the 2022 presidential elections in Brazil may not happen at all. The CIA of course has a long history of sponsoring coups in South America to ensure authoritarian regimes are in power. See also Operation Condor.
Reporting on another incident, this YAC.news article from July 9 explains that in late June, the Brazilian authorities, in a pre-dawn raid, evicted hundreds of people from the "May 1st Refugee Camp" on behalf of state-owned oil giant Petrobras. About 64,500 Brazilian families are internally displaced and living in "unauthorized" settlements.
Below are embedded two videos from YAC.news, followed by the airplane video. The first from YAC is this one from July 4, just under three minutes, about the Bolsonaro administration's corrupt vaccine deals and thousands of Brazilian protestors gathering in 40-something cities in response. Here's the transcript. The second from YAC is this one from May 30, about 2.5 minutes, that looks at why Brazilians are demanding Bolsonaro step down. Here's that transcript.

This blog post, PNW heat dome, climate change media, and optimistic fiction, plus Myanmar and Brazil news blasts, by Douglas Lucas, is licensed under a Creative Commons Attribution-NonCommercial-ShareAlike 4.0 International License (human-readable summary of license). The license is based on the work at this URL: https://douglaslucas.com/blog/2021/07/10/heatdome-climatechange-media-optimistic-fiction-myanmar-brazil/ You can view the full license (the legal code aka the legalese) here. For learning more about Creative Commons, I suggest reading this article and the Creative Commons Frequently Asked Questions. Seeking permissions beyond the scope of this license, or want to correspond with me about this post one on one? Email me: dal@riseup.net.