Note: In 2021 I'll publish one blog post per week. Here's entry 14 of 52.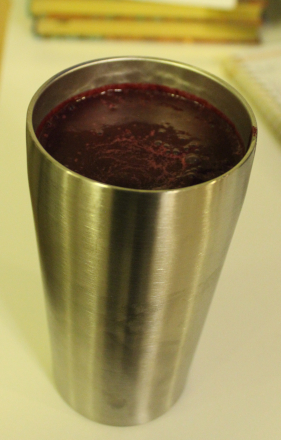 Okay, there are many ways to make a beet root smoothie. But here's how to make mine. For the past two and a half months, I've blended one of these just about every single day. And why, you ask?
I like beet root smoothies because of the multiple health benefits not typically provided by other foods. Beet root is a favorite ingredient of vegan athletes, including but not limited to vegan bodybuilders. It contains nitrate, which dilates blood vessels, improving athletic performance. It also contains boron, which increases testosterone. It helps with estrogen regulation as well. Then, the vegetable enhances reaction time, balance, and cognitive performance, apparently by improving blood flow to brain areas related to executive function. Beets even help with neuroplasticity for changing brains in adults. A 16-video series by nutritionist Michael Greger (who unfortunately endorses gluten) looks at conventional science studies showing various benefits of regular beet root consumption. I'll embed immediately below two of his short beet root videos that I find most interesting:
You might ask, what's the difference between beets, beet roots, and beet root powder. A beet plant has an aboveground leafy portion that's edible and can be prepared like kale. But the beet root is the plant's underground taproot. Beet root powder is made from grinding up, dehydrating, and/or otherwise preparing this taproot.
Below, the recipe for my beet root smoothie; after that, walking through the process step by step. The ingredients can get expensive. One trick is to call or email companies and ask about sales, discounts, etc. Sometimes you can get really lucky!
For one person and a 2 cup / 500 mL smoothie, put these into a blender:

1 cup almond milk
About 8 ice cubes
About 8 raspberries
4 scoops of beet root powder (about 20g or the equivalent of two beets)
1/2 teaspoon of yacon syrup (about 2.5 mL)
1 tablespoon of maqui powder (about 15 mL)
1 tablespoon of almond butter
A little less than 1 scoop (i.e., about 20g) of your fave vegan protein powder

Blend it all up and drink
Now let's go step by step, commenting on the different ingredients. It's important to get strong and healthy to live an empowered life… if you eat like Donald Trump, you're going to act more like Donald Trump: you are what you eat. In an academia/intelligentsia world that tunnel-visions on abstract concepts created by unhappy philosophers, it can be a shock to realize that eating different foods actually yields different beliefs. Imagine using nutrition to alter your hormones, and you can see how eating differently might powerfully change what you're telling yourself is or isn't the case. Syllogisms, sadly, don't generally include recipes. (That's somewhat a joke.)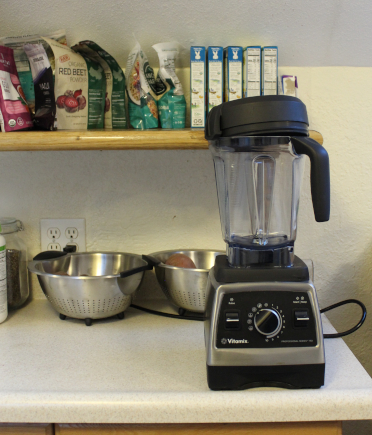 Step one, start with a blender. Pictured left is my muscular Vitamix. It's a Professional 750 model. I got this particular model because unlike other Vitamix models, it doesn't have the bells and whistles crap (like Bluetooth) seemingly affixed to every commodity nowadays to make it a "smart" EMF-generating member of the Internet of Things/Shit. As I recall, the 750 comes with a 20-ounce container, but you can also optionally add the 32-ounce one pictured here. The bigger size works much better since it gives the container a lot more breathing room for ingredients, even if you're just a single person making a meal by himself. But, you don't have to go with the spear-famed Vitamix company necessarily. Cheaper blenders may get the job done also.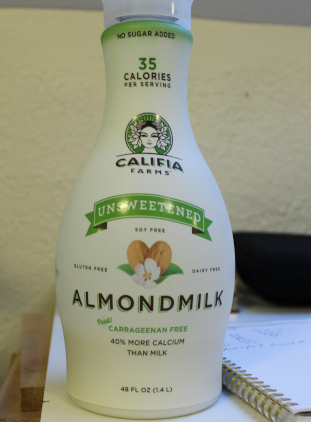 Step two. Get thee some almond milk. I really like the Califia brand. It doesn't have carrageenan (a kind of binding element that isn't helpful nutritionally), but isn't as odd-tasting as the Malk brand (which has just three ingredients: water, almonds, and salt). Make sure to get the unsweetened variety of almond milk, since as the book The Case Against Sugar by Gary Taubes explains, there's no good reason to add sugar to everything, not just in terms of long-term adverse consequences, but even in terms of your day-to-day life, such as your sleep and your mood.
Step three. Fill up the blender container (most have measurement amounts marked on the sides) with one cup of almond milk. Then throw in approximately eight ice cubes from the freezer, if you have one. If you don't, go get some ice from Wim Hof.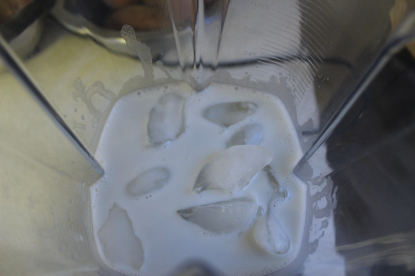 Step four. Now it's time to add the beet root powder. First, let me say, some people find food powders irritating to their GI systems. Others, including me, get along fine, or seemingly fine, with food powders. I asked my awesome general practitioner for her thoughts. She said that exceptions aside (such as people really affected negatively by powders), powders are definitely good enough for the busy person, though technically using raw whole foods is always better. Her take accorded with my thoughts. As for choice of beet root powder, the more common ones sourced from China are generally a less vivid color and do not taste as intense. I really like the Koyah brand from the U.S., which you can see in the photos is a deeper and more vivid purple. The Koyah taste is much more intense than the China flavors, so it might take a few smoothies to grow on you (don't give up quickly if at first you don't like something!). Beet root powder can be a little challenging to find, so try health food stores, grocery co-ops, etc., or order off the Internet. The "tubs" (as the small cylindrical containers of beet root powder are typically called) come with a scoop inside. Occasionally the scoop will get buried in the powder, meaning you have to dig around for it. Four scoops is what my recipe calls for. Usually, the scoops are about the same size, regardless of brand. Below, an image of an open beet root powder tub that's sourced from China, so not Koyah.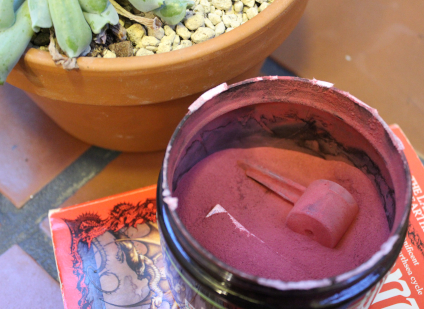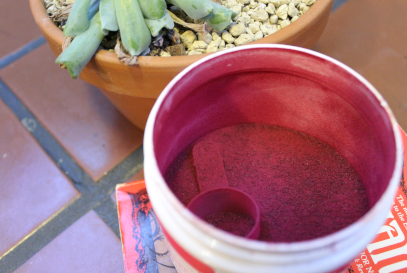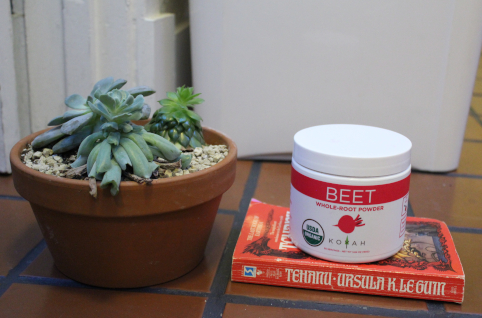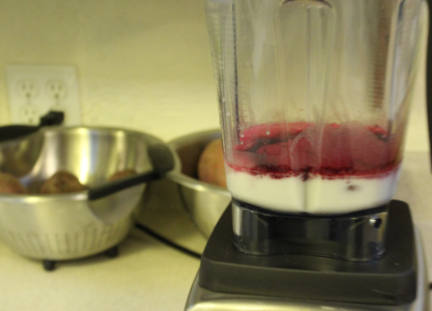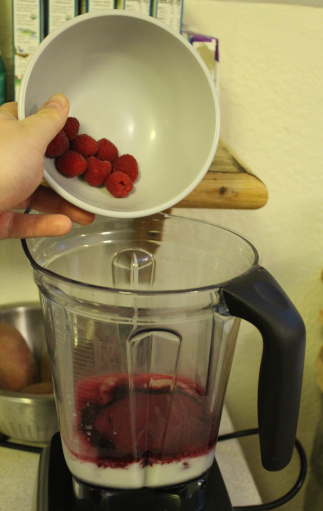 Step five. Add eight raspberries. Nothing particularly complicated here. I don't know much about raspberries' nutritional status. They just go well with the taste and color of the rest of the smoothie. I will say that as a fruit, raspberries add (natural) sugar, so it's usually best to have the smoothie earlier in the day, far away from time to go to bed. That's because sugar winds up adults just like it does kids. Adults just so often think they're too special to be affected by mere food, what with all the important paperwork they're filling out each day or whatever, checking those endless Microsoft Teams notifications from co-workers and whatnot.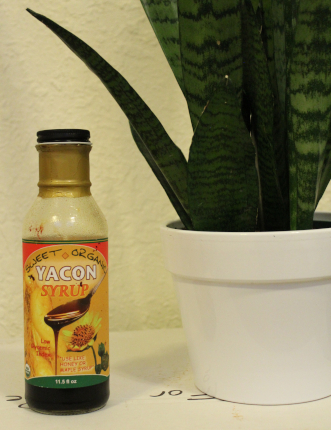 Step six. Add 1/2 teaspoon (about 2.5 mL) of yacon syrup. Yacon syrup is a sweetener — you can use it where you might have used honey or maple syrup — that's low on the glycemic index (a ranking of how various foods affect blood sugar, which impacts mood and affects falling asleep, sleep quality, and energy levels in general). For me, yacon syrup was really hard to find. In fact, I couldn't find it anywhere in Seattle, and that's after trying a handful of grocery and health food stores. Nobody had even heard of it. I had to order it online.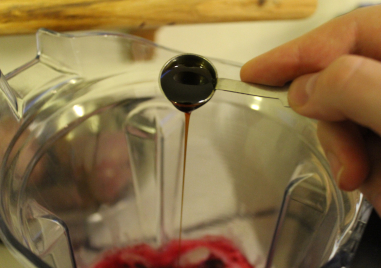 Step seven. Add one tablespoon (about 15 mL) of maqui powder to the smoothie. Yes, that's maqui powder, not maca powder nor maca root powder. Like yacon syrup, nobody I asked had ever heard of maqui powder, and I couldn't find it in any health or grocery stores in Seattle. Not even the (excellent) World's Healthiest Foods website discusses maqui. I had to order it online. Maqui powder is from the maqui berry, a purple-black medicinal fruit that grows in Chile and Argentina. It's sometimes called a wineberry. I don't know as much about maqui as I should. Apparently, among other benefits, the wineberry is very high in antioxidants.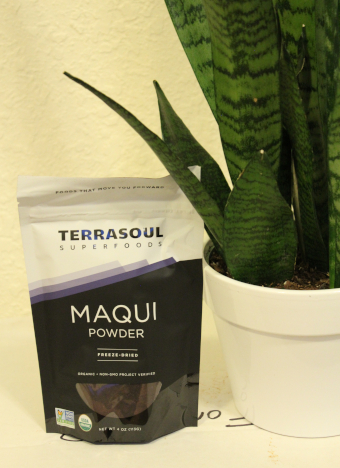 If you have only one tablespoon measurer like I have, then after using it to portion out your maqui powder, be sure to wash it before employing it to scoop out a tablespoon of almond butter in the next step.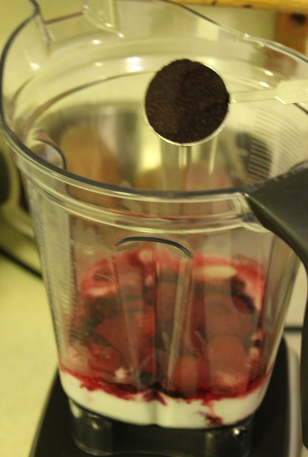 Step eight. The next item to add is a tablespoon of almond butter. Most USians are very familiar with peanut butter. Sometimes peanut butter is sold in plastic jars with various crap ingredients added. It's much healthier to purchase nut butters raw from the bulk section of a good grocery store. You pull the lever of the machine that grinds up the nuts, turning them into the butter. And you catch the descending butter in a plastic tub (provided by the store) and take that tub home, sometimes taping it shut (or the cashiers will tape it) to prevent the tub from spilling during the trip. All else being equal, almond butter is a pretty healthy snack, in the raw form, not the plastic jars. You can store the raw nut butter in your refrigerator for quite some time. I really like almond butter, shown in the photo below.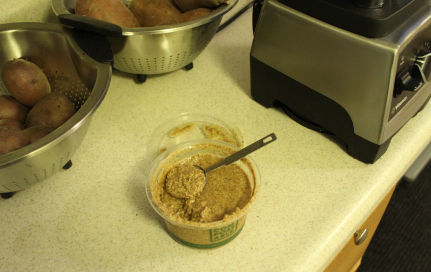 Dump the tablespoon of almond butter (perhaps using your finger to unglamorously extract it from the tablespoon) into the blender. We're almost finished!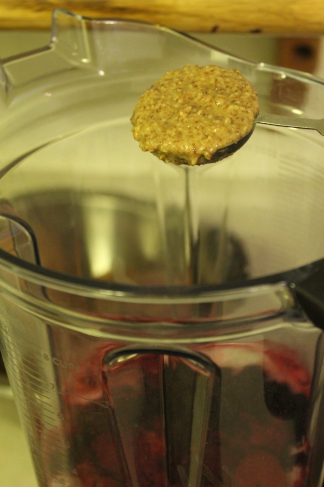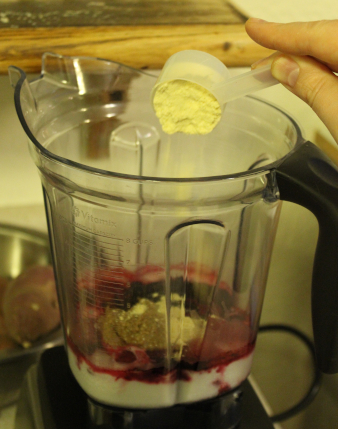 Step nine. The last item to add to the blender is vegan protein powder — whichever kind is your favorite. I like pea protein. (As the T-shirt says, Keep calm: plants have protein.) The Orgain brand suits me fine. Make sure to get whatever the vanilla or "plain" flavor is; it's easy to overlook the tiny flavor marking and accidentally grab the chocolate variety off the shelf. Most big ol' tubs of protein powder have a scoop included, and as with the (smaller) beet root powder tubs, sometimes the scoop sinks to the bottom and you have to dig it out. Scoops for different brands of protein powder are roughly the same size, usually. I find a little less than one full scoop works well for this smoothie. Measure the protein powder out and dump it in, perhaps while thinking funny thoughts about Arnold Schwarzenegger or Popeye.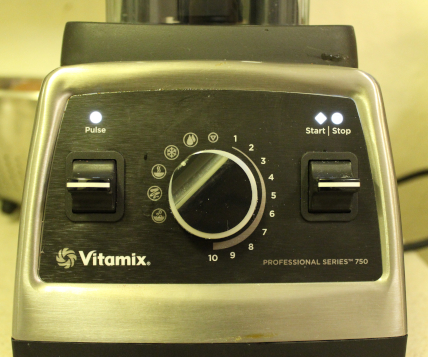 Step ten. Be sure to fasten the lid solidly into the container's top, then blend. For the Vitamix Professional 750, power it up (the switch is to the side of the machine) and next, set the dial to the snowflake-lookin' icon. That's the best pre-programmed setting for making an icy smoothie. After finishing, don't forget to power off the Vitamix.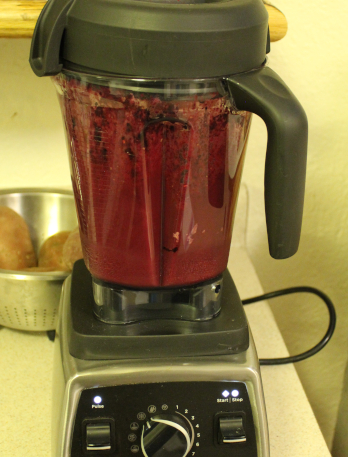 Mission complete. That's basically everything. When pouring the smoothie out of the container into your glass, be sure not to make a mess, because this stuff (like turmeric) can create some difficult-to-remove stains. It's best to ASAP throw the blender, lid, tablespoon, 1/2 teaspoon, and anything else into the dishwasher (if you have one), drink the smoothie up, and then add the smoothie glass to the dishwasher and start that thing so you can easily make another smoothie the following day. Like I said, I've been drinking these for 2.5 months now, and I'm still really enjoying them and looking forward to my beet root smoothie each morning (and even while lying in bed the night before). Soon I'll get my testosterone levels checked, because I'm curious if regular beet root consumption has upped my testosterone. Of course, I won't much be able to disentangle the effect of beet root consumption from the effect of my increased regular exercise (which now also includes core strengthening and other physical therapy), but the testosterone levels will be extremely interesting to look at nonetheless.
Don't wait too long after pouring the smoothie out of the blender to drink it. If you wait a long time, the smoothie will sort of clot and taste not as good. And again, the taste is pretty strong (especially if you use the Koyah brand I recommend), so keep trying it daily for about a week until the taste grows on you. I hope someone out there enjoys this smoothie!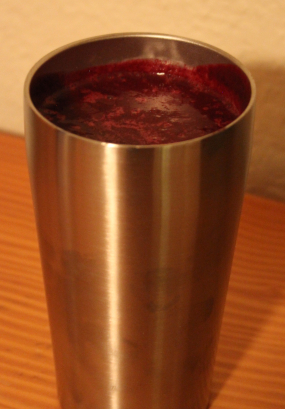 This blog post, How and why to make a beet root smoothie, by Douglas Lucas, is licensed under a Creative Commons Attribution-NonCommercial-ShareAlike 4.0 International License (human-readable summary of license). The license is based on a work at this URL: https://douglaslucas.com/blog/2021/04/10/how-why-beet-root-smoothie. You can view the full license (the legal code aka the legalese) here. For learning more about Creative Commons, I suggest this article and the Creative Commons Frequently Asked Questions. Seeking permissions beyond the scope of this license, or want to correspond with me about this post one on one? Please email me: dal@riseup.net.