Note: In 2021, I'm writing a new blog post every weekend or so. This is entry 41 of 52. I took all the photographs during the past workweek. The shots show (variants of) Southern Magnolia trees in West Seattle near the Chelan Cafe.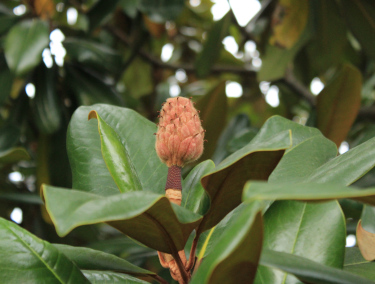 Circa 2009, when I lived in North Texas, I enjoyed learning about trees with a field guide. I taught myself to distinguish between sycamores, oaks, and so on. That might not seem a big deal to those who grew up taught such things. But for those who grew up in front of glowing screens, stuck in their heads, identifying components of Nature can be a pleasant bridge toward actual reality.
One kind of tree that has stood out to me ever since has been the magnolia. You might have heard of the moonlight and magnolia myth, based on a line from the 1939 Gone with the Wind film. The myth refers to unjust romanticization of the antebellum South, likely alluding to the sweet smell of the tree's blooming white flower, since the magnolia grows especially in the Southern portions of the US.
Perhaps the best known type of magnolia is the evergreen Southern Magnolia (Magnolia Grandiflora), native to the US South. In 2009, I wrote a blog post about the biggest Southern Magnolia in Dallas / Fort Worth, which lives at what was then called the Fort Worth Botanic Garden. This summer, I revisited the towering tree and wrote about how sadly, via a sweetheart deal, the City of Fort Worth took the 109-acre park out of the commons (well, city government-controlled commons) and handed it to the BRIT nonprofit, its private management, and its board of directors, who as of a 2019 tax filing included local billionaire Ed Bass. In addition to charging admissions fees, BRIT told the public to stay away from the region's biggest magnolia by putting up chains and Do not enter, Do not climb signs. But are humans and magnolia trees free to touch elsewhere, possibly in the Pacific Northwest?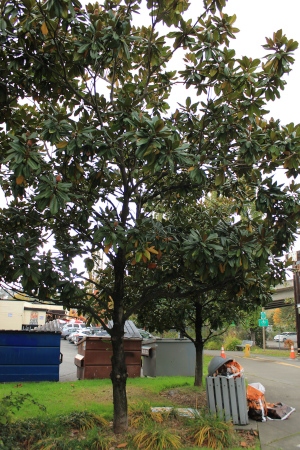 To my surprise, I recently noticed that along one of my jogging routes in West Seattle, multiple accessible magnolias grow. My 2008 copy of the National Wildlife Federation's Field Guide to Trees of North America says that various types of magnolia are native to the United States and Canada. The entire book unfairly leaves Mexico out of North America; I don't know if Southern Magnolias are native there. The book's maps (showing US and Canada only) suggest that for the most part, magnolias are local to the US South. That includes the Southern Magnolia species, as you might expect from its name. So what are magnolias doing in Seattle?
The field guide explains that the Southern Magnolia is grown worldwide as an ornamental species. The only West Seattle magnolias I've come across so far are on the property of the Chelan Cafe, obscured from some angles by columnar maples. The long-standing restaurant, open since 1938, offers highly tempting but very non-vegan chicken fried steaks and other Southern cuisine, which maybe explains why decorative Southern Magnolias are around the property: to fit the theme.
In the last workweek, I asked a Chelan Cafe employee for more information, and while he didn't know when and why these particular trees were planted, he said he believes they're actually dwarf magnolias. Dwarf magnolias are variants of the Southern Magnolia that grow shorter, and are thus easier to plant ornamentally in rigid urban settings. The City of Seattle's remarkable tree inventory map agrees that the Chelan Cafe magnolias are Southern Magnolias, but doesn't say if they are or aren't dwarf magnolias, or any other variant. Meanwhile, Lou Stubecki, who manages Trees for Seattle, the umbrella for the City of Seattle's urban forestry efforts, told me by email today—I showed Stubecki the same photos you're seeing on this post—that the plants look like the Southern Magnolia cultivar called "Little Gem." They're shorter in stature and have smaller leaves than the regular Southern Magnolia species. Plot twist: Little Gem and Dwarf Magnolia mean the same thing. Two names for the same variant of the Southern Magnolia.
So in a sentence: Southern Magnolias (at least the dwarf/little gem subtype of them) live in Seattle because in addition to growing natively in the US South (and perhaps elsewhere), they're also planted decoratively worldwide.
I think two lessons can be drawn from this everyday life Q&A.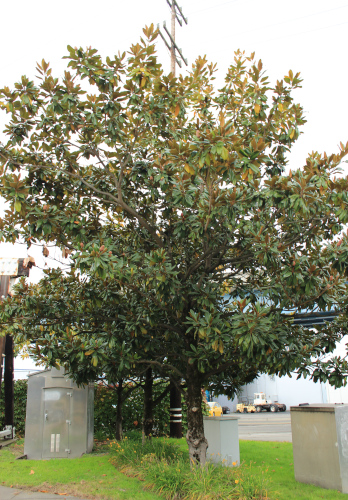 First, the public shouldn't risk taking the commons for granted, whether city- or genuinely public-managed, as the City of Fort Worth's giveaway of the Botanic Garden shows. Many in the United States who wake up to horrifying "political" realities eventually choose to push them out of mind, limiting themselves to "toxic positivity," lighthearted conversations, funny memes that are (apparently) apolitical, corporate entertainment, and the like. Rest and recreation are crucial, lighthearted conversations can be lifesavers, and resistance doesn't have to mean sorting through terrifying data all day every day. However, I don't think just putting scary topics on permanent ignore is a solution either, despite what the latest '60s-esque quotes might claim about personal comfort. Injustice crops up in our neighborhoods already and will continue to do so, possibly taking our favorite trees down with it.
Second, states internationally employ a startlingly high degree of complexity and violence (or threats thereof) to control how such entities as plants are moved around worldwide. In my own efforts to emigrate, I've read through a lot of bureaucratic Canadian documents to try to determine if bringing my houseplants across the border by car would be permissible. The closest I got to an answer was that it would depend on the whims of the particular CBSA border guard, who would most likely wave my little green friends through as typical houseplants; but, that wasn't certain, since the plants I take care of, while quotidian, nevertheless aren't on Canada's list of "automatically approved" species. (I'm now thinking I'll go to the Netherlands anyway.) I can't find anything intrinsically wrong with the concept of societies knowledgeably monitoring their geographic borders and responsibly regulating the movement of plants, which after all could qualify as invasive species or carry contagious pests. But like the Fort Worth Botanic Garden, understandings of why and how plants should be spread or constrained was stolen from the public over centuries and placed into the hands of states regulating ultimately on behalf of corporate supranational power. Consider this astonishing excerpt from human rights activist Heather Marsh's 2016 blog post The supranational empire:
For almost one hundred percent of human history, people lived in autonomous, networked tribes. Their feats of exploration and the knowledge handed down over generations were equal to or greater than more complex societies, even in highly specialized areas. The medicinal knowledge of the Kallawaya in pre and post Inca society included brain surgery in 700 CE and using quinine to cure malaria before anyone else. The navigation and seafaring skill of the Polynesians brought them to over 25 million square kilometres of territory between Easter Island, New Zealand and Hawaii and also took them to America and possibly close to Antarctica. Polynesians and probably many others were not following or seeking food. They explored even when their survival needs were all met. Kallawaya still travel great distances to share their knowledge and skill, not because they need to but because it is their accepted social responsibility to do so. Kallawaya traditional knowledge includes uses for almost a thousand plant species and Polynesian traditional knowledge allows them to navigate using 220 stars. All of this knowledge was preserved in oral tradition for hundreds or thousands of years and was shared by the tribe, held by those with the interest and aptitude to learn it.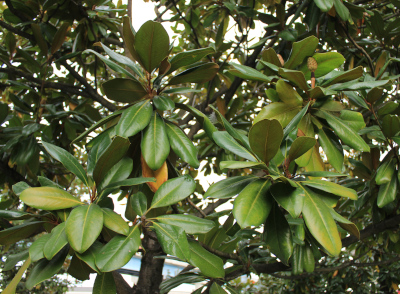 Try explaining public sovereignty/knowledge (when it exists) to a CBSA border guard giving you grief about the safe snake plant rising from your floorboard. Some ministries and bureaucrats do excellent work, of course, but ultimately, states and especially corporations have snatched knowledge away from members of the public, who often no longer know that they don't know the details of, say, trade or FATCA agreements controlling cross-country shipments of currency or plants. That leaves us stuck with semi-opaque bureaucratic rules, the caprices of individual enforcers, and worse. Self-governance is violated or impaired. Thankfully, in many cases, our understandings and power have changed for the better across the last decade due to journactivists (journalist + activist) spreading quality information, human rights defenders putting their lives on the line, and other forces.
Finally, I've visited the Washington Park Arboretum only once, but readers interested in Seattle trees might find it a great place to go. I hope to check out the arboretum again soon. Below, let's branch out to other items:
News blasts: Just some hyperlinks…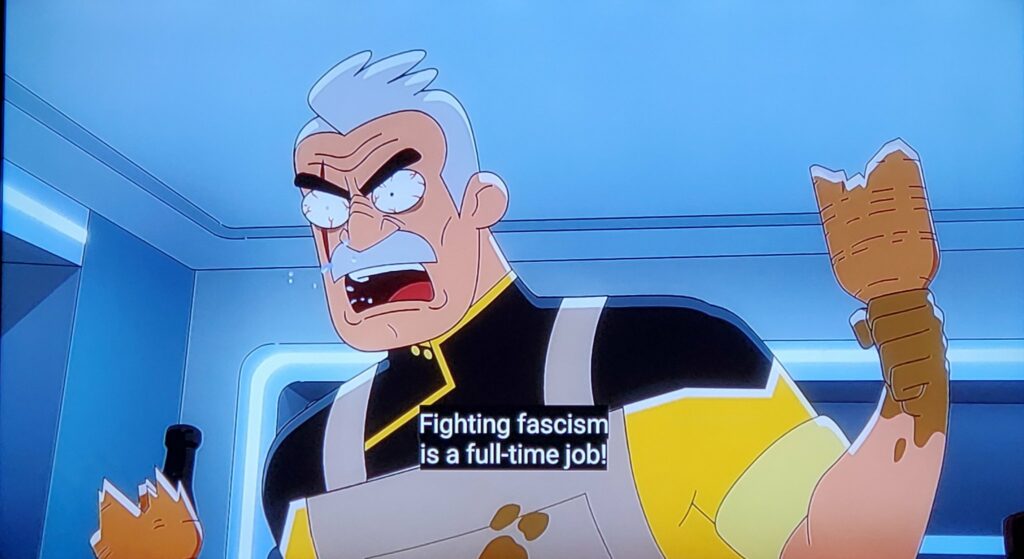 In the interest of time and brevity, I'm omitting important items from the past workweek regarding the United States, tech updates, and the worldwide trade economy collapse/change.
For next weekend, I aim to post about Belarus. But if you want a head start, check out these two writings from Charter97.org, editor in chief Natalya Radina. Amnesty International named Radina a prisoner of conscience after her 2010 arrest for "organizing mass disorder" (reporting favorably on pro-democracy protests by the opposition to Belarusian dictator Alexander Lukashenko). She's now an exile in Poland and said in 2011, when the Committee to Protect Journalists gave her an award, that "all of Belarus today is a big prison" because of, among other reasons, "foreign indifference."
I'll leaf it at that!

This blog post, Why are Southern Magnolia trees in Seattle? by Douglas Lucas, is licensed under a Creative Commons Attribution-NonCommercial-ShareAlike 4.0 International License (human-readable summary of license). The license is based on the work at this URL: https://douglaslucas.com/blog/2021/10/17/why-southern-magnolia-trees-seattle/. You can view the full license (the legal code aka the legalese) here. For learning more about Creative Commons, I suggest reading this article and the Creative Commons Frequently Asked Questions. Seeking permissions beyond the scope of this license, or want to correspond with me about this post one on one? Email me: dal@riseup.net.