Note: In 2021, I'm posting a new entry to my blog every weekend or so. This is number 29 of 52. All photos were taken by me on 23 July 2021, except the small one identified in the caption as from my 2009 post. I took that photo then.
Note: See the previous week's post for a reply by me to a reader's question in the comments.
Note: On July 20, 2023, I removed Reuters Pictures photography from the Cuba news blast section of this post due to a demand letter from PicRights, a copyright troll acting on behalf of, and with the knowledge of, Reuters. The removed imagery may still be found in the five-image slideshow included in the original July 2021 Reuters article. I'd be curious to learn (and publish) what the photographer Alexandre Meneghini makes of the PicRights operation and, most of all, what the unpaid Cuban protesters think of the clamp-down on circulation of their photographed protests — which were met with violence and imprisonment — calling for President Miguel Diaz-Canel to step down following his failures with the trade economy and COVID there. Two years later in Cuba, smaller, sporadic protests continue, and while dissidents say awareness has increased, the problems remain, with one Cuban activist adding that change requires, among other things, "international visibility." Yeah, that's something PicRights should consider, international visibility, as it was the whole intent of my news blasts to bring little-known news from beyond the U.S. borders to a U.S. audience. (You also have to wonder how much co-option has taken place of the Cuban protests, since the two-years-later article is so doth-protest-too-much deadset on saying there hasn't been any. But to my knowledge, no one has actually proven any to date.) See also this May 2023 letter from Human Rights Watch, Amnesty International, and others asking Europe to help with Cuba's current human rights crisis.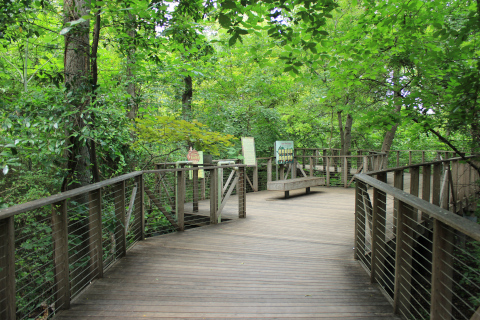 More than a decade ago, in June 2009, I wrote a blog entry titled "Biggest Southern Magnolia in DFW" (Dallas/Fort Worth). From my recent IP addresses in North Texas and Seattle at least, if you google "What's the biggest Southern Magnolia tree in DFW?" my writing comes up as a "featured snippet" search result. As strange as it is to be honored by Skynet, I'm glad the Google algorithms prioritize the post.
Anyway, Friday afternoon I visited — just before flying back to Seattle on Saturday — the hometown tree, which I hadn't seen in years and years. I discovered some things have changed, not only the TexasTreeTrails.org webpage I cite in my long-ago entry for facts on the champion plant. (That webpage has moved here.)
You're probably familiar with the structural device of dividing a topic into the good, the bad, and the ugly; let's do that in reverse order, to end on an upbeat note before plunging into news blasts for Cuba and the Lone Star State.
The Ugly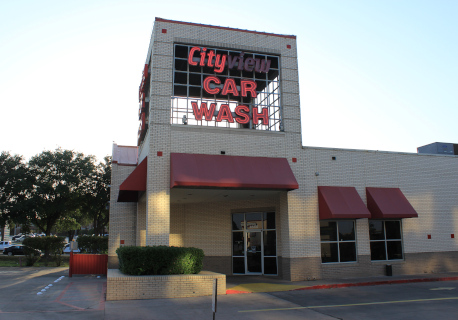 On Friday I stopped by Fort Worth's Cityview Car Wash too, because in the past few years, from a distance, I've often thought about this odd antebellum-esque store — in some ways, an opposite of the grand Southern Magnolia — where I took family automobiles as a prep school teen, not knowing any better. While the globe continues to warm (see my recent post on the Pacific Northwest heat-dome), it's possible such expensive car washes in the South will keep going till the last possible moment, so rich white men can take their antique Mercedes and Jaguars there, and sit inside, having their shoes shined by elderly black men, or sit outside, watching their vehicles be towel-dried, by not-so-rich, not-so-white young men.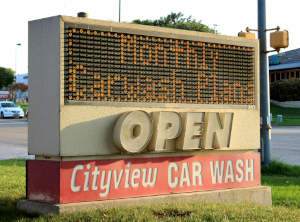 Along with the global weirding of weather we in the U.S. are already witnessing, my understanding is that water crises will be among the earliest and most salient enduser-facing problems of the coming climate change disasters. Of course, the outlandish car wash shops rely heavily on large amounts of water. I called Cityview Car Wash on Sunday to ask if they use recycled or reclaimed water. The low-level employee who answered the phone frankly said No, they use fresh water.
Picture it like a movie. Even as, by 2040, pollen counts double, and even as, by whenever, Fahrenheit temperatures in the 120s and higher become the norm, sweaty, sneezy Texans will still be sitting at Cityview Car Wash. The TVs will be blasting Fox Weather; security for the business will be provided by militarized police-tanks. The old white men will keep on watching teens haul huge long hoses to the parked Porsches. Close-up on a hose-sprayer held in a dark-skinned hand: the water is only dribbling out… only barely dribbling out… Close-up on a spigot valve being turned hard by a brown hand again and again. Another close-up on the hose-sprayer: it's waterless now. It's futile. With itchy eyes, the old Texan men look at each other. The South will not rise again.
But can the City of Fort Worth control such non-essential water usage during droughts? After all, they sell water to businesses in their jurisdiction, sourcing much it from the Trinity, the river discussed in my post last week.
Such local government regulation has had an effect on DFW car washes before. Due to dry spells in recent years, car washes in Witchita Falls, a corner of North Texas, have been required to change procedures when water conservation regulators threatened to shut them down. A City of Fort Worth drought contingency and emergency water management plan, effective May 2019, says (to oversimplify) that when a dry spell gets bad enough ("Stage 3" in the document),
"Vehicle washing … [at a] commercial car wash […] can only be done as necessary for health, sanitation, or safety reasons […] All other vehicle washing is prohibited."

Note: According to City of Fort Worth water conservation manager Micah Reed in an email reply to me on Monday July 26, the emergency plan is updated every five years. The 2019 one I link and excerpt is the one that would come into effect in a qualifying emergency. I bet Micah Reed would make an interesting interviewee on this topic.
In short, the forthcoming water crises might bring power struggles between the Texan-beloved auto industry, and governments, not so beloved by Texans except when their business gets a gub'ment handout. Everyone underfoot getting stomped on by the two hierarchs going at each other, if they do, hopefully will intensify their growing interest in self-governance, taking care of themselves, each other, and the land as the giants continue their slow implosion.
Let's turn to the Fort Worth Botanic Garden to see an example showing how power struggles between local government and industry typically go down. This weekend was the first time I've visited the Garden in something like seven years.
The Bad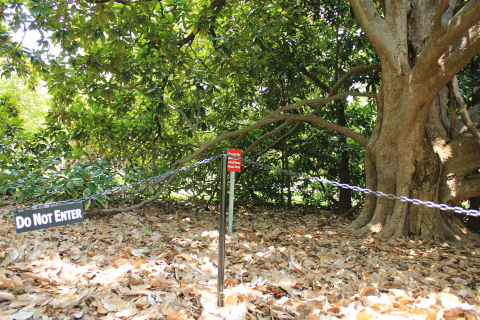 Not far from adrenal-fatigued Texans and their thunderous, wastefully washed SUVs on one of the city's busiest streets, University Drive, the Fort Worth Botanic Garden, 109-something acres nowadays and the oldest major public garden in the state, grows peacefully. Depending on how you slice it, construction began on the Garden, then smaller and known as Rock Springs Park, in 1921, followed by, in various phases, early construction continuing on the area, renamed the Fort Worth Botanic Garden in 1934; some of that labor was part of FDR's New Deal. The park debuted in 1935. However, none of the 750-or-so poor laborers from the earliest construction days were allowed to attend the opening ceremony, because the authorities wanted present only those who could afford fancy clothes. With limited exceptions, the Garden was also segregated, banning humans with dark skin, until roughly 1961 (more sources would help; anyone?). In 2009, the National Park Service (well, a bureau of the NPS) listed the core portion of the Garden on the National Register of Historic Places. The 111-page registration form can be found here; that certifying document and the 2010 Fort Worth Botanic Garden Master Plan (put together by various stakeholders including the city and a high-priced consulting agency) supply a great number of details on the Garden that this paragraph skips over for the sake of quick summary.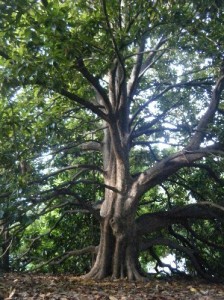 The City of Fort Worth has owned at least some of the underlying land since 1912 and still owns all the Botanic Garden land today, but while I was happily living in Seattle, a bigly change transpired. In October 2020, the City of Fort Worth transferred its management of the Garden to the Botanic Research Institute of Texas, the BRIT nonprofit among whose board of directors — according to a 2019 tax filing — sits Ed Bass, of the billionaire oil-rich and locally powerful Bass family.
BRIT's nonprofit structure notwithstanding, the management of the Botanic Garden has been privatized; the immediate ire the public has felt regarding the new biz centers on the Garden replacing the free admissions policy, more or less upheld continuously since 1935, with an in-real-life paywall. BRIT, on Saturday, charged me the $12 per adult fee to get in. (I was able to pay at the entrance; maybe tickets sell out sometimes, I don't know.) Judging by a search of the #fwbg twitter hashtag, I'm by no means the only person frustrated about very rich, very faraway people putting a fence around local native trees, hoarding an imaginary right to visit them, then charging everyone to do so.
The local alt-weekly, the aptly named Fort Worth Weekly, tracked the City's giveaway to BRIT with multiple stories, rightly troubled about the public getting dispossessed of the nearly century-old treasure. Lon Burnam, a longtime Democrat in the lower half of the Texas state legislature (not currently), a former executive director of the Dallas Peace Center, a Quaker, and a member of the Tarrant Coalition for Environmental Awareness, co-authored a May 2020 piece in the Fort Worth Star-Telegram that warned the City of Fort Worth was giving BRIT a "sweetheart deal" (a yearly $3.35 million management fee the City pays to BRIT, separate from a one-time $17 million from the City to BRIT for repairs), unless specific steps are taken to protect the commons. A month later, Burnam told the North Texas NPR/PBS member station: "Basically, the city has abdicated a lot of control and a lot of their responsibility for managing the gardens." Vaguely citing to the station some unspecificed "plans in progress," BRIT didn't even deign to be interviewed.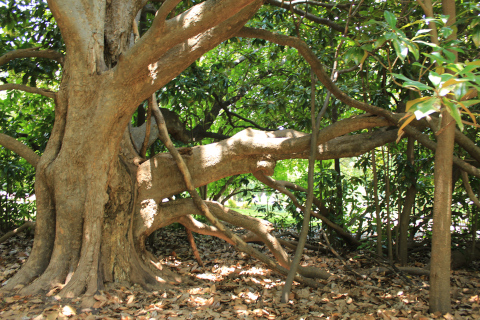 What I dislike about BRIT's very-Texan management of the Garden isn't just the admission costs, but also the practice of blocking patrons from the trees, further dissociating humans from Nature. I do remember, especially as the years went on (say, circa 2000-2015), that disrespectful people would trash the park and hurt plants (for instance by walking over them), but improving norms around respect for Nature would be the best solution, and could be implemented immediately by hiring knowledgeable employees who, in a manner similar to the best Park Rangers, would politely patrol the Garden and teach guests not to dishonor or disrupt the plants.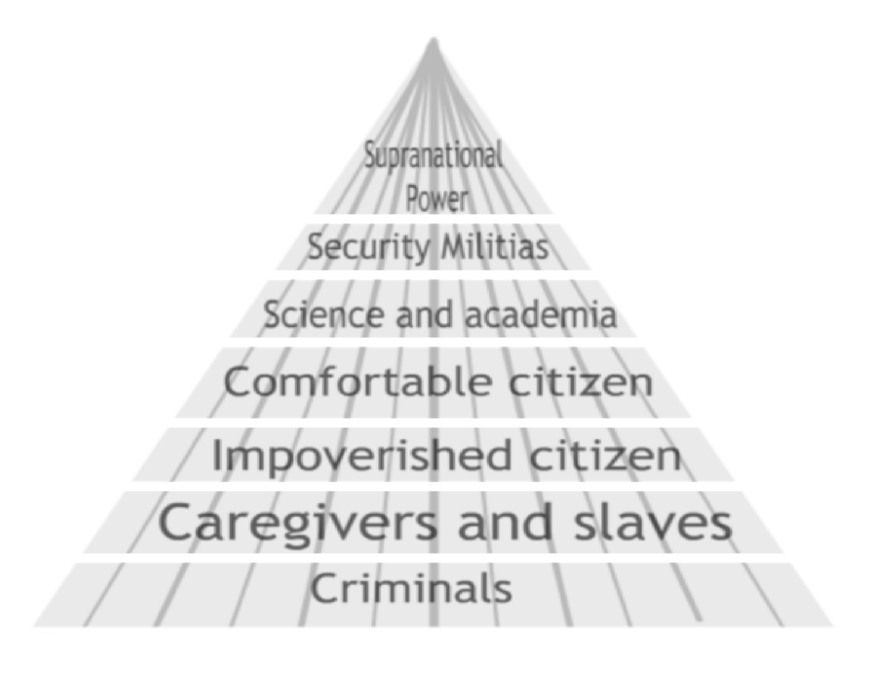 Instead of gentle monitoring and education done by live humans, BRIT opts for the economic efficiency of brute force: chain the trees away, stop humans from touching them. For decades no chains locked up the biggest Southern Magnolia in DFW. If you look at my 2009 post's comments, you'll see youth climbing Southern Magnolias, including the grandest one itself, is quite ordinary. Tree-climbing (and tree-hugging!) should be encouraged along with respect for Nature. BRIT's attitude reminds me of the Fort Worth Zoo, also a place dirtied by the oily hands of the Bass family. In December 2007, the Fort Worth Weekly discussed how Lee Bass and Ramona Bass led the creation of the Fort Worth Zoo's Texas Wild! exhibit, falsely "showing how wildlife — mostly dead, stuffed wildlife — could exist in harmony with oil and gas drillers." Reading any decently curated list of news articles from any day of the week should disprove that. I wonder if the new BRIT boardwalk at the Garden, pictured at the top of this post, so resembles the boardwalk I remember at the Fort Worth Zoo because of some Bass family contractor connection.
The Fort Worth Botanic Garden giveaway suggests the regional government hierarchs, supposedly protectors of the public, will work hand in glove with the auto industry hierarchs when the forthcoming water crises fully arrive. Maybe any battling on our behalf will be, already is, and always has been, very minimal. Instead of abdicating oneself and begging intoxicated rulers to do something, we could try something else. What's to be done?
The good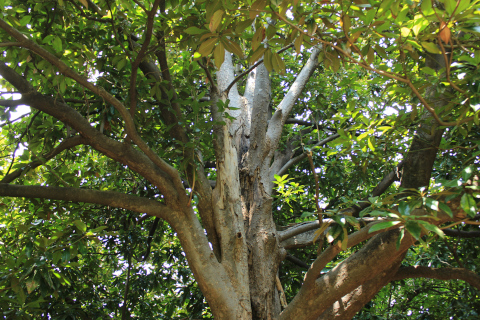 I did enjoy some aspects of the new BRIT-era Botanic Garden. The Texas Native Forest boardwalk is nicely done; I'm referring to the actual physical boardwalk, which is well-built and fun to walk on. It's clearly good to protect against some of the trash and decay that had built up over the Garden's long years (the myriad disrepair was cited as a main reason to give the management to BRIT); of course, rather than the helpfully educating employees I proposed above, it seems the same strategy has been used as with public schools: governments underfund schools/parks, then victim-blame schools/parks for the resulting problems (e.g., trash build-up), and finally give them away in sweetheart deals to industry as the supposed saviors. Anyhow, this is supposed to be the good section!
Regarding governance, whether of car washes and parks or anything larger or smaller, it's sad that large-scale democracy — clearly better than outright fascism — similarly turns, eventually, into oligarchy (rule by the few): remember that 2014 study by Princeton University and Northwestern University professors who found the United States to be an oligarchy? The Italian sociologist Robert Michels's infamous iron law of oligarchy from 1911 states: "He who says organization, says oligarchy." In other words, Michels argues that oligarchy can't be avoided. Refuting such dark fatalism is the goal of philosopher Heather Marsh's Binding Chaos books, so I recommend those thought-provoking texts to readers.
As for reconnecting with Nature, consider this menu of options:
Go vegan or close to it, which I've found helps build interest in, and empathy with, animals and their ecosystems


Learn orienteering (using a map and compass well). It helps individuals perceive and identify landforms and direct travel safely. In contrast, I've found relying on GPS blinds me to my environment. I have the third edition of champion orienteer Björn Kjellström's book Be Expert With Map & Compass: The Complete Orienteering Handbook, but have sadly yet to read it. Looks really good though. Surprises me that most locals in Washington state and Oregon cannot name the various mountain peaks visible in the distance. Compare that with the worldbuilding/setting in better fantasy novels, as in Le Guin's and Tolkein's, in which you have a sense as you read that certain differing, named mountain peaks are northward while such-and-such plateaus are in this other compass direction, etc.


Use field-guiding books to identify plants and animals. Field-guiding improves visual ability overall and helps you learn names of plants and animals, in whole but also their various parts, as well as their ecosystems and the dependencies within those ecosystems. There are also ways to learn about the medicinal benefits of various plants, such as books or communities around such topics. Wandering around peering at birds or plants, a field guide in hand, also makes a good cover story for sneaking around to spy on what resource corporations are up to.


Read Ursula K. Le Guin's middle and later fiction, which stresses the importance of leaving hyped-up "heroic" (adrenalized?) states, or just using them temporarily, and appreciating, and usually residing in, a calmer, seemingly slower approach to life. For instance, her 2000 Hainish science fiction novel The Telling describes the protagonist's preference for conversation topics: "She heard about them, their cousins, their families, their jobs, their opinions, their houses, their hernias […] These dull and fragmentary relations of ordinary lives could not bore her. Everything she had missed in Dovza City, everything the official literature, the heroic propaganda left out, they told. If she had to choose between heroes and hernias, it was no contest." The protagonist prefers to hear not about puffed-up heroes, but about everyday struggles with hernias. (Perhaps an exaggeration to make the high-contrast point, as the protagonist is heroic herself, as are her comrades, in a good way, unlike the official heroes of the state propaganda.)


For me, outdoor camping is intimidating for a variety of reasons, several of them irrational. But baby steps such as visiting parks, or going on day hikes (or running mountain trails!), can lead down the road to more challenging adventures. There are tons of websites and online communities around camping, but also around the simpler excursion styles. Even walking or jogging city trails can be adventurous. For instance, Seattle has a Seattle Trails Alliance; maybe an urban location near you has similar. I usually prefer going alone, but some enjoy having a travel buddy.


Somebody could make it a goal to liberate the Fort Worth Botanic Garden plants and figure out the steps to achieve it.

Any or all of the above have more "political" implications than might seem evident at first glance. Because a healthy society is made up of heathly individuals.
Compare liberation — such as reconnecting with Nature — with the practice of taking cold showers. I have two friends in Seattle who take cold showers every morning. At first, they told me, it was miserable. But soon after, they acclimated, got stronger, and the cold showers became enjoyable. Feeling their vitality in the morning became enjoyable. Strengthening yourself should feel good. If it doesn't, or if it seems an abstract duty to be fulfilled like an awful chore, maybe you're still heavily weakened by the wider world, and need to piece together the baby steps for escaping the damage and the comfort zones. Given the way things are going, the sooner each person improves how harmoniously they interact with Nature, the better. Nature isn't going anywhere, and as time goes on, She'll have more and more blunt things to say to us all.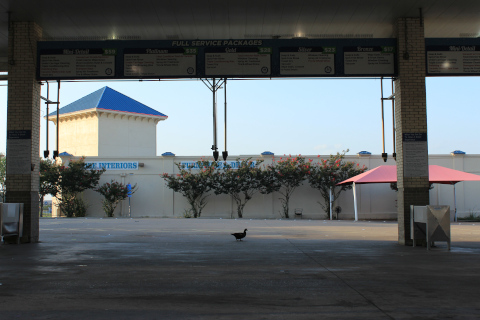 News blasts: Cuba and Texas
Cuba) More than six decades ago on the Carribean island of Cuba, the U.S.-backed right-wing Fulgencio Batista military dictatorship, which accommodated U.S. organized crime and human trafficking, was overthrown, resulting in the rise of leader Fidel Castro, who died in 2016. Prior to that leftist revolution in the fifties, the United States murdered thousands of Cubans. Since Fidel Castro took power and continuing today, the United States has harassed Cuba, including via an ongoing economic embargo/blockade (called by Cubans "el bloqueo") enforced not by navy, but by law and sanctions. The embargo is an effort to collapse the Cuban trade economy. It causes much poverty there. Every year since 1992, the United Nations General Assembly has voted in favor of resolutions calling for an end to el bloqueo, the most prolonged embargo in modern history. Even recently, the United States made it difficult for expatriate Cubans to send money ("remittances") home to the island, where some 11 million people live today. However, Reuters reported this month that the Biden administration might ease those remittance restrictions soon, and might also lift the "state sponsor of terrorism" designation that Trump hurled at Cuba like a curse days before he left the White House. These hints by the Biden administration are likely trial balloons, a way for the Biden admistration to test the waters by observing others' reactions, and were publicly made probably due to the protests in Cuba earlier this month — I'll get to those in a second. Another way the U.S. has harassed the country has been via a travel ban that has at times prevented ordinary US citizens from going to Cuba as tourists. There are many nuances of this ban, which has thickened or loosened with time and different White House administrations, which I won't get into the weeds of here. The ban has served to keep USians ignorant of Cuba, as they are of most countries and most of humanity currently alive. The ban has also served to sabotage Cuba's tourism industry. Cuba initially closed its borders for the pandemic, which also hurt its tourism industry severely. An additional item that should be mentioned as background before getting to the protests: the very high-quality Cuban healthcare system. At a former web directory for criminology professor Dr. James Unnever, there's a short paper on that system, I believe written by Dr. Unnever, though I'm not exactly sure who wrote the paper, nor when. The paper more or less fits with what I know from others who have told me about their experiences in Cuba. Further, a YAC.news article from 12 July 2021, "Why are Cubans protesting and how can you help?" (the source for much of this Cuba news blast) states:
The small island nation of Cuba has one of the world's best healthcare systems even after an ongoing embargo and sabotage campaign by the United States […]

In Cuba, there is a health center per 25,000 [people], neighbourhood clinic per 5,000 people, and a personal family doctor per 500 people. In [the capital city of] Havana alone, there is a clinic in virtually every street corner, each with a family doctor and nurse. Health workers nationwide have been out in full capacity visiting patients at every home. They have been educating residents about the new Cuban-made coronavirus vaccine [called "Abdala"] and informing them it has arrived while setting up appointments for vaccination.

Throughout 2020 Cuba largely kept the [novel corona]virus beyond its shores, [but] the number of infected patients is […] now rising fast, with a record-breaking 2,698 new daily cases on Saturday [July 10], and a seven-day average now above 2,000 [as of July 12]. Cuba is facing the biggest known surge in the Caribbean. Critics of the Cuban government's failure to contain the virus point out the government's approval of foreign tourists, according to sources on the ground, specifically Russian tourists. They claim that the virus was allowed in despite warnings from the healthcare community. [Meanwhile] the island is undergoing an economic crisis and healthcare emergency as inflation and COVID continue to rise.
In Cuba, all citizens receive health care free of charge. According to the YAC.news article, "In the past several years, [Cuban] health workers have eradicated polio, tuberculosis, typhoid fever, and diphtheria. The amount of malnutrition among 1-15 year olds is 0.7%, compared with 5% in the United States. Initially based in hospitals, the Cuban health system evolved into a primary care system that is based in communities". The Cuban medical system prioritizes preventive care, public participation, community interventions, and a very high ratio of primary-care doctors to citizens. With those priorities inexpensively driving their health care system, the Cuban population scores very high on health measures. Yet I'm curious to know 1) Aside from human health, what was the strategy around the Castro government making medicine a sort of "unique sales point" in the international trade economy, and 2) how does the Cuban healthcare system approach severe mental health problems?
That finishes up the background on Cuba. Now, to the protests, which made news in mid-July.
Earlier this month in Cuba, thousands of protesters hit the streets countrywide, calling for President Miguel Diaz-Canel to step down; Sunday 11 July was one of the biggest protests the country has seen in more than two and a half decades. Diaz-Canel angered the protesters because of Cuba's growing inflation and other trade economy woes, plus his government's failure to contain COVID-19 since it let infected travellers in. These are legitimate local grievances. Reuters reported some violence by security forces against protesters, and notes that mobile internet (and thus widespread social media) was introduced to the country only two-and-a-half years ago, a huge factor in prompting civil unrest of whatever sorts.
While the protestors correctly have a point, the U.S. media megaphone, along with U.S. thinktanks and others, have used the local anger as a way to boost unhelpful voices calling for serious destabilization of the Cuban government in such a way as to benefit foreign interests, including United States interests. This has made following the protests online, via the #SOScuba hashtag for example, a bit confusing.
The YAC.news article also says:
Due to the lack of resources on the island an international campaign has been launched to supply the island with the materials needed for syringes. The campaign is being led by Cuba's diaspora and international solidarity movements. Global Health Partners (GHP), a New York-based non-profit, has launched a campaign to address a shortage of 20 million syringes. Bob Schwartz, GHP's vice president, told international media, "To date, we've purchased four million syringes. We hope to purchase an additional two million"
Those who might wish to help with the GHP syringe collection campaign for Cuba's vaccine rollout are directed here. I'll note that a shortage of syringes in the United States federal stockpile was a problem noted early on in the U.S. response to novel coronavirus by Health and Human Services Dept. whistleblower Dr. Rick A. Bright. It's mentioned in his whistleblower complaint from May 2020, in which Dr Bright explains how he was retaliated against by the Trump administration for insisting "on scientifically-vetted proposals" to overcome the COVID-19 pandemic and for pushing "for a more aggressive agency response to COVID-19″ (among other related reasons).
Back to Cuba, the twitterati also verbally sparred over blaming the U.S. Central Intelligence Agency, which is only one member of the U.S. "intelligence community" (a pro-spy rebranding of the more exact descriptor "spy agencies"). No smoking gun has surfaced proving meddling by specifically the CIA in these July Cuban protests. Surely the CIA is interested in Cuba, and history gives many examples of CIA-sponsored assassinations and coups in the Central and South Americas, see for instance Operation Condor and Operation Northwoods. But the twitterati spoke as if CIA meddling had already been definitively proven. It costs nothing and takes little effort to tweet opinions; investigation to find proof takes serious time, money, and effort.
Last time I checked, the U.S. has 16 or 17 (depending on how you count) spy agencies on the federal level. For instance, the FBI, the Navy, the Drug Enforcement Administration, the Coast Guard, and many other federal agencies all have spy bureaus that are part of the so-called intelligence community. There's also the National Security Agency and the National Geospatial-Intelligence Agency, and still others. Maybe the newly minted Space Force, the fifth Pentagon branch, has a spy agency component; if so, that would bring the total up to 17 or 18. And that's just one country, the United States. There are nearly 200 other countries. I'd wager almost all of them have at least one spy agency; most probably have many more.
The tunnel-vision focus of twitterati on the CIA would be like — let's assume the demons of Abrahmic religions are real for a moment — Christians, hooked on televangelists, seeing Satan behind every misfortune, and refusing to consider what roles in the misfortune might have been played by the Ifrit of Islam, or Samyaza from the Book of Enoch, or hundreds of other demons. With hundreds of spy agency opponents to choose from, it'd be best to find evidence, set goals, and execute, rather than compete to see who can yell "CIA" the loudest, which ultimately just ends up advertising the spy agency that the activists say they hope to obliterate. (Something JFK also hoped to do!)
The Cuban authorities admitted in tweets that a government website had been taken down by denial-of-service attacks. Anons participating in #OpCuba claimed responsibility. More on that in a 14 July 2021 YAC.news article.
Texas) Some concluding thoughts about my approximately two weeks in North Texas. My trip improved as time went on, though the humongous Nissan Armada the rental car company stuck me with (see last week's post) did start to sink: the check engine light came on some 48 hours prior to my flight home departing. But I turned the gargantuan vehicle back in at the airport no problem. No harm, no foul, I suppose. As my trip continued, I discovered more research data (for family and personal history) than I expected, including some fascinating and healing revelations that are too private to share on a main channel like this. Catching up with friends and family members I hadn't seen in a long time was beneficial as well, and sometimes revealing about both sides in the interactions, in expected ways, yet also in unexpected ways. Bottom line: people are always changing, even if slowly; there's no stasis outside abstraction; the only question is, will the changes be for the worse, or for the better? The changes are more evident when you haven't seen someone offline in eight or so years. Three additional observations about North Texas in July 2021 might be of general interest. First, as at some Seattle places, multiple restaurants in Fort Worth are doing away with paper or laminated menus altogether, forcing customers to scan QR codes. Are laminated menus environmentally friendly, or are they plastic? Either way, you can't even obtain a regular menu by asking, since they're all gone. What about customers who don't have phones, or who use their devices atypically? Avoiding needless paper is great, but everyone carrying around EMF-generating phones to scan QR graphics isn't my preference: here are thousands of categorized studies showing EMF harms. I solved the problem by looking at the menus the stores had pasted on the windows. Or just using the blasted QR codes, if I had a phone handy. (In Colombia, where protests against president Iván Duque's narco-state are ongoing, the cops are considering replacing their badge ID numbers with QR codes, which are small and difficult to scan for those with phones and impossible for those without; making matters worse, the public still has to know the cop's badge ID number to get from the QR code to the actual identity, meaning, I think, the cop's legal name.) Second point: I heard more Spanish spoken in North Texas than I used to hear, this trip. Maybe it's a change in me and what I notice, but it could be (or could also be) Spanish speakers feeling safer or more comfortable asserting their primary language. That's a change for the better. Finally, I got a chance to try out Belently's Love Vegan Mexican Restaurant on Blue Bonnet Circle. Their all-vegan menu offers many gluten-free items, and their walls, painted wonderful colors, include delightful murals. That's opposed to the default no-color beige walls that white people in the United States typically have in their homes and stores. Vegans, including those who also avoid gluten as I do, now have three strong vegan-specific options in Fort Worth that I can highly recommend: the long-standing Spiral Diner (largely comfort food and thus not the healthiest), the new Boulevard of Greens with organic juices (including beet juice!) and bowls (including broccoli and quinoa!), and Belently's Love. See, even Texas changes.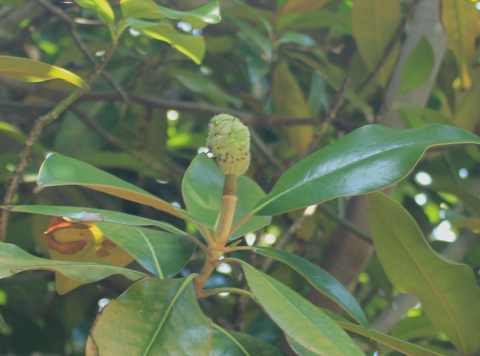 This blog post, Revisiting the biggest Southern Magnolia in DFW; news blasts for Cuba and Texas, by Douglas Lucas, is licensed under a Creative Commons Attribution-NonCommercial-ShareAlike 4.0 International License (human-readable summary of license). The license is based on the work at this URL: https://douglaslucas.com/blog/2021/07/24/revisiting-biggest-southern-magnolia-dfw-cuba-texas/. You can view the full license (the legal code aka the legalese) here. For learning more about Creative Commons, I suggest reading this article and the Creative Commons Frequently Asked Questions. Seeking permissions beyond the scope of this license, or want to correspond with me about this post one on one? Email me: dal@riseup.net.