Note: In 2020, I'm writing 52 blog posts, one per week, released on Mondays or so…like this one, which is out on, er, Tuesday! This is Week 14. I'm back on schedule. :)
"It is not your fault, I know, but of those who put it in your head that you are exaggerating and even this testimony may seem just an exaggeration for those who are far from the epidemic, but please, listen to us" — intensive care physician Dr. Daniele Macchini, in translation from Humanitas Gavazzeni hospital in Bergamo, Italy, Friday 6th of March 2020. (Additional attribution information.)
Same day as Dr. Daniele Macchini's testimony from Italy, "Q: Mr. President, you were shaking a lot of hands today, taking a lot of posed pictures. Are you protecting yourself at all? How are you — how are you staying away from germs? THE PRESIDENT: Not at all. No, not at all. Not at all. […] Q: Have you considered not having campaign rallies? THE PRESIDENT: No, I haven't. […] Q: Isn't it a risk if there's that many people close together? THE PRESIDENT: It doesn't bother me at all and it doesn't bother them at all." Transcript provided by White House of Friday 6th of March 2020 remarks by Donald Trump after tour of the Centers for Disease Control and Prevention in Atlanta Georgia.
A week prior at a rally, Trump said: "[T]he Democrats are politicizing the coronavirus. You know that, right? Coronavirus. They're politicizing it. We did one of the great jobs [… The Democrats] have no clue, they don't have any clue. […] this [disagreeing with him regarding coronavirus] is their new hoax." Transcript of Trump rally Friday 28 February 2020 in North Charleston, South Carolina.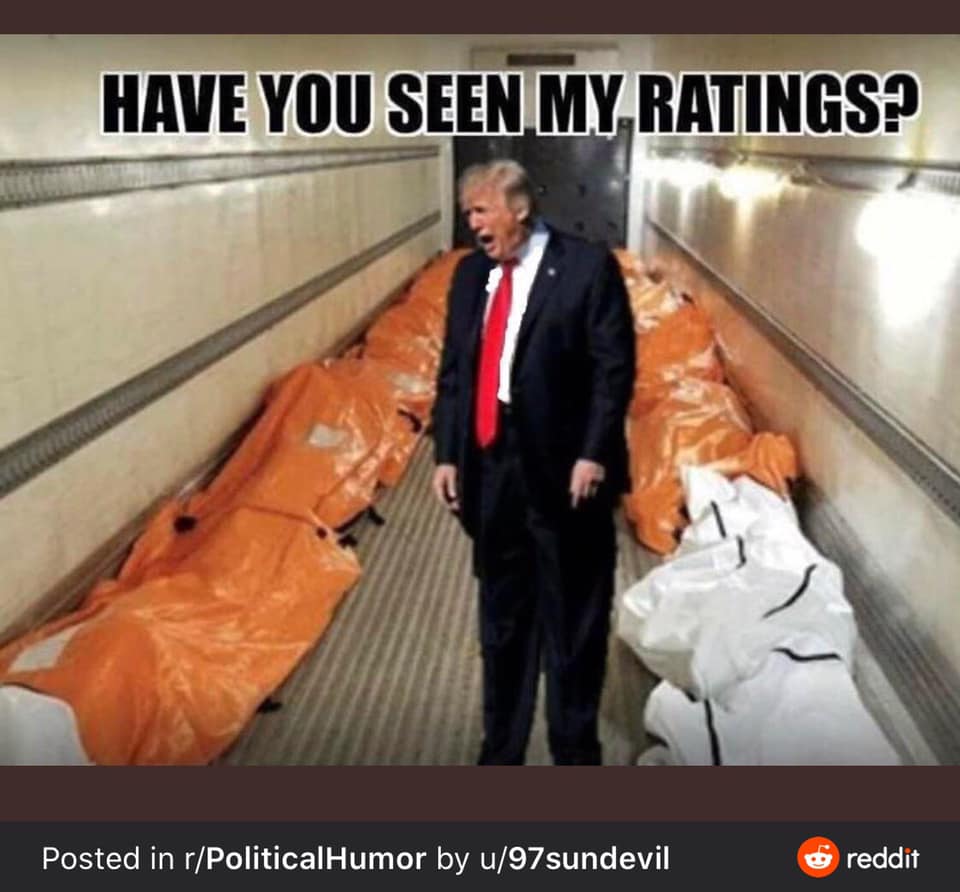 This post provides 10 bullet points that suggest and summarize various readings regarding the novel coronavirus pandemic, plus a bonus eleventh section at the end filled with uplifting material. I recommend further study of any or all of these linked materials, which have flown across my radar in the past few weeks. Whereas on Monday 23 March 2020 I wrote a guide for getting caught up on the pandemic if you've been living under a rock or enslaved (imagine someone just getting off a lengthy hiking trip in the middle of this or out of a psych ward), this entry is more a grab bag of important COVID-19 items that are a bit off the beaten track of typical US news readers. In the near future I'd like to write a guide helping US news readers develop a 60-90 minute routine for staying up to date on the pandemic daily by plugging into sources such as local and state public health officials, the World Health Organization, and a steady supply of high quality information from self-governance radicals. Hopefully soon I'll return to writing more narrative-y blog entries, but as the globe is a bit of a bullet point place these days, I hope you find value in the below and if so, consider sharing this post, supporting me via donation, and/or replacing GovCorps around the world with prosocial ideas and actions. Without further ado:
A Monday 23 March 2020 article by Jim Geraghty at the (rightwing but literate) National Review titled "The Comprehensive Timeline of China's COVID-19 Lies" documents the day-by-day, month-by-month, blow-by-blow of the Chinese government cover-up of the capability of novel coronavirus to transmit from human to human. As best understood to date, the disease jumped from animal to human in late 2019 in Wuhan, China.

You should know the story of Chinese doctor Li Wenliang, whistleblower in this pandemic, or "awakener" as some in China call him as a compliment. The Lancet, one of the longest running and most prestigious medical journals in the world, published an obituary (1-page PDF version) for Li Wenliang by freelance journalist Andrew Green on Tuesday 18 February 2020 (corrected Tuesday 25 February 2020). On Friday 7 February 2020, the New York Times interviewed Li days before he died. Briefly: Li worked at Wuhan Central Hospital, where in late 2019 he saw laboratory result reports, being circulated within medical circles, that led him to tell his fellow medical student classmates in a private chat group that "it has been confirmed that they are coronavirus infections, but the exact virus is being subtyped […] tell your family and loved ones to take caution." He knew that patients were already being treated under quarantine, so he suspected human-to-human transmission was possible and urged caution, though at first he did not want his messages spread further. (Speculation: I'd guess because of the risk from various Chinese authorities, and I'd guess also because at that point Li might have wanted rock solid scientific confirmation of human-to-human transmission, before wider circulation.) The conversation among his fellow doctors was that SARS (i.e. SARS or a SARS-like disease) might come back and that they needed to be careful. Against his wishes, his messages spread more widely on social media, leading Wuhan cops to force him at their station to admit a "misdemeanor" and to promise not to commit further "unlawful acts" like this "spreading rumors." Seven others also were arrested, but as of a Thursday 23 January 2020 article at Poynter by Cristina Tardáguila and Summer Chen, their identities and fates are unknown (will update if I hear back). Li felt wronged by the cops and as time passed, he came to appreciate, despite the punishment, the value of his warning messages having spread, telling the New York Times later that he "felt very sad seeing so many people losing their loved ones." He returned from the police station to the Wuhan hospital and, while treating a glaucoma patient, contracted the very virus he had warned of. While he was hospitalized in an intensive care unit, Li spoke out about his experience at the police station, including releasing the document he was made to sign, telling Beijing-based media group Caixin that "I think a healthy society should not have just one voice," and the New York Times: "If the officials had disclosed information about the epidemic earlier, I think it would have been a lot better. There should be more openness and transparency." At the time of his death, he was survived by his four-year-old son and wife, who was five months pregnant with their second child.

Image of Li Wenliang by Anthony Kwan for Getty Images, 2020

Social media users in China wrote in loud favor of Li Wenliang and against the Chinese authorities, saying on Weibo that, among other things, according to the New York Times, they wrote out of shame and guilt for not standing up to an authoritarian government. Others shared variations of a quote by Chinese writer Murong Xuecun, "He who holds the firewood for the masses is the one who freezes to death in wind and snow," which the NYT has to explain "was written as a reminder to people that it was in their interest to support those who dared to stand up to authority. Many of those people had frozen to death, figuratively speaking, as fewer people were willing to publicly support these dissenting figures." Additional sources regarding Li Wenliang: Friday 7 February 2020 article by Zhuang Pinghui in the South China Morning Post; Friday 20 March 2020 article by Helen Davidson at the Guardian; Friday 7 February 2020 article in the New York Times.

And regarding the importance of whistleblowers in general, check out this February 2018 panel on whistleblowing at the Oxford Union, which included Heather Marsh, CIA senior management David Shedd, and a Guardian journalist who though employed by one of the world's biggest newspapers did not write about the Oxford Union censorsing the panel he was on (you read that right, about whistleblowing), although I sure as hell did at Buffalo's The Public and by contributing to BoingBoing. You can read the panel transcript by Heather who had to whistleblow her own whistleblowing panel, or listen to her 22-minute audio of it below. BTW, the Guardian journadoodle who did not mention, via his salaried job at one of the world's most important newspapers, the Oxford censorship, then got immediately bribed/rewarded with a paid lecture series at Oxford… a paid lecture series about… yes, about whistleblowing … while I, a devout anti-careerist, essentially have lost 100% of my day job hours due to covid-19 and, while restraining myself from retweeting silly Star Trek photoshops, am writing to you on my blog right here right meow and all these other people with really cool ideas and deeds and artworks and cats are also… okay you get the point, but the tough part might be, not forgetting the point/truth and also following it to all the places where it leads.

Transcript; Heather's analysis of the censorship

And regarding the Chinese and British empires, these 2012-2013 tweets from the orange menace:

A failing state in debt to Beijing, Russia does much of China's dirty work. May 2018 at OpenDemocracy.Net: "They put a bag on my head, cuffed my hands behind my back and tortured me with a taser": anarchist Svyatoslav Rechkalov on torture at the hands of Russian cops. April 2018 at The Russian Reader: Stay Human, How Russia is hunting down anarchists & anti-fascists and torturing them. Coronavirus, shit is getting real.

On Monday 30 March 2020, Europe-based journalist Balazs Csekö tweeted the Hungarian parliament had that day passed a bill giving Hungarian prime minister Viktor Orbán unlimited power and proclaiming: – State of emergency without time limit – No elections – Parliament suspended – Rule by decree – Spreading fake news and rumors: up to 5 years in prison – Leaving quarantine: up to 8 years in prison. On Tuesday 7 April 2020, Andrew Stroehlein, the European media director of Human Rights Watch, tweeted "One week ago, the European Union ceased being a bloc of democracies, as Hungary's ruler seized unlimited power in his country. Since then, the other EU member states and the European Commission have done nothing about it." And the same day he tweeted: "There's an outright dictatorship within the [European Union]. Hungarian prime minister Viktor Orbán has seized unlimited power for an indefinite period of time. That the rest of the EU doesn't care enough to act is a threat to the very EU itself."

Regarding federal legislators flying around and thus spreading the virus or exposing themselves to it, as the Wall Street Journal published an article partially about on Friday 27 March 2020, see this from Heather Marsh in 2012: "We no longer live in a world where one individual has to make a long arduous journey to appear in person to represent their town or region, we need to work to ensure there is no reason why individuals cannot represent themselves in any circumstance" and "There are two underlying concepts which must be universally accepted for representative democracy to function: groups may act as individuals and individuals may act as groups. These two ideas are fundamentally unsound." If you want more after that, see her 2017 talk (video and transcript) "The evolution of democracy." For those asking, due to the pandemic, what we should do regarding governance, and demanding short, more practical/pragmatic readings on the topic rather than books, I highly recommend her 2014 "Installing new governance" and you might also read her 2017 "A societal singularity." Life's not really about whatever stupid shit Trump said lately, or whether Nancy Pelosi is going to do this or that. Instead look at the more ludicrous things, the federal legislators jumping on planes instead of picking up phones because people are mentally enslaved by these bizarre memes about Ancient Greece city-states or whatever, or the third rail topic of voting elections integrity or even whether voting for faraway celebullies to represent you and the neighbor who completely disagrees with you, and neither of you have or ever will meet the legislator anyway, makes any lick of sense at all (see my post this year on that and Russiagate whistleblower Reality Winner), and maybe then also realize, in order to uproot all of those echoes of long ago thoughts spellbinding billions of humans for millenia, might take more than a two sentence explanation of "well what should we do instead" and you might need to read and experiment and do different things to work toward replacing entrenched broken systems (i.e., us, we all are the broken system!).

From the 1936 sci-fi movie Things To Come, based on HG Wells' writings. This is a demagogue leader from the film yelling at a fourth grade reading level except for "muddle", which is advanced vocabulary I suppose

The 2019-2020 novel coronavirus is deadlier than the 2002-2003 coronavirus SARS (Severe Acute Respiratory Syndrome), but this 2003 unclassified paper on that earlier and related virus, produced by the CIA's Strategic Assessments Group, may still be of interest for autodidacts and others studying public health systems responding to epidemics/pandemics. The paper is subtitled Lessons From the First Epidemic of the 21st Century: A Collaborative Analysis With Outside Experts. It's a 17-page PDF: click here for the PDF at the Homeland Security Digital Library (sponsored by US Homeland Security, FEMA, and the US military's Naval Postgraduate School).

The unclassified paper describes its scope as follows:

In June 2003, the CIA's Strategic Assessments Group (SAG) sponsored an unclassified workshop with experts from various health-related disciplines titled "SARS: Lessons Learned," held at the National Science Foundation. The group included leading virologists, epidemiologists, public health experts from academia and government, senior officials from WHO and the Centers for Disease Control and Prevention (CDC), and authorities in global public health, health communications, and economics. The meeting's objective was to extract valuable lessons learned to help prepare for future epidemics of new and reemergent infectious diseases. The group reviewed the SARS experience from its medical-scientific, public health, psychosocial and risk communications, economic, and political dimensions. This report conveys the lessons participants found most important for the containment of SARS and for dealing with future epidemics.

Before going to other bullet points recommending other texts, I excerpt below many of the lessons noted by this 2003 report:

* SARS has served as a sobering warning about the serious worldwide consequences that can occur at every level—public health, economic, and political—when unanticipated epidemics arise in a highly connected, fast-paced world.

* The ability to contain the next pandemic or to achieve global eradication of SARS remains uncertain. The disease could reemerge in fall or winter or move from its animal hosts to humans again at any time.

* Honesty and openness from governments and public health officials is especially important. Without understating the risks or dismissing people's fears, officials with relevant expert knowledge should advise the public on what measures to follow.

* Official announcements will need to be bolstered by ongoing public education programs to avoid panic and help motivate first responders to take reasonable risks in treating the sick.

* [T]he panel warned that the economic impact of an epidemic involving more deaths, plant closures, and population dislocations could be more significant than the modest SARS-related losses

* Psychological intangibles — fear, risk avoidance, and resilience — are not currently represented in economic models use[d] to gauge the impact of epidemics.

* The panelists stressed that the US defenses against infectious disease outbreaks depended on the expertise and competence of local public health officials worldwide. [Note by Doug: last chance for smug US intelligentsia to stop rolling eyes whenever anyone brings up international law, universal human rights, the importance of global telecommunications and planetwide collaboration, etc.]

* The effective application and efficacy of quarantine and isolation proved a pleasant surprise to the public health community. Equally unexpected was the widespread acceptance of the need for these measures by the general public, panelists observed.

* [P]eople were more prone to comply with quarantine rules when there was no familial or financial hardship involved

* Continued efforts by local health-care workers in a high-risk environment were facilitated when the workers were reassured their families would be cared for and when the press portrayed them to the public as heroes. Conversely, when these measures were not taken, workers were much less willing to put in the long hours and expose themselves to SARS.

* While participants lauded the overall rapid and effective mobilization of the international public health community, they did note that [the World Health Organization] was quickly overstretched in early phases of the epidemic, despite supplemental aid by the Centers for Disease Control and Prevention (CDC) and other organizations. One participant declared that [the World Health Organization] probably could not cope with a second public health-care crisis [simultaneously] on top of SARS [i.e., SARS plus another crisis at the same time]

* A fearful and confused public, surrounded by speculation, rumor, and exaggerated media reports can lead to genuine panic — facilitating disease transmission and hindering quarantine efforts

* Participants cited the following reasons for lack of transparency in the case of China […] Fear of upsetting foreign investors and incurring sizable economic losses […] Cultural reticence to reveal information that could be perceived as a weakness.

* The panelists also affirmed that the experience with SARS had enabled the Chinese Government to gain valuable crisis management experience in areas such as effective inter-governmental actions when forced to shut down parts of Beijing. They commented that with outside support, China could begin addressing some of its major public health problems such as inadequate rural health care, rapidly increasing rates of HIV infection, hazardous animal husbandry and trade practices, and live animal markets which could easily lead to another pandemic

2016 opinion piece in the Washington Post by Ronald A. Klain, Ebola czar at the White House from 2014 to 2015. The title is "Zika is coming, but we're far from ready" and here are the key passages in my opinion:

The man who led the effort to wipe out smallpox, Larry Brilliant, often says that the seemingly complex challenge of successful epidemic control can be summarized in one phrase: "early detection, early response." […] If it seems like the world is being threatened by new infectious diseases with increasing frequency — H1N1 in 2009-2010, MERS in 2012, Ebola in 2014, Zika in 2016, yellow fever on the horizon for 2017 — that's because it is. These are not random lightning strikes or a string of global bad luck. This growing threat is a result of human activity: human populations encroaching on, and having greater interaction with, habitats where animals spread these viruses; humans living more densely in cities where sickness spreads rapidly; humans traveling globally with increasing reach and speed; humans changing our climate and bringing disease-spreading insects to places where they have not lived previously. From now on, dangerous epidemics are going to be a regular fact of life. We can no longer accept surprise as an excuse for a response that is slow out of the gate.

Improve your food storage techniques with the following resources. SaveTheFood.com, derived from Dana Gunders' work; Seattle Public Utilities 2-page PDF guide on food storage techniques, 9-page PDF on freezer storage, and website section on reducing food waste in general; World Healthiest Foods, where you type a food item into the search box, then check out the "How to select and store" section on the resulting webpage.

A Wednesday 25 March 2020 article by David Kaplan at the WTAE ABC affliate in Pittsburgh reports that a public school district in the greater Pittsburgh region has been using AM radio to provide lessons to students.

Elementary and secondary school teachers record lessons the night before and send them in. Then, 680 AM WISR in Butler broadcasts the lessons. Secondary students get their lessons at 9 a.m. and elementary students at 9:30 a.m.

"I thought the idea was great. It kind of takes you back in a way to think about the days of fireside chats," said Hope Hull, the principal at Connoquenessing Elementary School.

Hull says she thinks this exercise improves listening skills for students. She added that her teachers are excited to put these lessons together.

Somehow makes me think of this April 30, 1981 Bloom County cartoon by Berkeley Breathed (my favorite cartoonist from newspaper days).

The University of Michigan's Center for the History of Medicine maintains a digital repository/encyclopedia with documents from and texts about the US flu epidemic of 1918-1919. I believe that encyclopedia was the source for some of the images in the Thursday 26 March article in the California Sun by Mike McPhate titled "Photos of the 1918 flu pandemic in California," which begins: "We've been through shutdowns like this before." Below follows some of the images McPhate's piece republished. I'm unfortunately just going to copy his descriptions and sourcing information for each image without doublechecking them all myself as I would usually do, since by this hour I'm half falling asleep as I'm standing here typing this very sentence.

A group in Mill Valley in November, 2018.
Raymond Coyne/Mill Valley Public Library

The Oakland Municipal Auditorium is being used as a temporary hospital with volunteer nurses from the American Red Cross tending the sick there during the influenza pandemic of 1918, Oakland, California, 1918. (Photo by Underwood Archives/Getty Images)

People lined up for masks in San Francisco, which made their use mandatory.
California State Library

Physicians vaccinated each other in San Francisco.
California State Library

American Red Cross volunteers prepared masks in Oakland.
Oakland Public Library

The University of Michigan's Center for the History of Medicine's digital repository/encyclopedia also has city essays that tell the stories of 50 US cities and how each responded to the 1918-1919 flu epidemic. Here's the Dallas essay, timeline, and gallery. Here's the Seattle essay, timeline, and gallery. As the saying goes, Those who do not learn from history are doomed to repeat it.

This last of the ten bullet points (before the bonus eleventh), perhaps the most important, consists of mutual aid resources recently compiled/tweeted by @YourAnonCentral, whom you all should be following on Twitter. First, a five-and-a-half minute video by subMedia.tv explaining what mutual aid is:

Required viewing

Now, some resources. US-based COVID-19 Mutual Aid and Advocacy Resources, a shared Google Doc. Here's how to organize a neighborhood pod, for you and your neighbors to help each other. It's a 4-page shared Google Doc and it includes flyer templates for getting to know your neighbors, and more. This 9-page PDF is a small zine of compiled resources on safety practices for mutual aid food supply and distribution, such as safe delivery and collection protocols, quite useful if, say, you are in the habit, as I am lately in the habit, of delivering boxes containing food and supplies to the grassy outskirts of an apartment complex in view of a particular young woman standing up high on a balcony peering down and observing with untraversable and seemingly infinite physical distance your discombobulated attempts to erect the structure of a normal conversation, like a (Thomas Otway remix of a) Shakespeare scene. Here's a United States progressive group (yes I know), The Center for Popular Democracy, gathering data for a week of action to demand coronavirus tests if you want to fill that out. Here's a mutual aid hub map primarily for the United States, linking for instance to the North Texas Democratic Socialists of America's COVID-19 Mutual Aid Coalition website listing resources and offering a form to fill out to request and/or volunteer help. Also check out MasksForDocs.com. They have one goal: Get personal protective equipment (not just masks, despite their name) into the hands of healthcare workers as quickly as possible. Open, healthy, inclusive, grassroots, free. They're accepting volunteers, donations, and requests. Bellevue's nonprofit hospital Overlake, in the Seattle metropolitan area, just received 262 face shields from MasksForDocs.
Okay, we made it! Note please that the above is a shotgun approach (when is the twitter-news not a shotgun approach?), so please read carefully, think for yourself, your mileage may vary, at least one person on those eight million shotgun approach mutual aid resources is probably going to be unfun to hang out with at best (ten-point checklist by CrimethInc for spotting snitches, infiltrators, etc.), and so on. So, the eleventh bonus bullet point is some heartwarming examples of mutual aid, big and small, mostly via @YourAnonCentral on Twitter recently, ending this post. See below, and see you next week!

This blog post, Bullet points: High quality, somewhat under the radar coronavirus readings, including history, global, and mutual aid, by Douglas Lucas, is licensed under a Creative Commons Attribution-NonCommercial-ShareAlike 4.0 International License (human-readable summary of license). The license is based on a work at this URL: https://douglaslucas.com/blog/2020/04/07/coronavirus-readings-history-global-mutualaid/. You can view the full license (the legal code aka the legalese) here. For learning more about Creative Commons, I suggest this article and the Creative Commons Frequently Asked Questions. Seeking permissions beyond the scope of this license, or want to correspond with me about this post otherwise? Please email me: dal@riseup.net.